Malaysia mass graves: Is the Burmese Rohingya minority being trafficked by force?
Suspicions about ethnic cleansing have arisen after the kidnappings and disappearances of Rohingya people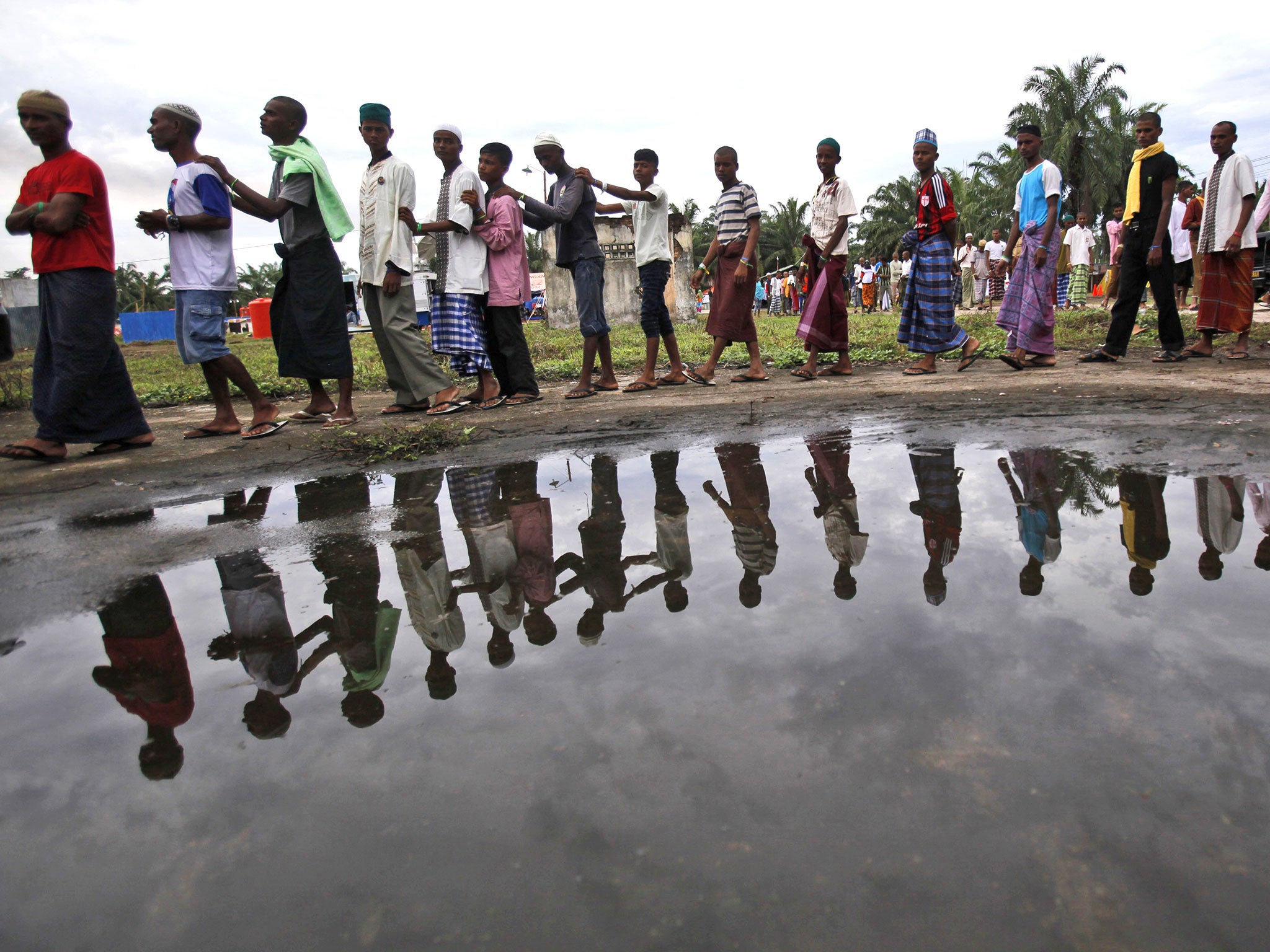 At the trafficking camp in northern Malaysia where at least 139 shallow graves have been discovered, a police chief said that personal possessions abandoned at the camp included a pink teddy bear and children's sandals. If the Rohingya and Bangladeshis travelling from the Bay of Bengal to Malaysia were fleeing in search of work, why did they bring small children with them?
One explanation has emerged in Burma this week: many of those who made the journey did so against their will – tricked by middlemen, press-ganged by brokers and taken to sea by force.
Others including children were simply kidnapped. One of the missing is 16-year-old "Rayzuharnar", who lived with her family in Dar Paing camp north of Sittwe, the capital of Burma's Rakhine state. This is one of the state's notorious camps for "internal displaced people" into which Muslims were herded after the communal violence of 2012.
One Friday, over a month ago, her siblings left her at home when they went to attend the local mosque. "When we came back around 4pm, she was gone," said her brother, Marmuh Hanson, 20. She had simply vanished.
The family tried to find her and Marmuh says he paid $500 (£320) trying to track her down.
Then, on 4 May, Rayzuharnar phoned from a boat in the Andaman Sea to say she'd been abducted and sold on by a woman whose father-in-law lived in the same camp. The price paid for her was $200, but the traffickers were demanding $2,200 to take her to Malaysia.
The impoverished family had no way of paying, and the calls from the boat stopped. Now, they have no idea if she is dead or alive. The UN's refugee agency estimates that some 3,500 migrants over the weekend were still adrift on overloaded vessels in the Andaman Sea. "We can only hope and pray she is OK," said her brother.
Yet for some families, the breaking open of the trafficking trade in recent weeks has delivered their children back to them. A 14-year-old Rohingya from a Rakhine camp is one of those.
"Mohammad", as The Myanmar Times calls him – not his real name – said he left his camp two months ago to seek work in Sittwe. In Sittwe's remaining Muslim ghetto, he said he was quickly offered work in a carpentry shop – but when he arrived he was seized and taken prisoner. "When I tried to resist, they beat me until I couldn't move," he said. "When they told me I had been sold, I cried and they beat me some more. I felt so trapped. The traffickers told me I would not see my family again."
He said he was held onshore for several days because the smugglers were waiting for a "permit from the government" to transfer him and 15 other people on to a boat in international waters. A chain and a coloured band were fastened to his wrist: the first would be removed if his family came up with the ransom for him to be released in Malaysia; the second indicated who he would be sold to if the cash was not forthcoming.
He boarded with 350 others, crammed so tightly into the ship's hold that his knees were pressed into his chest. He was at sea for 56 days. "They fed us just once a week," he said. "We got one cup of water a day, and anyone who asked for more or to go to the bathroom was beaten. There were a couple of people who had chosen to go to Thailand or Malaysia, but most had been forced." His salvation was the exposure of the trafficking trade, after which his family were able to ransom him for $300.
U Tin Maung Swe, executive secretary of Rakhine state, denied people were leaving the camps, either willingly or unwillingly, since the Burmese authorities conduct regular head counts. All the boat people were Bangladeshis, he insisted. But Mohammad's detail about being held onshore while his traffickers awaited "a permit from the government" resonates with the dark suspicions of critics of Burmese policy.
Last week, President Thein Sein signed a new law requiring women to wait at least 36 months between bearing successive children. There is no explanation of how the law will be enforced, but human rights activists have no doubt that its principal target is the Rohingya community, whose growth threatens to turn the Buddhists into a minority in Rakhine state.
Brad Adams, Asia director of Human Rights Watch, said: "Activists with a racist, anti-Muslim agenda pressed for this population law, so there is every reason to expect it to be implemented in a discriminatory way."
"The target is the Rohingya," said a Burmese women's rights activist. U Wirathu, a firebrand Buddhist monk, is in no doubt about the law's rationale. Its purpose, he said, is "stopping the ... Rohingya who are trying to seize Rakhine state". By hook or by crook, it seems, Rakhine will be ethnically cleansed.
Join our commenting forum
Join thought-provoking conversations, follow other Independent readers and see their replies