Maldives fears for its future as emergency deepens
Global concern grows as reports of a plot to kill island nation's President is followed by a brutal crackdown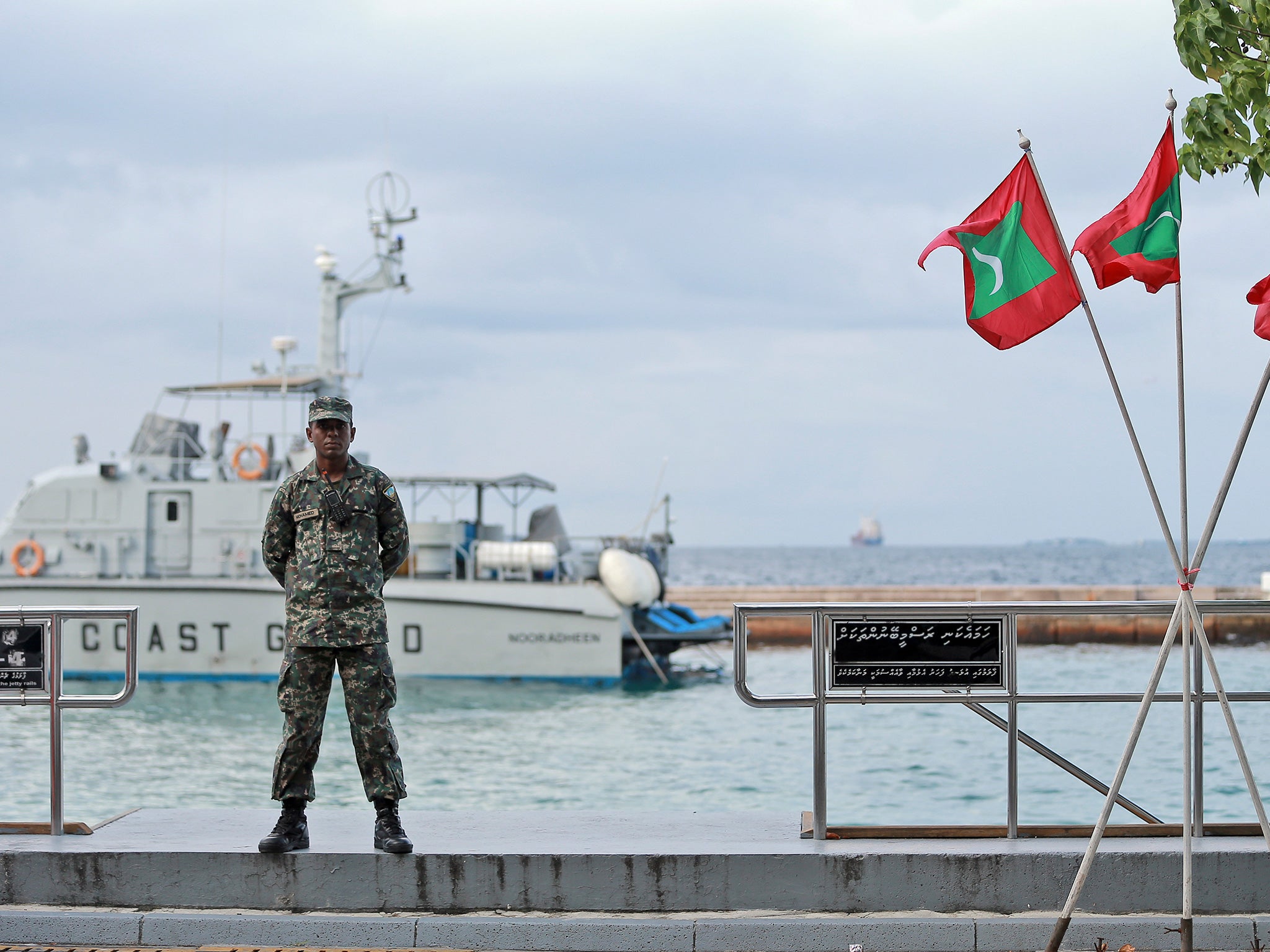 As Maldivians tuned into Hindi dramas on their televisions last weekend, many switched channels to watch police unveil an extraordinary cache of weapons. Machine guns, grenades and bombs had been discovered on an uninhabited island three miles from a luxury resort favoured by celebrities such as Madonna and Sir Paul McCartney. They were stolen from the state armoury, police said, and linked to a plot to blow up the President on his speedboat.
A week later, the gap between paradise and reality, nowhere wider than on the atoll of coral smudges in the Indian Ocean, has closed dramatically. In the past three days alone, the nation's vice-president has been impeached after his arrest on suspicion of being involved in the bombing; the government has declared a state of emergency; and world leaders have lined up to express serious concern.
Behind the intrigue, infighting and white sands, a fledgling democracy, once feted for its leadership in tackling climate change and Islamic conservatism, is treading water. Today, the foreign minister tried to present an image of stability. But in an interview with The Independent, she expressed concern about the impact of the upheaval on tourism, which accounts for 42 per cent of the Maldivian economy.
"We have no figures yet, but colleagues have heard about a level of concern and a reduction in numbers," Dunya Maumoon said from Malé, the cramped island capital. "There will inevitably be some cancellations." Peak season for the Maldives starts next month, but the entrepreneur Sir Richard Branson has led calls for a boycott in response to the imprisonment of the environment campaigner and former president, Mohamed Nasheed.
Mrs Maumoon is the daughter of Maumoon Abdul Gayoom, who was the country's president for 30 years until 2008, when Nasheed won the first democratic elections and propelled his sinking islands into the global climate change debate. He resigned in an alleged coup in 2012 a year before Abdulla Yameen, Gayoom's half-brother, won disputed elections. Nasheed was jailed earlier this year on terror charges later described by the UN as unlawful and politically motivated.
"The Maldives is a bellwether in some ways: it's a conservative Muslim country that prides itself on sharia law, yet is following a tricky route towards democracy," said Mark Lynas, the environment activist and former climate adviser to President Nasheed. "It began in 2008 but has since been derailed, and is in some ways the harbinger of what has happened elsewhere since the Arab Spring."
President Nasheed set big targets on carbon emission cuts and in 2009 convened an underwater cabinet meeting before a UN climate conference. Now, as sea levels continue to rise, the government stands accused of abandoning its targets while inviting oil companies to drill into its fragile reefs.
Meanwhile, Nasheed has accused the government of tolerating rising religious extremism under the influence of Saudi Arabia.
"The Maldives has a choice between being a corrupt petrostate and an enlightened, democratic climate leader," Mr Lynas said. "Unfortunately, the forces of the petrostate seem to be winning."
Police were out in numbers in Malé today, after days of raids on addresses linked to the impeached vice president, Ahmed Adeeb. On Monday police said they had found explosives near the presidential palace. Adeeb denied charges of treason and any involvement in the boat bombing of 28 September, which seriously injured the First Lady.
Media in Malé have reported threats to press freedom, including hacks on news sites. The Raajje TV station suspended its news programming after three of its journalists were arrested in a week. Earlier in the day, police raided the studios of Sangu TV in connection with a YouTube video allegedly threatening the president, forcing the station off air. It denied uploading the clip.
Britain and the US have called on the Maldives to lift its state of emergency, which suspends a range of rights and increases police powers. But Mrs Maumoon insisted the measure was necessary.
In an interview arranged by the government's London-based PR firm, she also denied press freedom was threatened. She admitted the government was exploring for oil but said it remained committed to carbon emissions targets.
"My father is labelled as a dictator, but he modernised the country," she said. "The current president is also committed to democracy and the constitution. We're hopeful that we will reach there, but we have challenges with image and perception."
Additional reporting by Daniel Bosley in Malé
Join our commenting forum
Join thought-provoking conversations, follow other Independent readers and see their replies