Who is Priya Ramani and what is the India MeToo case about?
'Me – the victim – had to stand up in court as the accused', says Ramani after the verdict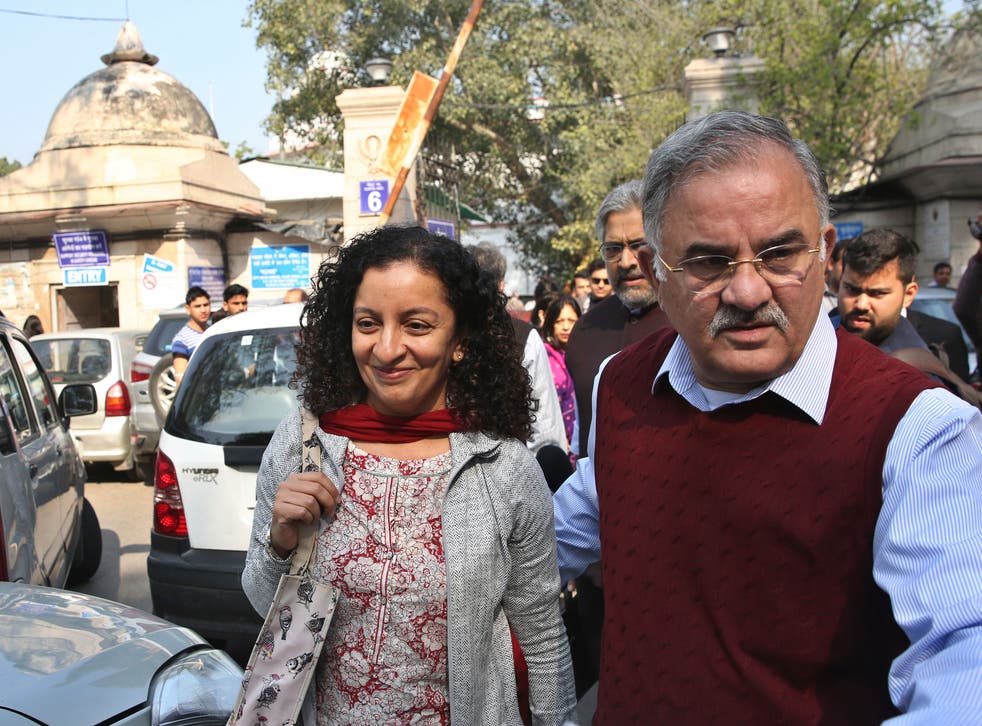 Indian journalist Priya Ramani has been acquitted by a court in Delhi in a high-profile criminal defamation lawsuit brought by a former minister of the ruling party after a two year-long battle over a sexual harassment allegation that was seen as a tipping point for India's MeToomovement.
The landmark ruling against prominent Indian politician MJ Akbar has been hailed as a victory for the #MeToo movement as a whole and celebrated by activists and lawyers as vindication for thousands of women who came out to speak about their experiences.
Ms Ramani, now 51 years old, was just 23 when she says she was harassed by Mr Akbar, a member of India's parliament and former foreign minister and newspaper editor.
Ms Ramani was a psychology student from St Xavier's College in Mumbai and studied journalism at Temple University in Philadelphia before starting her career as a journalist in media houses like Reuters, Cosmopolitan and Vogue.  
How did the case start?
As the MeToo movement was picking up in the US following the allegations against Hollywood producer Harvey Weinstein, in October 2017 Ms Ramani wrote an article in Vogue India addressed "to the Harvey Weinsteins of the world" describing her encounter with a senior editor during a job interview 20 years earlier.
Without naming the person who interviewed her, she referred to him as a legend in the news industry.
"Turns out you were as talented a predator as you were a writer. It was more date, less interview. You offered me a drink from the mini-bar (I refused, you drank vodka), we sat on a small table for two that overlooked the Queen's Necklace (how romantic!) and you sang me old Hindi songs after inquiring after my musical preferences. You thought you were irresistible," she wrote in the article.
A year later, in October 2018, Ms Ramani revealed the name of her alleged "predator", tweeting the Vogue story she had written and identifying MJ Akbar, then a junior foreign minister in Narendra Modi's cabinet.
"I began this piece with my MJ Akbar story. Never named him because he didn't 'do' anything. Lots of women have worse stories about this predator—maybe they'll share," she had tweeted.
During the period between her article and tweet, at least 21 women came forward to allege that they had been harassed, sexually assaulted and even raped by Mr Akbar as he continued his work as a senior editor with various Indian publications.
These charges have consistently been dismissed by Mr Akbar as "baseless", and he has always denied any wrongdoing.
Mr Akbar eventually resigned as a minister as the allegations mounted, but he also filed a defamation case against Ms Ramani – a charge that, if proved, could have landed her two years in prison or a fine, or both.
What were her allegations?
During her trial, Ms Ramani said she was called by Mr Akbar to a hotel for an interview in 1993 for a position at The Asian Age newspaper, of which Mr Akbar was the founder.
She told the court she was asked by the receptionist at the hotel to meet him in his room.
She detailed how Mr Akbar asked her personal questions about her boyfriend, offered her alcohol and sang songs in the room. It was when he gestured her to sit near him she got alarmed and left.
"Then he moved to the small two-seater sofa next to the bed and gave me a gesture to come and sit in the tiny space next to him. I was already feeling unnerved by his inappropriate behaviour," The Asian Age quoted her saying.
"Now I was concerned for my physical safety. I knew I had to leave the room immediately. I got up and said I had to leave. As I was leaving, Mr Akbar said his office would follow up about the job," she added.
During the proceedings, Mr Akbar's lawyer, Geeta Luthra, had said that her client enjoys a "stellar reputation" which Ms Ramani had tried to tarnish.
India's MeToo movement
In the period between 2018 to 2019, India's Metoo movement exploded into an avalanche of sexual harassment cases as women came forward with their stories about famous men in Bollywood, journalists, musicians and politicians.
The movement had started to pick up pace even before Ms Ramani's Vogue article. It began with a woman tweeting about the comedian Utsav Chakraborty, alleging he had sent unsolicited nude photos. Later the actress Tanushree Dutta's sexual harassment complaint against actor Nana Patekar made headlines for a month before setting off the movement in Bollywood. Patekar was cleared of sexual harassment in June 2019 after police said they had not found sufficient evidence, while Chakraborty has said the claims against him were "fabricated".
Join our new commenting forum
Join thought-provoking conversations, follow other Independent readers and see their replies