MH370 search: Families of missing passengers launch $5m reward to tempt whistleblower to expose 'cover-up'
Relatives of those on board Malaysia Airlines flight seek truth using 'human intelligence' approach
Adam Withnall
Sunday 08 June 2014 12:03 Comments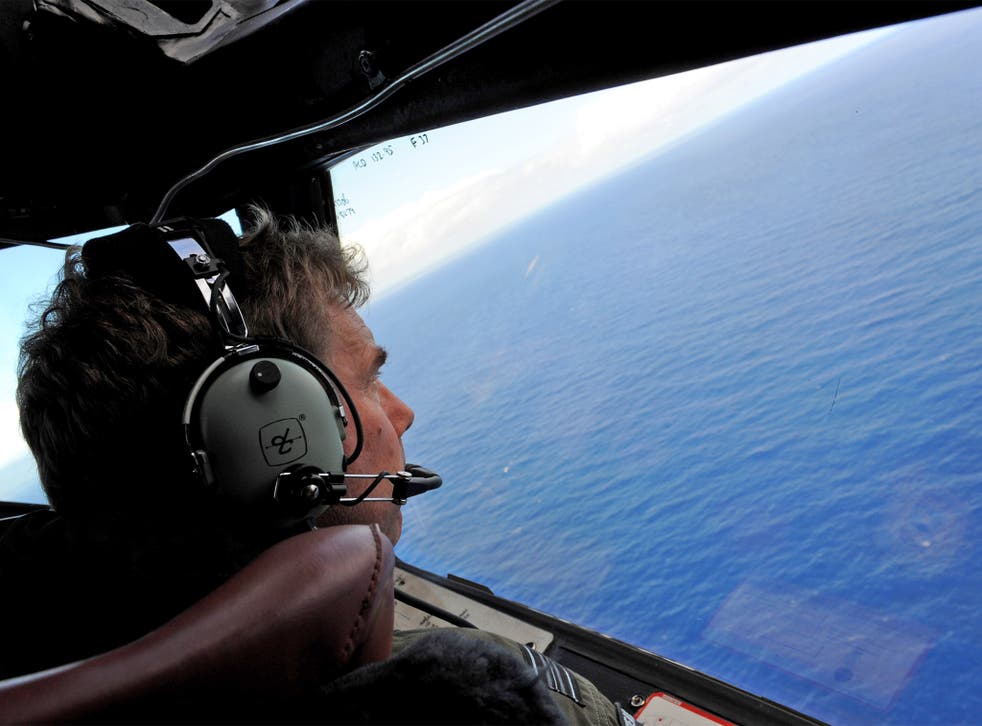 The families of those on board the missing Malaysia Airlines flight MH370 have launched a campaign calling for a "whistleblower" to come forward and reveal how the plane has lost, offering a reward of up to $5 million (£3 million).
They plan to raise the money via the crowdfunding website Indiegogo, and hope that a large enough sum will entice a military insider or aviation expert to expose what many relatives believe to be a cover-up.
Since the Boeing 777 went missing on 8 March with 239 people on board, investigators have failed to find a single piece of wreckage and the search zone still spans up to 60,000 square km (24,000 square miles).
The lack of any firm details has fuelled a huge range of conspiracy theories online, and the families have repeatedly accused the Malaysian government of holding back important information.
Sarah Bajc, the partner of missing American passenger Philip Wood, told Sky News that she was "certain there has been a cover-up".
She said: "I'm not sure who is doing it or why they're doing it, whether it was an intentional act that's being obscured or whether there was a genuine bad thing that happened and people are trying not to let that come to life.
"But we do honestly believe that somewhere there is a person who knows something that will allow us to find the plane and find our loved ones."
In pictures: Missing Malaysia Airlines flight MH370

Show all 30
Ethan Hunt, the man organising the project, told the broadcaster: "This mystery is unprecedented in the history of aviation, and we need to work as a collective community with one goal of finding the truth, the plane and the passengers.
"Utilising the immense potential of the crowd we believe we can achieve our primary goal of recovering the flight where others methods have failed in the past."
As well as going towards a straightforward reward for any "whistleblower" who might come forward, part of the crowd-sourced money will also be spent on private investigators to follow up potential leads, USA Today reported. The campaign, entitled "Reward MH370: The Search for the Truth", will be launched on Monday.
Ms Bajc acknowledged that the amount they proposed to spend on investigators "won't go very far" compared to the most expensive search in aviation history, but said that theirs would be an approach based on "human intelligence".
Angus Houston, the former air chief marshal leading the official international investigation based in Australia, rejected the families' claims of a cover-up.
He told USA Today: "Nothing important is being concealed in any way. My approach has always been to be as open as I could possibly be."
Meanwhile, the official search has been suspended for two months while private contractors and more powerful, specialised equipment can be sourced.
A Chinese ship has been tasked with surveying the search zone, and contractors will then reportedly have 300 days to scan the designated area.
Register for free to continue reading
Registration is a free and easy way to support our truly independent journalism
By registering, you will also enjoy limited access to Premium articles, exclusive newsletters, commenting, and virtual events with our leading journalists
Already have an account? sign in
Join our new commenting forum
Join thought-provoking conversations, follow other Independent readers and see their replies