Migrants describe how people were killed following fights for food on 'floating coffin' boats in Andaman Sea
Thousands of migrants remain in boats at sea in horrific conditions as they are repeatedly pushed out to sea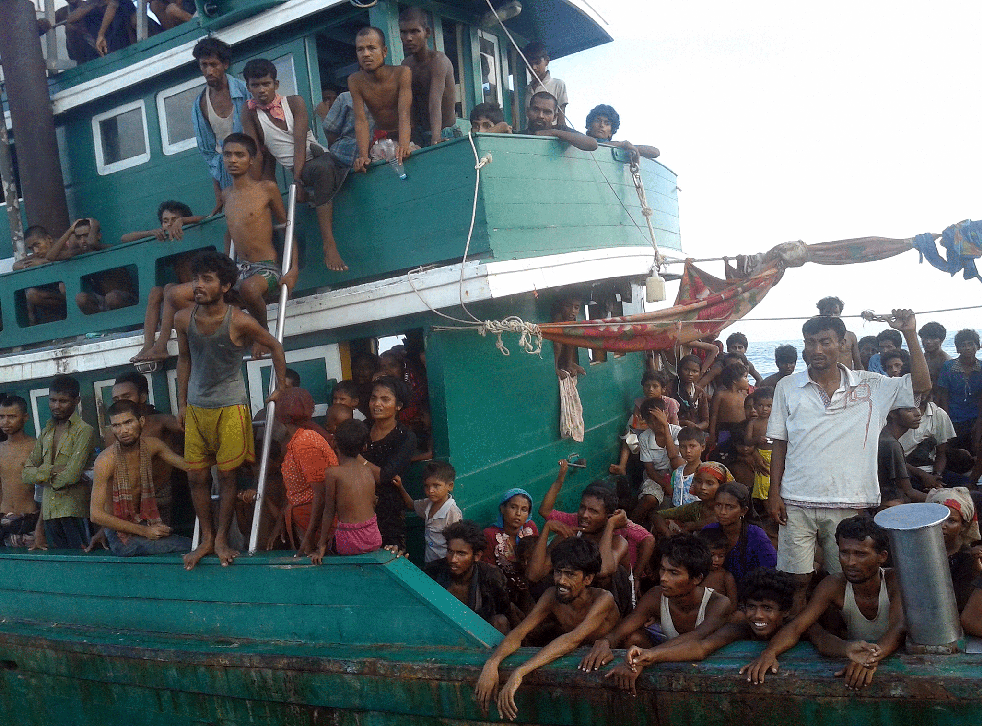 Migrants rescued from boats branded "floating coffins" by the UN have described how people were killed following fights for scarce food and water supplies.
Survivors relived their horrific experiences and three men said people have been stabbed, hanged or thrown overboard, the BBC reports.
At least 700 migrants from Myanmar and Bangladesh are now being processed in Indonesia after they were rescued from their sinking boat off the country's coast in the Andaman Sea.
About 100 migrants from the boat died after a fight broke out over the final scraps of food, survivors said.
Thousands more remain in unseaworthy boats, forced to endure unimaginable hardships, as the vessels they are travelling in are pushed out to sea and stopped from reaching land by the Indonesian, Thai and Malaysian navies.
Previous reports stated that migrants have even been forced to drink their own urine in an attempt to survive, as they were left without food or drink.
Despite appeals by the UN, and other humanitarian agencies, Thailand, Malaysia and Indonesia appear unwilling to allow further migrants to cross their borders.
Thai prime minister General Prayuth Chan-ocha said: "If we take them all in, then anyone who wants to come will come freely. I am asking if Thailand will be able to take care of them all. Where will the budget come from?"
"No one wants them. Everyone wants a transit country like us to take responsibility. Is it fair?" he added.
While Wan Junaidi Jafaar, the Malaysian deputy home minister, said: "We have been very nice to the people who broke into our border. We have treated them humanely but they cannot be flooding our shores like this."
After weeks of inaction an emergency summit on the crisis has been scheduled for 29 May in Thailand.
But Myanmar's government has threatened not to attend, as it accused other countries of blaming it for the present situation.
Major Zaw Htay, director of the office of Myanmar's president, said: "We will not accept the allegations by some that Myanmar is the source of the problem."
Many of the Muslim Rohingya migrants are fleeing from persecution in the predominantly Buddhist state of Myanmar, while the Bangladeshi migrants are making the perilous journey for a chance of a better life.
The UN has said the ethnic Muslim Rohingya group in Myanmar are one of the world's most persecuted minorities, who have suffered from state-sanctioned discrimination. They are denied citizenship and are effectively stateless.
Over the past three years an estimated 120,000 people have fled Myanmar on traffickers' boats, after attacks on Rohingya Muslims left hundreds dead.
Additional reporting by agencies
Register for free to continue reading
Registration is a free and easy way to support our truly independent journalism
By registering, you will also enjoy limited access to Premium articles, exclusive newsletters, commenting, and virtual events with our leading journalists
Already have an account? sign in
Join our new commenting forum
Join thought-provoking conversations, follow other Independent readers and see their replies