Millionaire loses fortune after adopting 75 sick and abandoned children
Even after having cancer, Ms Lijuan said she'd rather spend what little money she has left on helping the unfortunate than on medical bills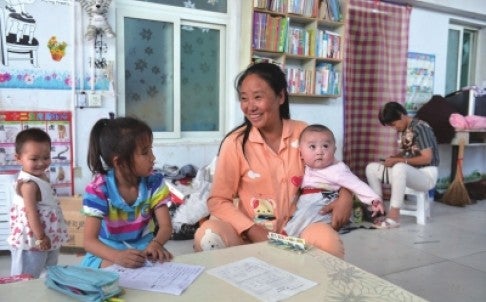 A woman who was once a millionaire is now in debt after she spent all of her money adopting 75 sick and abandoned children.
Even though she's lost the fortune she spent almost 20 years building, 46-year-old Li Lijuan, from Wu'an County in China, is still dedicated to supporting her foster sons and daughters, Yahoo! News reports.
While volunteers from across China – and the world – have said they will gladly help give Ms Lijuan's foster children new homes, strict adoption laws in the country mean the former millionaire has had no choice but to refuse their offers.
All of the children are registered under her name and, because they were never formally declared orphans, Chinese authorities say they cannot be adopted by other families.
Ms Lijuan, a former garment business owner, began to accumulate her wealth in the 1980s when she started to invest in coal mining and first adopted a boy in 1994.
When the mine she invested in for some 20 years suddenly shut down in 2008 – because of urban developments – Ms Lijuan found she was no longer able to meet the financial needs of her large family and is said to now be in debt of two million yuan (£200,000).
Despite having the growing debt, Ms Lijuan has been selling-off her property, and other valuables, in order to raise funds, and she also receives small donations from charities. But, because many of her children need medical treatment because of disabilities and birth defects, Ms Lijuan finds the money doesn't last long.
According to Chinese media reports, she has said she is eager for all of her children to attend school in the hope that "knowledge will change their wretched fates." Some of her sons and daughters have gone on to university and have become public servants.
Even when she was diagnosed with early-stage lymph cancer in 2011, Ms Lijuan insisted she would rather spend her money on taking in sick, abandoned and disabled children rather than 'squandering' away on high medical costs.
Heartwarming news stories from around the world
Show all 30
Ironically, however, Ms Lijuan has not seen her biological son, Xiaowen, in over ten years.
After suffering a serious spinal injury in 2004, he had to undergo surgery and, because Ms Lijuan had to take one of her foster children to another hospital for an operation, she was not able to be by Xiaowen's side.
Feeling neglected, he became depressed and left home to be raised by his grandmother where he currently lives.
Media site, Sunny Skyz, says it has attempted to reach out to multiple Chinese news outlets, in hopes of getting in contact with Ms Lijuan, so they can set up a GoFundMe page.
Join our commenting forum
Join thought-provoking conversations, follow other Independent readers and see their replies