Missing Malaysia Airlines plane: Details emerge of two young Iranians using stolen passports in search for a better life
The two men travelling on stolen passports became the subject of terror speculation – but they were merely on their way to Europe on the quest for work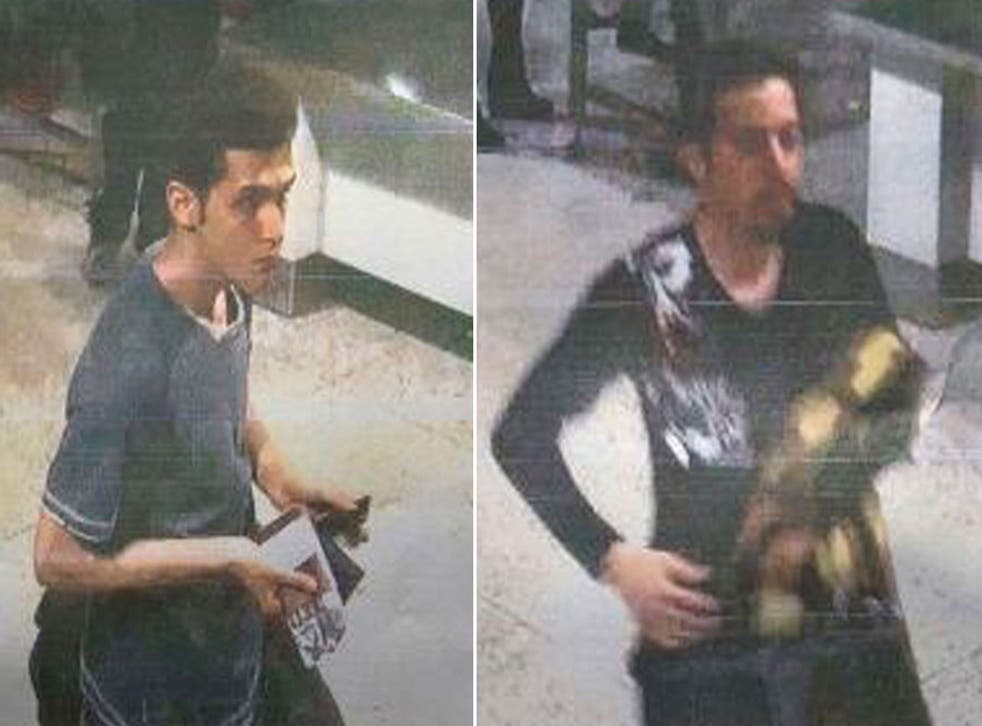 They were going in search of a better life. Two young Iranian men, one wearing a short-sleeved blue T shirt, the other dressed in a long-sleeved black shirt, have been identified as the mystery travellers who boarded Malaysia Airlines flight MH370 using stolen passports.
The authorities say there is no evidence they were linked to any terror groups; rather they were apparently travelling to Europe to try and secure work.
As the search for the missing aircraft completed its fourth day with still no trace of the missing aircraft, officials revealed the identities of the two passengers as 29-year-old Delavar Seyed Mohammadreza and Pouria Nour Mohammad Mehrdad, who was aged either 18 or 19.
At a press conference in Lyons, France, Interpol Secretary General Ronald Noble said investigators were increasingly of the belief that the disappearance of the Boeing 777 and its 239 passengers and crew was not linked to a terrorist incident.
"The more information we get, the more we are inclined to conclude it is not a terrorist incident," said Mr Noble. "By doing this, eventually, with more and more evidence, we'll able to exclude that they were involved in conduct that might have involved the plane to disappear and focus on eliminating the human trafficking ring that allowed them to travel."
The search for missing Malaysia Airlines plane

Show all 115
As officials in Malaysia announced they were again extending the area they were scouring and the country's military suggested the missing plane may have actually veered west across the Strait of Malacca, a partial picture emerged of the journey being undertaken by the two men who until now have been the focus of much of the work being conducted by Malaysian and foreign intelligence investigators.
It appears the two men boarded a flight in Doha, Qatar, using their Iranian passports and flew to Kuala Lumpur. There, they were able to pick up two European passports, one belonging to Austrian Christian Kozel and the other to Luigi Maraldi of Italy. The passports had been stolen in Thailand in 2012 and 2013 respectively and had been entered into Interpol's database.
"We know that once these individuals arrived in Kuala Lumpur on the 28th of February they boarded flight 370 using different identities, a stolen Austrian and a stolen Italian passport," said Mr Noble.
The two Iranians were bound for Europe, on tickets apparently bought by an Iranian middleman at a travel agency in the Thai resort of Pattaya. Both flights were routed through Beijing to Amsterdam. From there, Mr Mehrdad, traveling on Mr Kozel's passport, was to continue to Frankfurt, while Mr Mohammadreza, using Mr Maraldi's passport, was to fly to Copenhagen.
In Kuala Lumpur, police confirmed that they did not believe the two passengers were linked to any militant groups. Police chief Khalid Abu Bakar told reporters that Mr Mehrdad was apparently heading to Frankfurt to join his mother. When he failed to arrive in Germany, she had contacted the authorities in Kuala Lumpur.
"We believe he is not likely to be a member of any terrorist group, and we believe he was trying to migrate to Germany," said Mr Khalid. "His mother was expecting him to arrive. She contacted us here, so that is how we know he is the one."
As darkness fell in Malaysia after the fourth day of a massive search for any sign of the missing plane, reports suggested Malaysia's military believed it had tracked the missing plane by radar over the Strait of Malacca, a considerable distance from where it had last made contact with civilian air traffic control off the country's east coast.
The Strait of Malacca, one of the world's busiest shipping channels, runs along Malaysia's west coast. Malaysia Airlines said on Saturday that radio and radar contact with flight MH370 was lost off the east coast Malaysian town of Kota Bharu.
Yet the Reuters news agency quoted an unidentified military official who said the plane may have flown for a further 350 miles. "It changed course after Kota Bharu and took a lower altitude. It made it into the Malacca Strait," said the official.
Malaysian Airlines said it was considering the possibility that the aircraft had tried to turn back to an airport at Subang, near Kuala Lumpur. Officials have now said the search for the missing plane is going on with the air and maritime assets of ten countries on both sides of the Malay peninsula.
Aviation experts have said it is highly unusual that no trace of the plane has been spotted. Asked earlier in the day about the possible causes for the plane's disappearance, Mr Khalid, the police chief, said investigators were focussing on four areas - hijacking, sabotage, psychological problems and possible personal problems of the passengers or crew.
"Maybe somebody on the flight has bought a huge sum of insurance, who wants family to gain from it or somebody who has owed somebody so much money, you know, we are looking at all possibilities," he said. "We are looking very closely at the video footage taken at the [Kuala Lumpur International Airport], we are studying the behavioural pattern of all the passengers."
Register for free to continue reading
Registration is a free and easy way to support our truly independent journalism
By registering, you will also enjoy limited access to Premium articles, exclusive newsletters, commenting, and virtual events with our leading journalists
Already have an account? sign in
Register for free to continue reading
Registration is a free and easy way to support our truly independent journalism
By registering, you will also enjoy limited access to Premium articles, exclusive newsletters, commenting, and virtual events with our leading journalists
Already have an account? sign in
Join our new commenting forum
Join thought-provoking conversations, follow other Independent readers and see their replies