Mumbai bridge stampede began when commuters tragically misheard cries of flower-seller, probe finds
Twenty-three people died and 39 more were injured in the incident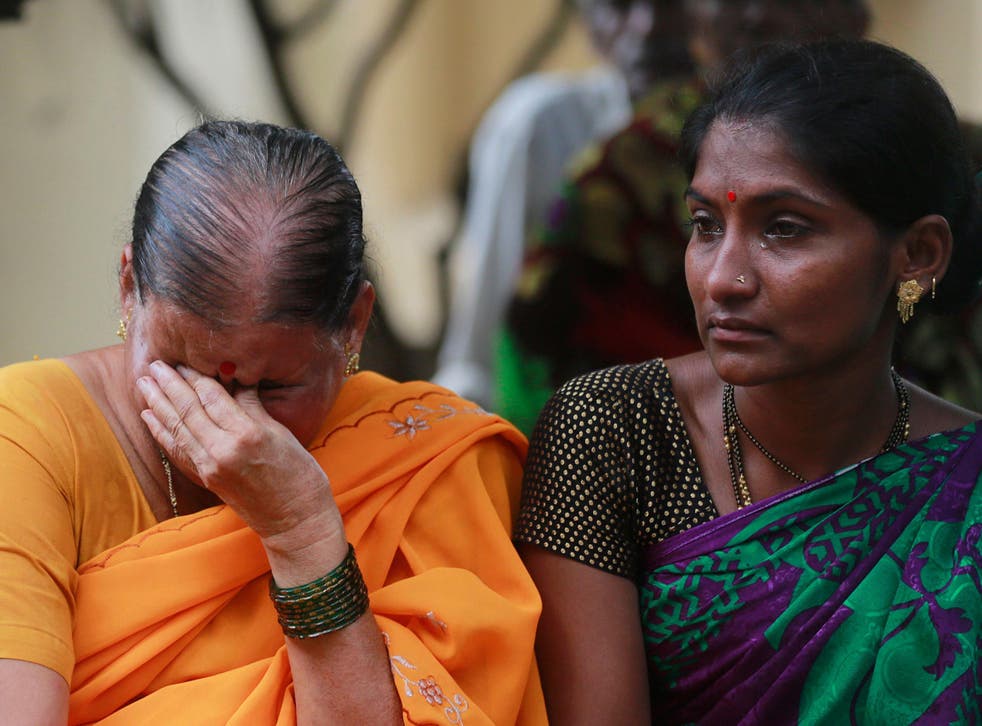 A police probe into the deadly stampede at a railway station in Mumbai, India, has found the incident began with a tragic misunderstanding.
Witnesses have described how people became trapped in an enclosed pedestrian bridge over the tracks at the Elphinstone station last Friday morning.
Mumbai Police sources told the Indian Express the stampede and subsequent crush began and was over in less than 10 minutes, during which 23 people died and 39 were injured.
Sudden torrential rain led passengers to wait under shelter at either end of the packed bridge, as more passengers arrived on the platform with the arrival of a new train every four minutes.
Quoting a senior official in the police probe, the Express reported that a flower seller whose stock was knocked over by the crowd shouting "phool gir gaya (flowers have fallen)".
"This was... mistakenly construed as 'pul gir gaya' (bridge has fallen). Around the same time a young girl slipped on the stairway, leading to a domino effect and the ensuing stampede."
The police probe has also looked into allegations, reported in Indian media after the emergence of mobile phone footage of the incident, that a woman was molested by a man as she lay dying in the stampede.
The Railway Police commissioner had described the "molestation video" as "shameful". But Mumbai Police now believe the man shown in the video had grabbed the woman to try and pull her free.
"The victim got stuck in between the railing of the bridge. The commuter tried to drag her out. He rested her body on his foot and was trying to pull her and grabbed her by the chest," the Indian Express quoted an official as saying.
Assistant Commissioner of Police (Dadar Division) Sunil Deshmukh told The Hindu that a man seen in the video standing close to the incident had given a witness statement to police.
"[He said] the woman's upper body was protruding through the [bridge] railing and that the man in the video was supporting her with his thigh while trying to pull her out at the same time, and not molesting her. We also studied a longer version of the video, which corresponds with the witness's statement."
The stampede has led to calls for action from officials in Mumbai, which has just begun construction of India's first high-speed train to link the city with Ahmedabad. A common complaint has been that the money spent on the so-called Bullet Train would be better diverted towards the city's existing rail infrastructure.
The Elphinstone station manager has said in a statement that he had raised concerns about the chaos on the bridge, but that the incident was over before officials could make their way through the crowd. The probe is expected to find there was no dereliction of duty on behalf of the railway officials.
Update: This story has been updated to reflect the fact that police have investigated and since ruled out the allegations of molestation
Register for free to continue reading
Registration is a free and easy way to support our truly independent journalism
By registering, you will also enjoy limited access to Premium articles, exclusive newsletters, commenting, and virtual events with our leading journalists
Already have an account? sign in
Register for free to continue reading
Registration is a free and easy way to support our truly independent journalism
By registering, you will also enjoy limited access to Premium articles, exclusive newsletters, commenting, and virtual events with our leading journalists
Already have an account? sign in
Join our new commenting forum
Join thought-provoking conversations, follow other Independent readers and see their replies