Indian comedian charged with insulting Hindu deities after right-wing group crashes show
Police initially booked Faruqui based on video evidence, however they now say there is no video showing wrongdoing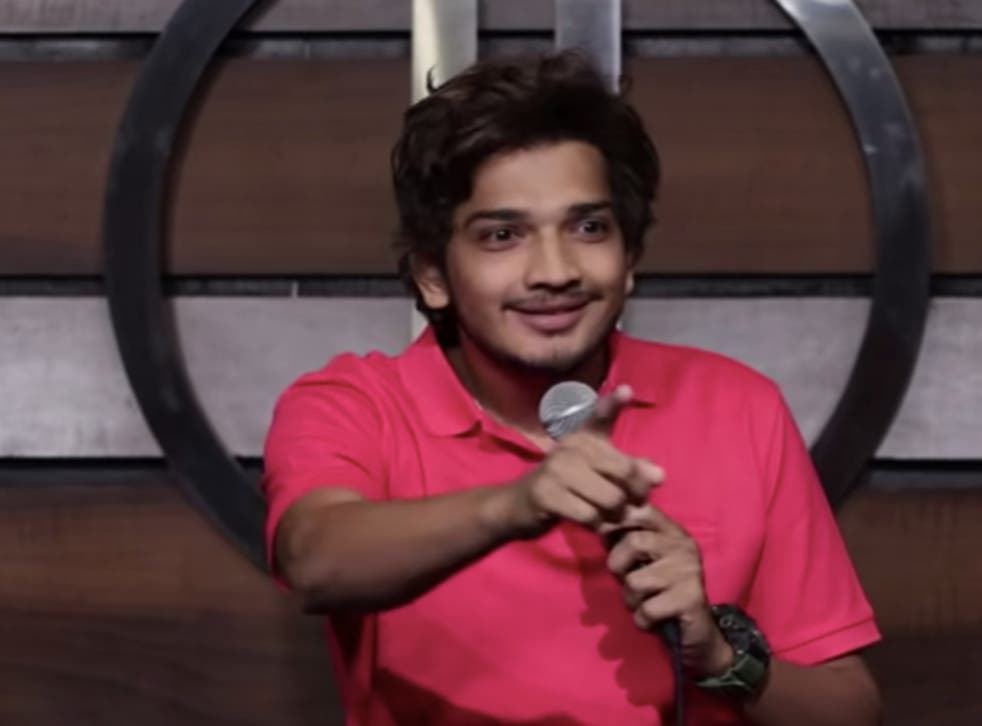 A comedian has been charged by the Indian authorities for "hurting religious sentiments" after a group of right-wing Hindus crashed his show and confronted him over jokes he allegedly made about Hindu deities.
Munawar Faruqui, a young stand-up comedian from Gujarat, was arrested by the police along with four other people on Friday after several members of a fringe group led by Eklavya Gaur, the son of a local politician from the ruling Bharatiya Janata Party (BJP), ambushed him after the show.
Some local media reports suggested Faruqui was beaten by the Hind Rakshak Sangathan members before they brought him to the police station, demanding he be charged. Police said at the time that they did so based on video evidence from the gig provided by Mr Gaur.
But on Monday, amid a growing outcry over the comedian's treatment, police said in a statement that there was no video evidence to prove Faruqui made remarks either "insulting Hindu deities or [home] minister Amit Shah", another of the claims made by Mr Gaur.
Nonetheless, police continue to hold Faruqui while they investigate the allegations, and have also arrested four others on the same charge of hurting religious sentiments at the show in Indore, Madhya Pradesh state. They were identified as Edvin Anthony, Prakhar Vyas, Priyam Vyas and Nalin Yadav, all associates of Faruqui.
Mr Gaur, after getting the case registered, told Indian media outlets outside the police station: "He [Mr Faruqui] is a serial offender and often cracks defamatory jokes on Hindu gods and goddesses.
"When I heard about Munawar's show, I bought a ticket and went to see it. As expected, he was insulting Hindu deities and also mocked home minister Amit Shah by dragging his name with Godhra riots," said Mr Gaur, referring to the religious riots that took place in Gujarat in 2002 when Mr Shah and Narendra Modi, now the prime minister, were in charge of the state.
An account posted online by one of the attendees of the event disputed the claims made by Mr Gaur, however. Jen Agnes, who said she was in the audience, claimed Faruqui hadn't even started his performance when Mr Gaur got up to the stage and accused him of insulting his religion.
In several videos circulating online, Faruqui can be seen convincing Mr Gaur and his aides that his intention was not to disrespect Hinduism. He can be heard referring to his old videos where he also made jokes about Islam. Mr Gaur too can be seen on the stage, while some guests at his event try to intervene in support of the comic.
Several comedians and rights activists have come out in support of the comedian, pointing at the rising intolerance in the country and clampdown on freedom of expression.
Last month India's Supreme Court launched contempt of court proceeding against the prominent comedian Kunal Kamra and cartoonist Rachita Taneja for criticising and making jokes about a court verdict. 
Faruqui, who started his career as a stand-up comedian early in 2020, has been growing increasingly popular for his comic routines commenting on current affairs and the Modi government. His videos regularly receive millions of views and he already has a YouTube subscriber base reaching above 500,000.
Join our new commenting forum
Join thought-provoking conversations, follow other Independent readers and see their replies