Musharraf returns from exile to angry judiciary
Former leader has shoe thrown at him in court as he faces conspiracy charges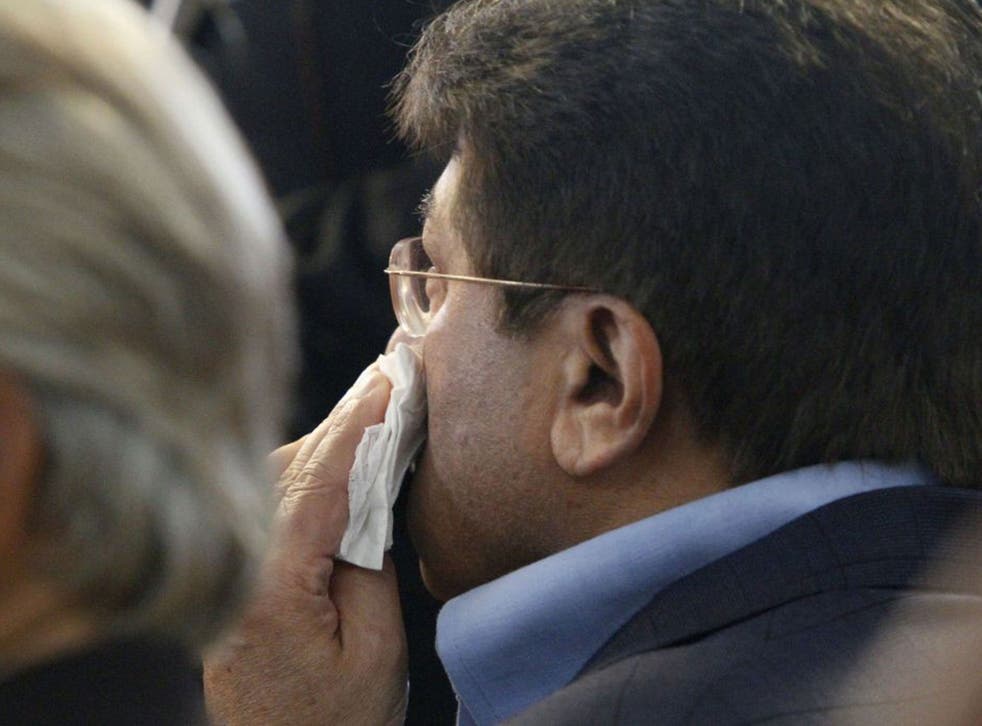 Pakistan's former president Pervez Musharraf was confronted by angry lawyers when he appeared in court, one of them taking aim at him with with a shoe but missing.
As part of the conditions of bail that was granted to Mr Musharraf by a judge before he returned to Pakistan earlier this week, he was obliged to appear before a court in Karachi.
At the Sindh High Court on Friday, groups of angry lawyers shouted slogans against the former military leader and jostled with his supporters. Many lawyers hold a grudge against Mr Musharraf because he sacked and placed under house arrest chief justice Iftikhar Chaudhry.
Mr Musharraf's bail was extended in the three cases outstanding against him and he was ordered not to leave the country. But as the 69-year-old was being led from the court, a shoe was thrown at him.
The Press Trust of India said the shoe fell a few feet away from a group of people standing next to the former leader. Local media said the person who had thrown it was a lawyer and that he was taken away by security personnel.
Mr Musharraf's appearance in the court related to three cases: one of these is an allegation of conspiracy relating to the 2007 assassination of former Prime Minister Benazir Bhutto. He is also accused over the killing of Akbar Bugti, a Baluch nationalist leader, along with the illegal removal of a number of senior judges.
Mr Musharraf, who seized power in a military coup in 1999 but who stepped down in the summer of 2008, has returned to the country to contest a general election due to be held on May 11. He is confident he can restart his political career.
Although most analysts believe he will make little impact, the former president believes he can appeal to large numbers of people fed up with poor governance, the stumbling economy and the ongoing threat of extremists.
He returned from exile in Dubai and London last Sunday, despite the legal charges against him and death threats from Taliban militants. He was only met by modest crowds when he landed in Karachi.
Also on Friday, a suicide bomber attacked a convoy carrying a paramilitary police commander in the north-west Pakistan, killing at least six people, including two women.
The Associated Press said that the apparent target of the attack in the city of Peshawar, Abdul Majeed Marwat, who heads the Frontier Constabulary, was not hurt. The dead included three members of the security forces and three civilians, said Khan. Two of the civilians were women. More than 15 people were wounded, said police.
Security fears make children miss un-backed polio vaccinations
A top UNICEF official has claimed that as many as 240,000 children have missed UN-backed vaccinations against polio because of security concerns in Pakistan's tribal regions.
Dr Nima Saeed Abid, acting UNICEF chief for the polio eradication programme in Pakistan, said health workers have not been able to immunise children in the North and South Waziristan regions – Taliban strongholds – since July 2012.
Pakistan is one of the few countries where polio is rampant. Dr Abid said 15 health workers have been killed in the anti-polio campaign in Pakistan since July 2012. Militants accuse the workers of spying for Washington.
Join our new commenting forum
Join thought-provoking conversations, follow other Independent readers and see their replies