Narendra Modi takes a crucial step closer to becoming Indian Prime Minster
Main opposition party announces country's most polarising politician will lead its election campaign – setting Modi up for a show-down with Rahul Gandhi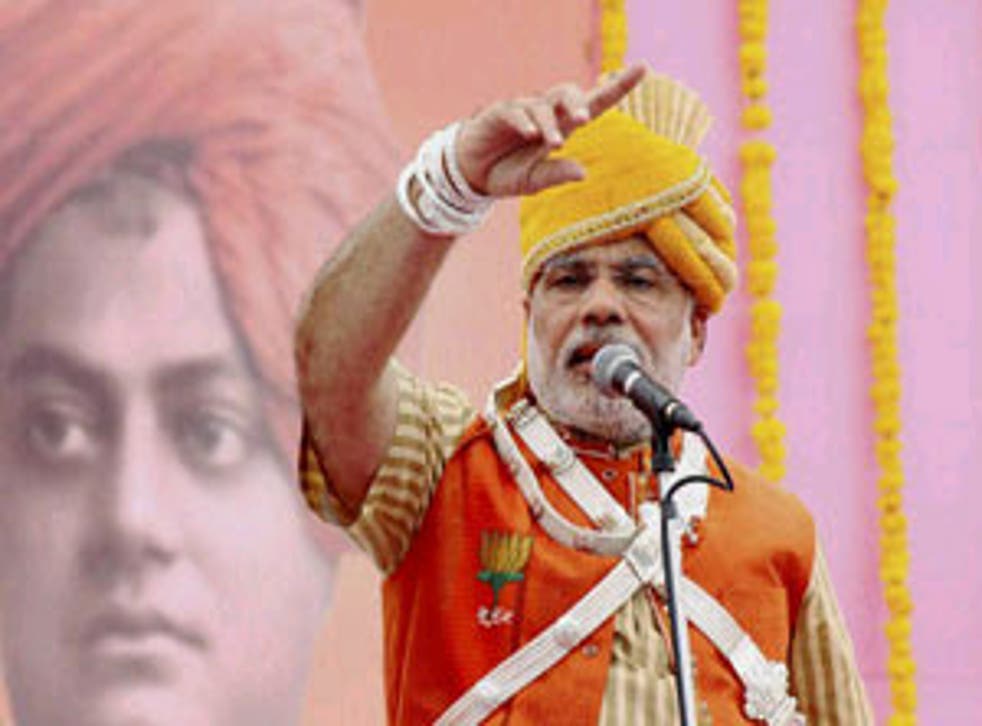 Narendra Modi, India's most polarising politician today took a crucial step closer to becoming the country's prime minster when the main opposition party announced he will lead its election campaign – setting him up for a show-down with Rahul Gandhi. 


After weeks of speculation and internal battles, the right-wing Bharatiya Janata Party (BJP), declared that the polarising Mr Modi will head the committee that will oversee the campaign, expected to take place next spring. While it did not officially announce him as its prime ministerial candidate, it would now be extremely difficult for anyone else to secure that role.
"We may not shine in newspapers or on television but we must shine in the hearts of the people," Mr Modi declared after the announcement.
Mr Modi, the chief minister of the western state of Gujarat, is a deeply divisive figure, both within his own party and the wider country. In 2002, more than 1,000 people, the vast majority of them Muslims, were killed in a series of organised attacks in his state. While he has never been charged, some of his ministers have been jailed and Mr Modi has been widely condemned for at the very least doing insufficient to stop the massacres.
While grassroots members of the party are highly enthusiastic about him, many senior figures, among them party veteran, Lal Krishna Advani, believe his strident, authoritarian style and his association to the 2002 killings, will cost the party votes, especially among Muslims. Mr Advani was notable in his absence from the BJP's meeting in Goa where the decision was announced.
"From now on, he is the face and the mascot of the party," said Kanchan Gupta, a journalist and analyst who once worked in the office of BJP prime minister Atal Bihari Vajpayee. "The election committee strategises the party's campaign so it stands to reason that the person heading that committee becomes the first among equals."
Mr Modi's appointment was announced following the three-day meeting by party president Rajnath Singh.
"The decision was unanimous. The entire party has faith in Modi. BJP considers the 2014 parliamentary elections to be a major challenge," Mr Singh told reporters, according to the Associated Press. "We are confident that the BJP will be voted to power in 2014. We are determined to win."
The announcement ends months of speculation and wrangling over Mr Modi. It also underscores the waning influence of Mr Advani, who was the BJP's prime ministerial candidate in 2009 and who, even at the age of 85, apparently believed he might receive one more shot at the top job.
Mr Modi said on social media that he had spoken with Mr Advani and received his support. "I spoke to Advani on the phone. He gave me his blessings. Honoured and extremely grateful to receive his blessings," he said.
In recent months Mr Modi's transformation from a regional leader to a national figure, helped by a slick public relations campaign, gathered unstoppable momentum. He and his supporters promoted him as a corruption-free, business-friendly leader who is responsible for economic growth in his state, even though other social indicators, particularly among rural communities, remain very poor.
Last year, a number of Western countries, led by Britain and Sweden, ended a boycott of Gujarat that has been enforced after the 2002 killings. While officials said the wanted to reengage with the state rather than any one individual, the decision was widely seen as further anticipation of Mr Modi's ascent.
Critics of Mr Modi, 62, accuse him pursuing a right-wing Hindu-dominated agenda. Fr Cedric Prakash, a Catholic priest and human rights activist from Gujarat, said he was not surprised by the BJP's decision.
However, he said he believed the selection of Mr Modi would cause it to lose support. "Although he has been trying to change his spots, the ground reality remains the same," he said. "I believe the people of India know better."
Sunday's announcement sets up Mr Modi for a clash of personalities, politics and styles with Rahul Gandhi, whose father, grand-mother and great grandfather all served as prime minister of India. The 42-year-old Mr Gandhi is currently deputy leader of the ruling Congress party, headed by his mother, Sonia Gandhi.
While it is unclear whether Mr Gandhi will be declared as the party's candidate for prime minister ahead of the polls, he will be the most visible face of the campaign. Many within the party believe he is their only chance of winning reelection.
The Congress faces a desperately tough battle next year. Rising prices, a faltering economy and repeated corruption scandals have created widespread anger and dissatisfaction. Some analysts believe the Congress will struggle to secure 100 seats in the 543-seat parliament.
As it is, it is almost inconceivable either the Congress or the BJP could secure a simple majority.
Whichever party emerges as the winner will need to build a coalition with the country's smaller and increasingly assertive regional parties, such as Nitish Kumar's Janata Dal party in Bihar, Mamata Banerjee's Trinamool Congress from West Bengal and Jayalalithaa Jayaram's All India Anna Dravida Munnetra Kazhagam in the southern state of Tamil Nadu.
Join our new commenting forum
Join thought-provoking conversations, follow other Independent readers and see their replies