Nepal earthquake: Authorities say there will be no more survivors
The news comes days after people were miraculously pulled alive from the rubble in Kathmandu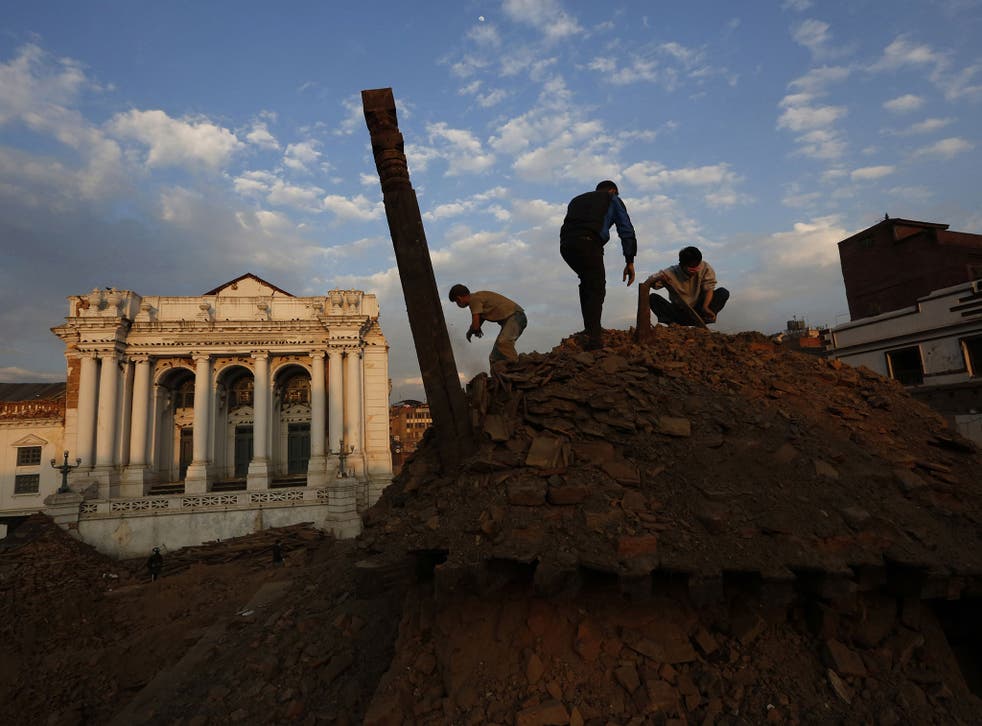 Authorities in Nepal have ruled out the possibility of finding further survivors after last week's huge earthquake, which has now left more than 6,600 people dead.
"We are trying our best in rescue and relief work but now I don't think that there is any possibility of survivors," Laxmi Prasad Dhakal, a home ministry spokesman, told AFP news agency.
At least 14,025 have been injured by the magnitude-7.8 earthquake, which struck on 25 April, according to the deputy inspector general of Kathmandu police.
Aid workers are now facing "immense logistical challenges" as they try to reach mountainside villages, which have been cut off the earthquake, UN humanitarian chief Valerie Amos said.
Roads have been destroyed and helicopters are unable to land in some remote areas. Even where aid can be delivered by air, it is thought it will be of little use to those who need medical treatment.
Baroness Amos who saw the devastation from the air, said: "Of course we are worried that it is taking so long to get to people who desperately need aid. Some of those villages are virtually flattened. But it's very, very hard to see how we're going to get to them."
Powerful earthquake hits Nepal

Show all 44
Leaders in Nepal were working to supply aid to those in need, but the extent of the destruction and loss of life has stretched the government.
The country is still in desperate need of supplies and has renewed its appeal to international donors for tents, tarpaulins, grain, salt and sugar.
Information minister Minendra Rijal said that Nepal would need 400,000 tents, but has only been able to provide 29,000 to those who need them.
In the capital, Kathmandu, days after survivors were miraculously rescued, relief workers are still trawling through rubble and debris. Many buildings only remain standing because their fall was broken by other buildings in the tightly packed central district.
Meanwhile the search for foreign citizens in the country continues, but as many tourists do not register with their embassies it is difficult to keep track of foreigners.
More than 1,000 Europeans have not contacted their embassies since the earthquake the EU's ambassador to Nepal, Rensje Teerink, said.
"Of course it doesn't mean they are dead. It just means they haven't reported back", she said.
AP
Register for free to continue reading
Registration is a free and easy way to support our truly independent journalism
By registering, you will also enjoy limited access to Premium articles, exclusive newsletters, commenting, and virtual events with our leading journalists
Already have an account? sign in
Register for free to continue reading
Registration is a free and easy way to support our truly independent journalism
By registering, you will also enjoy limited access to Premium articles, exclusive newsletters, commenting, and virtual events with our leading journalists
Already have an account? sign in
Join our new commenting forum
Join thought-provoking conversations, follow other Independent readers and see their replies