Nepal earthquake: Gurkhas to the rescue, ignoring injuries and rejecting flight home
Members of the brigade that first took up arms on Britain's behalf 200 years ago are defying the elements to help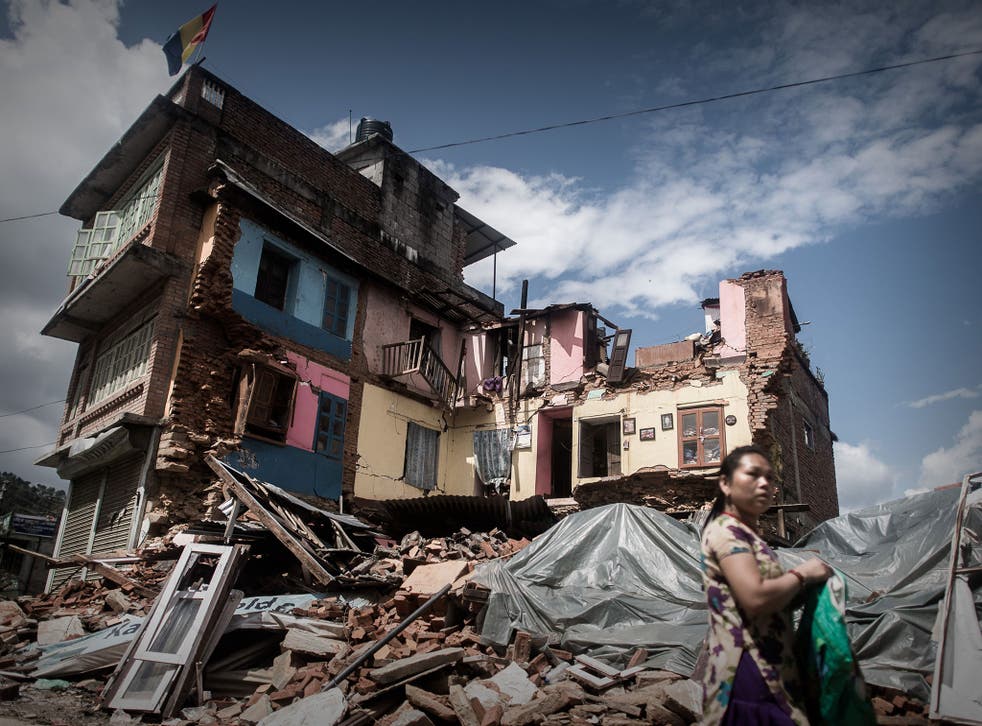 The weather forecast for the Himalayan region was not going to be good for the next few days, Captain Buddhi Bhandari read with gloom at the base camp for the Gurkha Everest Expedition. He cheered up, however, after seeing that it was expected to improve after that.
The earthquake that was to rip through Nepal with such devastation began three minutes later. Up in the mountains it came in the form of a roaring, cascading avalanche, the ground shaking beneath. Captain Bhandari knew that he had to get himself – and three kitchen staff – out of the camp if they were to have any chance of survival.
As the men rushed from the tent, they could feel the ice under their feet moving fast. "It was as if we were in a rodeo. Trying to keep balance was a hell of a job. Then I saw something which was really worrying: the Pamari Mountain, to our left, was actually falling. It was just 300 metres away and it was coming towards us."
Captain Bhandari, 46, shouted at the men to take cover, unsure whether they had heard him through the howling wind. He then dived behind a boulder of ice, grabbing a tent rope for support. "That didn't really work, something hit me in the back and head really hard; it was painful," he recalled. "I was then just lifted from the ground by the wind and flung 15 metres into a ditch."
The officer suffered head injuries. Found and dragged away by his comrades who had come down from another camp higher up – having suffered their own hairy experience – he was to see two men from another expedition die while waiting to be airlifted to Kathmandu.

But a Gurkha should not stay in bed while people around him are in desperate need of help, Captain Bhandari decided. So he discharged himself from hospital after two days and "respectfully" refused to get the flight back to Britain scheduled for the team, stating that he wished to get involved in relief work. He was not the only one.
Others, too, had decided to stay on. They included Sergeant Major Govinder Rai, who had found Captain Bhandari lying wounded and carried him to safety, and the expedition leader, Captain Dick Gale. He had played a part in organising other climbing teams, many of their members panic-stricken, at the base camp.
The lethal tremors came on the 200th anniversary of the Gurkhas taking up arms on behalf of Britain, an occasion celebrated with pageantry in which the Everest ascent was to be a key event. "I don't suppose we'll get the chance to have another go at Everest soon, which is a pity. But, obviously, we need to focus on the relief operation for now," said Captain Bhandari. "I'll stay as long as they think I am needed."
Powerful earthquake hits Nepal

Show all 44
He will be needed by June, when the Palace expects him to take up his post as one of the Queen's Gurkha Orderly Officers, helping her on state occasions such as investitures, an appointment viewed in the forces as a mark of great honour. The families back home fully supported the decision to remain behind, said Sergeant Major Rai. "They were worried about us being on the Everest climb when the avalanches began but once they knew we were all right, they expected us to stay; they knew it was our duty."
Corporal Bhesh Bahadur Gurung, of the Queen's Gurkha Engineers, arrived in Nepal two days after the initial earthquake. He was sent out from Kathmandu in a team to some of the worst-hit areas, Sanga Chowk and Chautara, with the aim of getting a flight out to more remote parts where there had been even greater damage. "The flight did not take place, the helicopter did not come, I don't know why, but we know that there has been a problem with helicopters. So we went where we could by road, it was a very sad journey," he recalled.
"There were so many destroyed houses, many people who were homeless, so many injured. I felt very bad, very sad for Nepal. But, you know, I also think I am lucky to be here. I am sure every single Gurkha soldier in the UK would like to come here at this moment if he could."

The Gurkhas carrying out the humanitarian work are experienced and tough fighting men, many of them decorated for gallantry. Between them, they have served in every combat mission in recent British military history: a roll call which includes Bosnia, Kosovo, East Timor, Sierra Leone, Iraq and Afghanistan. But being in Nepal, the land of their fathers, at a time of calamity has been, they say, a particularly poignant experience.
For some of the soldiers, the anxiety and suffering is very personal. Sergeant Ashok Gurung flew out of Kathmandu on 24 April after visiting his parents in the town of Pokhara. The next day, back at his home in Maidstone, Kent, he heard about the disaster. He flew back to Nepal 24 hours later with a party of Gurkha engineers.
"My parents are, thankfully, all right; they are 71 and 69, so I was very worried. But the village of my cousins has been flattened, their home has been flattened," he said. "My family has been trying to contact them, but we have no idea if they are alive. This is not something I can get out of my mind."
The Gurkhas who have flown in are part of a UK contingent drawn from the Army, the RAF and the Navy, numbering 189. The mission is largely funded and directed by the Department for International Development. Sharing a common cultural background, the Gurkha soldiers are obviously ideal for interacting with local people. They also, however, proved to be a hit with the many foreigners caught up in the chaos following the tremors.
Most Western legations in Kathmandu could not offer shelter or support to their nationals, directing them towards the British. The US embassy also took in people, but only fellow Americans. Col Sean Harris, the head of a Gurkha garrison based in Nepal, and also military attaché at the embassy, described what happened: "People started turning up here, some British but a lot of other nationalities as well.
"Many of them were in shock, some of them had been badly affected. We weren't going to turn them away, of course: we put them up in the only place we could, in the embassy garden, in tents.
"When you are in distress and someone gives you support, then there's obviously gratitude. But these people really took to the Gurkhas, clapping them, taking selfies with them. They were even getting cheered when they did routine tasks like cleaning up the place. We also had young British backpackers, re-enacting the hippy bit with flowers in their hair, who had probably had no dealings with the military before. It was amusing to see their reaction, it would be interesting to know if it changed their views of the British Army."
Up in the mountains, a meeting had been called among the various expeditions to discuss survival amid continuing aftershocks until help arrived. "It was meant to be for team leaders but people just kept piling into the tent and the whole thing became pretty disorganised," Captain Gale, the head of the Gurkha climbers, said. "I made it clear that we, as soldiers, were there to offer our services.
"We proposed a course of action; some people were willing to be part of a team and help. But some were selfish and also divisive. I suppose it may have been partly because they were frightened.
He added: "I compared that unfortunate attitude to the quiet, totally uncomplaining professionalism of our guys. And I thought to myself, 'Yep, they're pretty good'. I was proud of them."
Join our new commenting forum
Join thought-provoking conversations, follow other Independent readers and see their replies