No room for dissent as China presents proud face to the world
Chiefs of £38bn World Expo in Shanghai warn protesters will not be tolerated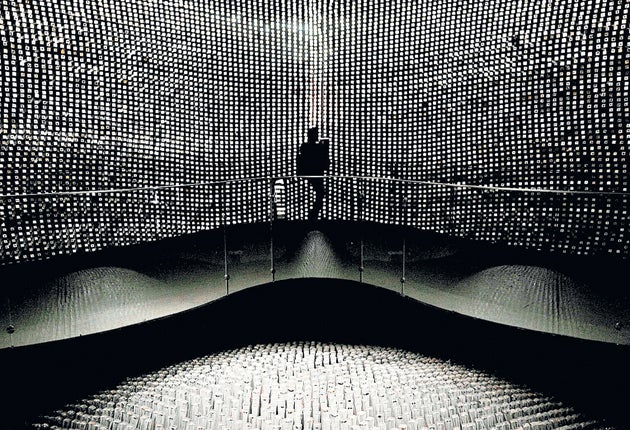 Chinese dissidents have been silenced and detained in the run-up to today's lavish and carefully-choreographed opening ceremony of the World Expo; designed to project China's growing global and economic power.
China sees the event – an exhibition of international economic, scientific and technological achievement – as a showcase for its growing global status. But critics say a harsh security crackdown, unseen by world leaders flying into Shanghai for the opening ceremony, has demonstrated the government's authoritarian instincts.
People critical of the government have been questioned, some borders closed and migrant workers cleared from the city; in preparation for the arrival of an anticipated 70 million visitors over six months, including five million from abroad.
The event is China's largest set piece event since the successful Beijing Olympics in 2008 and they have sought to transform the moribund 150-year-old economic exhibition with an estimated £38bn spending on the city and infrastructure, according to local media. The work has transformed an area larger than Monaco into a giant exhibition site.
French President, Nicolas Sarkozy, as well as Russian President, Dmitry Medvedev, are among the leaders due to attend the opening ceremony today; in an event designed to rival the glittering opening and closing ceremonies of the Beijing games. North Korea is also participating in the World Expo for the first time.
"One goal the Chinese government hopes to accomplish by hosting grand spectacles such as these is to re-brand China as a thoroughly modern and strong country, dispelling any lingering image of it as the 'sick man of Asia'," Jeffrey Wasserstrom, a professor of history at University of California, said.
The Expo has not been marred by the public relations disasters that dogged the run-up to the Beijing Olympics, when the torch relay around the world became a focal point for protests against China's policy on Tibet.
The crackdown on dissent behaviour has been more low-key than before the Olympics, although dissidents report stepped up surveillance and other forms of harassment.
About 18,000 families were moved out of their homes to make way for Expo sites and there have been reports of arrests and beatings of those who complained about having to move. There has been little tolerance of protest.
"If you want to protest, you can go elsewhere," Huang Jianzhi, one of the Expo's deputy director generals, told reporters in preparation for the event.
The rights group, China Human Rights Defenders, said that officials in Shanghai had warned activists not to travel to the city during the exhibition.
"The government is working to create an atmosphere of fear in the activist community in Shanghai and elsewhere," the group quoted one activist as saying.
"Many activists, dissidents, and petitioners are under some form of restriction of movement or surveillance. Some are refraining from speaking out for themselves or getting in touch with others for fear of serious retribution," the activist, who was not named, said.
The group has identified cases of Shanghai petitioners being sent to re-education camps for activism related to the Expo. One, Tong Guojing, was sent for 18 months of re-education in February after lodging a petition when he was forced to leave his home.
Since deadly ethnic violence in the province of Xinjiang last summer, much of the security focus has been on the central Asian part of China, where the Chinese say separatist groups are operating. China has announced it would temporarily close its borders with neighbours Kyrgyzstan and Kazakhstan from today, as part of the security tightening operation.
Shanghai authorities have set up hotlines with all security officers of all 242 countries, regions and international organisations which are involved in the Expo, which runs from 1 May to 31 October.
"There's a historic legacy of mobilising people in mass campaigns that may play a role in officials' fondness for spectacles," said Duncan Innes-Ker, a Beijing-based China analyst for the Economist Intelligence Unit. "And you can always use these big events as an excuse to crack down, too."
Some of the rules being enforced are less significant, including warnings to Shanghainese not to walk around in public in their pyjamas. Kites are banned near the site and supermarkets are not selling knives.
Authorities in Shanghia, China's largest city and business capital, expect the local economy to grow sharply because of the event. Booming China's economy, after three decades of reform, is already on course to take over from Japan's as the world's second largest.
State radio, in a commentary just over a week ago, said that Shanghai's Expo would build upon the "magnificent" opening and closing ceremonies of the Beijing Olympics. It noted that the "gaze of the world will once more be fixed upon China," adding that the event will bring "numerous positive effects" to the nation, something important for a government increasingly concerned with its international image.
Yet some people question the logic of spending so much money on the exhibition.
"The Expo is just showing China has money. And it is using ordinary people's money to make it," said Shanghai citizen Chang Guo, 54.
"It is not showing China is developed. China has so many poor people, this is just a show. Germany, France, the United States, these countries are developed. China is still not," he added bitterly.
Join our commenting forum
Join thought-provoking conversations, follow other Independent readers and see their replies