North Korean leader 'oversees test of super-large multiple rocket launcher', state media claims
Launches draw mixed reactions from world leaders at G7 summit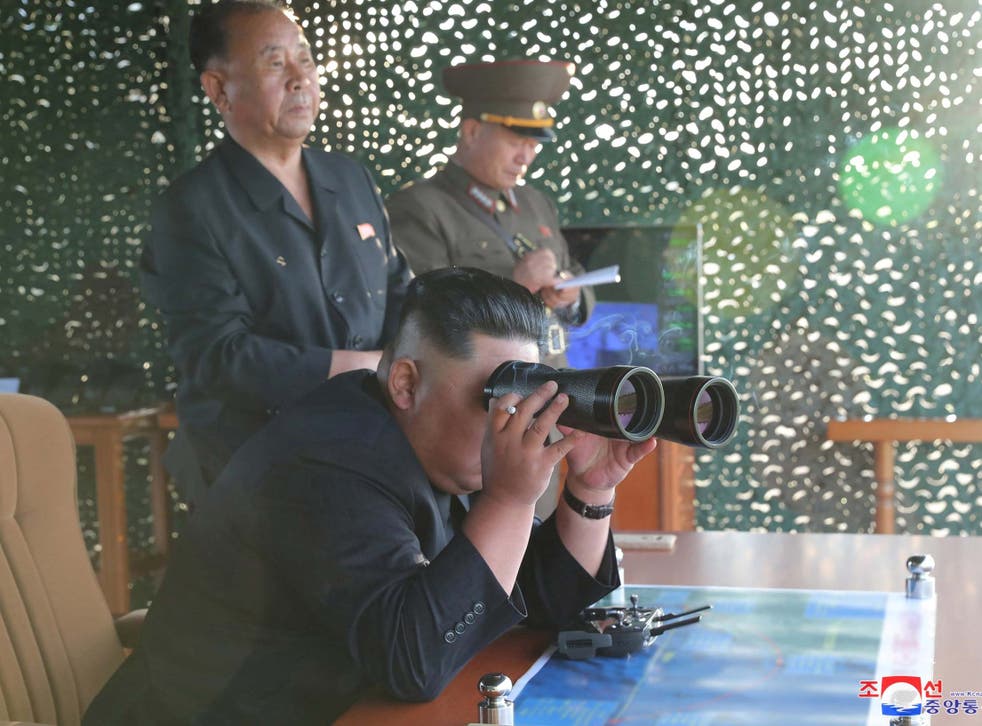 North Korean leader Kim Jong-un oversaw the test firing of a "super-large multiple rocket launcher" on Saturday, state media claimed on Sunday.
The launch of what appeared to be two short-range ballistic missiles into the sea towards Japan drew mixed reactions from world leaders gathered at the G7 summit in Biarritz.
Japanese prime minister Shinzo Abe said the tests breached UN resolutions but US president Donald Trump, who prizes his relationship with the Korean dictator, insisted the launches were "not in violation of an agreement".
The test is the latest in a series of launches in recent weeks. It is at least the fourth new missile system unveiled since denuclearisation talks between Mr Kim and Mr Trump stalled in February due to disagreements over punishing US-led sanctions.
The launches come two days after South Korea formally withdrew from an intelligence-sharing deal with Japan amid what experts describe as the worst crisis in the two countries' relations in decades.
North Korea's pervasive leaders: the Kim portraits

Show all 16
Despite the South and Japan's woes, "ever-mounting military threats and pressure offensive of the hostile forces" mean North Korea must "continue to step up development" of new strategic and tactical weapons, Mr Kim said on Saturday via state media agency KCNA.
North Korea "will never barter the strategic security of the country for the sanctions relief," KCNA commentary said.
"Hostile forces" is likely to refer to the US and South Korea, whose regular military drills have infuriated Mr Kim.
On 16 August, North Korea ended peace talks with the South as a result of the drills, and said it was "senseless" to think they would resume. He had previously described them as an invasion rehearsal.
Mr Trump is not keen on them either.
He described the drills with South Korea as "war games" he didn't like paying for, saying he had told South Korea the US "should be reimbursed".
Praising a "beautiful letter" from the North Korean leader, Mr Trump tweeted on 10 August that Mr Kim had apologised for recent missile tests and had pledged they "would stop when the exercises end".
But the missile tests are likely more than retaliation.
Experts suggested that North Korea may be showing off its weapons arsenal to increase its bargaining capital once talks resume with the US.
Mr Trump and Mr Kim agreed talks would recommence during their meeting in the demilitarised zone in June.
While North Korea has carried out seven missile launches in the two months since, the US president has been keen to appease Mr Kim, a desire reflected in his response on Sunday.
"He hasn't been doing nuclear testing," Mr Trump said. "He has done short range, much more standard missiles. A lot of people are testing those missiles, not just him."
Asked if he was concerned by the latest launches, Mr Trump said: "I'm not happy about it, but again, he's not in violation of an agreement."
Mr Abe, who had also to contend on Sunday with South Korea performing military drills on an island highly contested by Japan, insisted the launches violated international agreements.
Following the differences in his and Mr Trump's reactions, Mr Abe said he hoped the two countries would always remain united in their position on North Korea.
"I would like to make sure that we, meaning myself and President Trump, will always stay on the same page when it comes to North Korea," he said.
Additional reporting by agencies
Register for free to continue reading
Registration is a free and easy way to support our truly independent journalism
By registering, you will also enjoy limited access to Premium articles, exclusive newsletters, commenting, and virtual events with our leading journalists
Already have an account? sign in
Register for free to continue reading
Registration is a free and easy way to support our truly independent journalism
By registering, you will also enjoy limited access to Premium articles, exclusive newsletters, commenting, and virtual events with our leading journalists
Already have an account? sign in
Join our new commenting forum
Join thought-provoking conversations, follow other Independent readers and see their replies