North Korea's hidden missile bases identified by US analysts as nuclear talks stall
None of bases acknowledged by North Korea, as analysts say accurate disclosure of nuclear and missile capabilities would be important part of any denuclearisation deal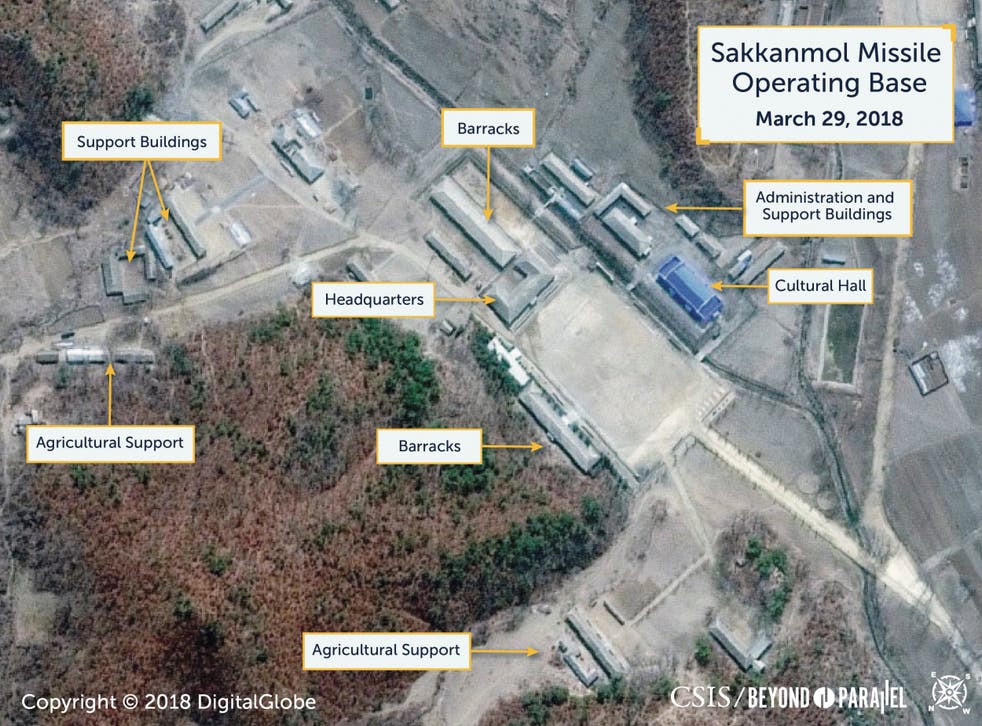 A group of American analysts say they have identified at least 13 of an estimated 20 undeclared missile bases inside North Korea.
The report locates the bases and describes them in detail, and says that satellite images suggest some maintenance and infrastructure improvements have been carried out at the sites despite ongoing international negotiations over North Korea's denuclearisation.
South Korean officials sought to play down the report, by the Washington-based Center for Strategic and International Studies (CSIS), saying its own intelligence agencies were already aware of all the bases named.
And a spokesman for South Korea's president Moon Jae-in said it would be wrong to characterise the missile bases as a "deception" on North Korea's part, saying that neither declaring them nor shutting them down was a part of an agreement reached between the two countries in September.
The sites identified in the CSIS report are scattered in remote, mountainous areas across North Korea and could be used to house ballistic missiles of various ranges, the largest of which is believed to be capable of striking anywhere in the United States.
"Missile operating bases are not launch facilities," the report said. "While missiles could be launched from within them in an emergency, Korean People's Army operational procedures call for missile launchers to disperse from the bases to pre-surveyed or semi-prepared launch sites for operations."
None of the missile bases has been acknowledged by North Korea and analysts say an accurate disclosure of nuclear weapons and missile capabilities would be an important part of any denuclearisation deal.
Sakkanmol, the site closest to the border with South Korea and its capital, Seoul, appears to be "active and being reasonably well maintained", the report found.
North Korea's Kim Jong-un and the US's president Donald Trump declared they would work towards denuclearisation at a landmark summit in Singapore in June. Since that summit, Pyongyang says it has closed its Punggye-ri nuclear testing site and the Sohae missile engine test facility.
But the CSIS report warned: "North Korea's decommissioning of the Sohae satellite launch facility, while gaining much media attention, obscures the military threat to US forces and South Korea from this [Sakkanmol] and other undeclared ballistic missile bases."
Since the June summit, which was light on specific commitments from either side, talks on denuclearisation have stalled and meetings between senior US and North Korean officials have been characterised by frustration and last-minute cancellations.
There has been more success in inter-Korean talks, following a key meeting between Mr Moon and Mr Kim on 19 September, with both sides scaling back some border defences and exchanging shipments of prized regional products.
Mr Trump and North Korean state media continue to talk up the prospects of a breakthrough in denuclearisation talks.
A State Department official - asked if the hidden sites identified by CSIS went against the spirit of the Trump-Kim summit - told the Reuters news agency Mr Trump had made clear that "should Chairman Kim follow through on his commitments - including complete denuclearisation and the elimination of ballistic missile programmes - a much brighter future lies ahead for North Korea and its people".
Meanwhile, during a stop in Japan on his way to two summits in Singapore and Papua New Guinea on behalf of Mr Trump, US vice president Mike Pence agreed with Japan's prime minister Shinzo Abe to keep sanctions on North Korea in place.
The pair reaffirmed the need for sanctions to achieve the goal of denuclearisation, as they showcased their bilateral alliance.
Last week the US took part in the largest naval war exercises ever conducted off the coast of Japan, drawing the ire of North Korean state media.
Mr Pence said the US will continue to put diplomatic and economic pressure on North Korea and urged all Indo-Pacific nations to do likewise until the complete denuclearisation of North Korea is achieved. Mr Abe said Japan and the US would continue to work together to get North Korea, which has hard-working people and rich resources, to realise it has a bright future if it keeps its promises.
Additional reporting by agencies
Join our new commenting forum
Join thought-provoking conversations, follow other Independent readers and see their replies