North Korea testing new ballistic missile 'should concern US' and shows Trump tactics failing, analysts say
Analysis: Less than a month after Trump and Kim met across DMZ, Pyongyang is 'returning to provocative tactics'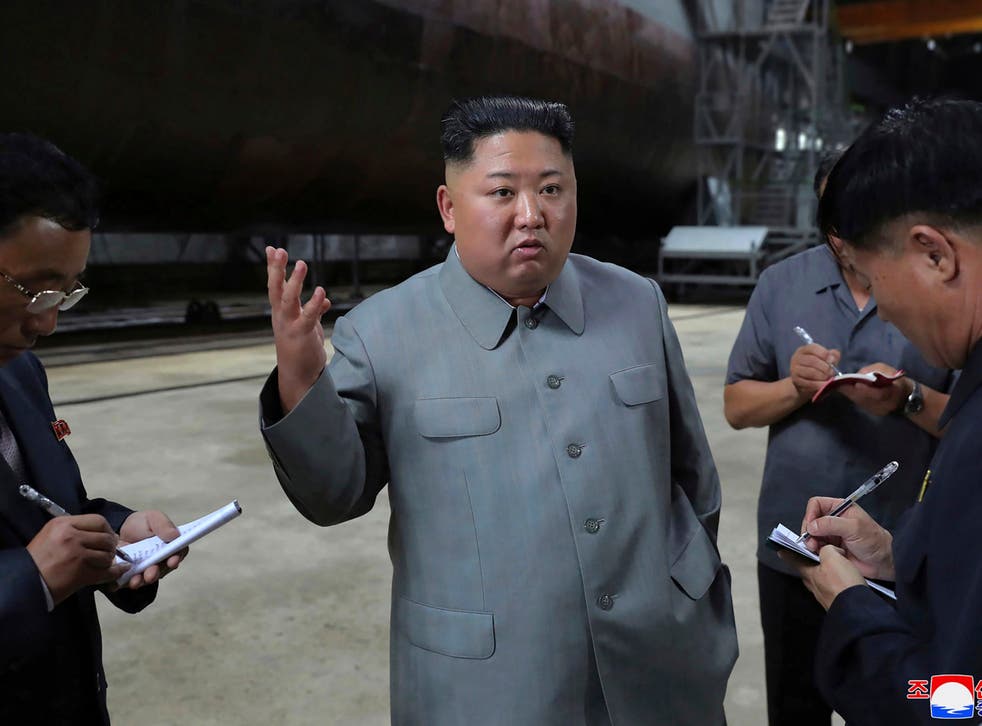 The testing of what appears to be a new type of ballistic missile by North Korea on Thursday sends a clear message to US president Donald Trump: that his approach to securing denuclearisation of the Korean peninsula is not working.
Two short-range ballistic missiles were fired off the east coast of North Korea, flying up to an altitude of 50km (30 miles) and distances of about 430km (270 miles) and 690km (430 miles) respectively before landing in the Sea of Japan.
South Korean military officials said the relative distance of the second missile, a range considerably greater than that achieved in two similar launches in May, suggested North Korea was testing new technology.
And it comes in the same week that North Korean media showed off a new type of submarine, developed by the North and with deployment "near at hand", that appeared to capable of carrying and launching nuclear missiles.
A single short-range missile test is not as provocative a step as the launch of a long-range missile potentially capable of hitting the mainland US, and is unlikely to prompt fresh sanctions or unbridled international condemnation.
North Korea's pervasive leaders: the Kim portraits

Show all 16
But taken together, the submarine unveiling and the two tests show North Korea has been working hard in the background to continue bolstering its military options.
The latest satellite images have shown ongoing movement at the North's main nuclear site last month, suggesting a possible return to processing radioactive material into bomb fuel – even as Mr Trump and Kim Jong-un held a historic meeting across the DMZ.
During those talks, the pair agreed to restart the denuclearisation process. Yet no high-level meetings have taken place since, and the North Korean foreign minister Ri Yong Ho has now pulled out of a trip to Bangkok next week where he was expected to meet Mike Pompeo on the sidelines of a southeast Asian security forum.
North Korea has for its part been incensed by plans for the US and South Korea to hold annual joint military drills next month, albeit reduced in scale, saying this violates a promise made by Mr Trump during last year's Singapore leaders' summit.
Last week, North Korea said it could revive its nuclear and long-range ballistic missile tests if the drills go ahead. It would be a serious blow to Mr Trump as he eyes up re-election in 2020 – the president has touted the end of major North Korean weapons tests as arguably his greatest foreign policy achievement.
"I don't think North Korea is showing that diplomacy is over with these missile firings, not yet anyway," said Naoko Aoki, a Stanton Nuclear Security fellow at the Rand Corporation. "But if the question is [whether] denuclearisation is making progress, of course the answer is no."
Analysts agreed that while international sanctions have tightened against North Korea over time, inconsistent implementation and the presence of neighbour China as Pyongyang's last major ally mean it is unsurprising that the North is able to continue making military advancements.
"Sanctions seldom work unless there is water-tight coordination and cooperation of all surrounding nations," said Kongdan Oh, senior Asia specialist at the Institute for Defense Analyses in Virginia.
"Trump's attitude toward short-range missile tests [will be]: 'That is fine.' [But] with this new kind of short range missiles that flew up to 690 km, Japan, [South] Korea and the US should be concerned," she said.
Thursday's test showed "not only the lack of progress in denuclearisation negotiations after the handshakes at the DMZ, but also that North Korea is slowly returning to provocative tactics", said Dr Hoo Chiew Ping, senior lecturer in Strategic Studies and International Relations at the National University of Malaysia (UKM).
But for Dr Hoo, it was also a worrying development that the North had pulled out of the Bangkok security summit. Such events have in recent years "served as windows for North Korea to interact with key stakeholders", she said.
"That it will not be participating in this year's ASEAN Regional Forum points to North Korea's gradual withdrawal from the inter-Korean reconciliation process and from high-level multilateral engagement," she said. "[This] matches with its constant signalling that it would choose a new path if the US does not honour the Singapore declaration."
Join our new commenting forum
Join thought-provoking conversations, follow other Independent readers and see their replies