North Korea nuclear test as it happened: Monitoring agency chief labels explosion that caused earthquake 'frightening'
The latest updates as North Korea tests nuclear warhead with massive explosion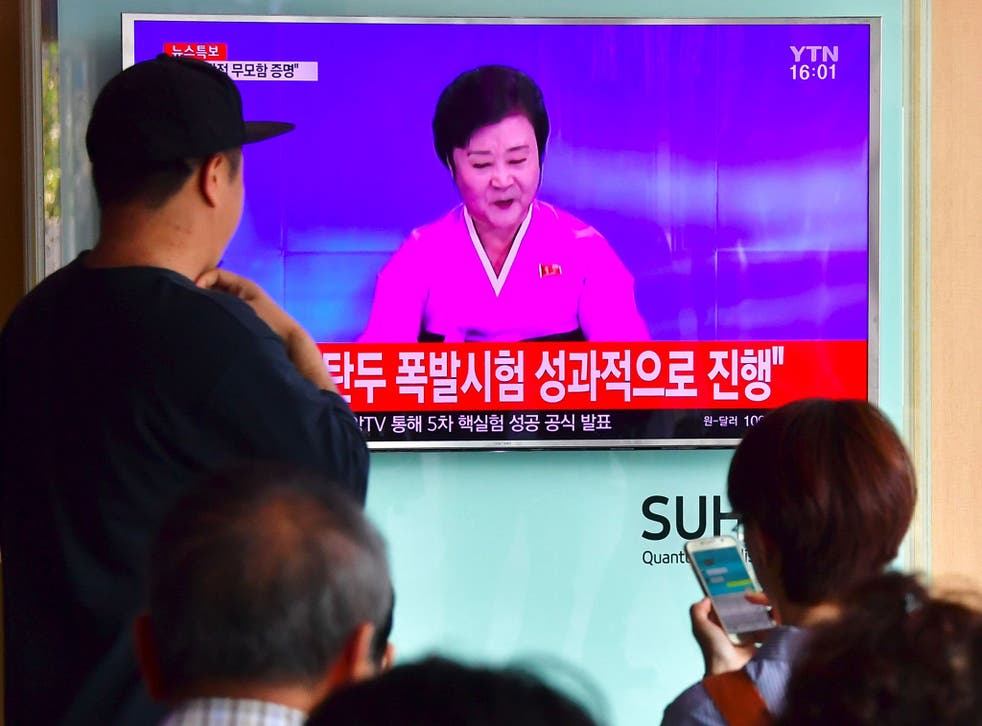 North Korea says it has conducted its latest major nuclear test and claims to have the capabilities to mount a warhead on ballistic missiles. Here are the latest updates:
UN Security Council calls emergency meeting
It caused an 'artificial' magnitude 5 earthquake
Nuclear monitoring organisation calls test 'frightening'
Neighbouring South Korea accuses North of 'fanatic recklessness'
China says it 'resolutely opposes' ally's actions
Please allow a moment for the live blog to load
North Korea claims to have conducted a "higher level" explosion of a nuclear warhead in a test that will allow it to finally build an array of stronger, smaller and lighter nuclear weapons.
It is Pyongyang's fifth atomic test and the second in eight months, generating a magnitute 5 earthquake sparking alarm in neighbouring South Korea and around the world.
South Korea's president called the detonation, which Seoul estimated as the North's biggest-ever explosive yield, an act of "fanatic recklessness."
While the North is known to have a small stockpile of nuclear warheads, experts are divided about its ability to mount them on a working missile delivery system that could allow a long-range strike.
North Korea claims success in fifth and biggest nuclear test
If minaturisation has been achieved, it will raise serious concern over the capability of the totalitarian government to realise years of threats aimed at the US and other enemies.
North Korea's state media agency said the test had "finally examined and confirmed the structure and specific features of movement of (a) nuclear warhead that has been standardised to be able to be mounted on strategic ballistic rockets", adding: "The standardisation of the nuclear warhead will enable (North Korea) to produce at will and as many as it wants a variety of smaller, lighter and diversified nuclear warheads of higher strike power."
The claims by Kim Jong-un's government have not been verified but China, the country's main diplomatic ally, cautioned against "adding fuel to the flames" in state-run media.
Park Geun-hye, the South Korean President, spoke with Barack Obama over the test on Friday morning and said her government would increase pressure on its neighbour to stop violating international sanctions.
South Korea's weather agency said the explosive yield of the North Korean blast would have been 10 to 12 kilotons, or 70 to 80 percent of the force of the 15-kiloton atomic bomb the United States dropped on the Japanese city of Hiroshima in 1945.
Join our new commenting forum
Join thought-provoking conversations, follow other Independent readers and see their replies