'Frankenmissile': A look at South Korea's devastating answer to North Korea's nuclear threat
The ballistic missile would have a warhead bigger than any previously built by South Korea and the range to destroy underground military and command complexes anywhere in North Korea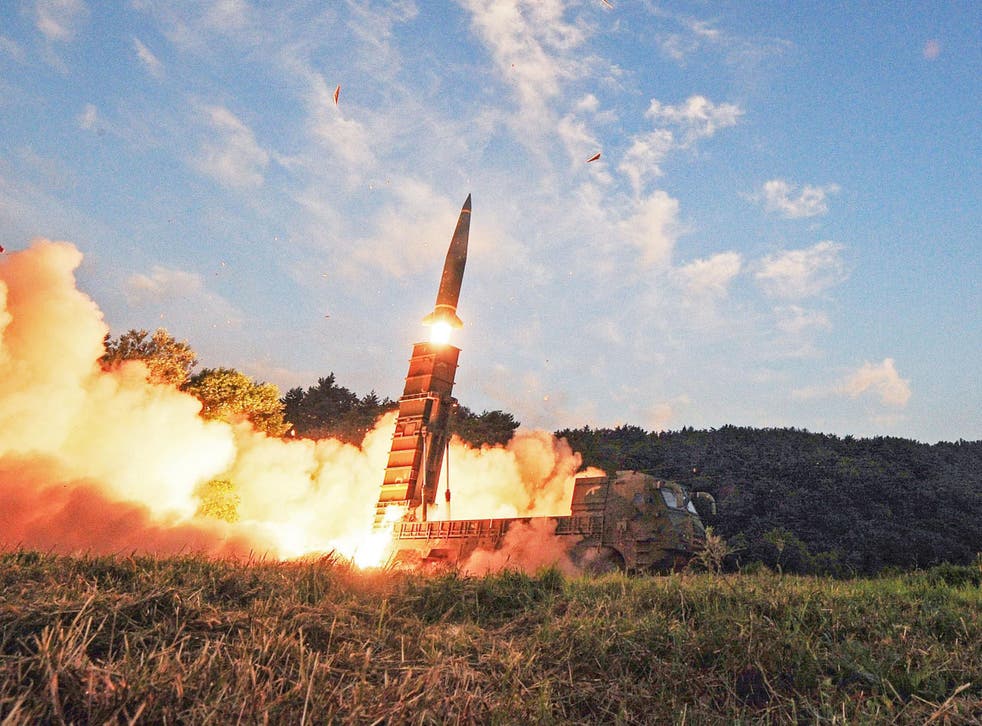 South Korea is thought to be planning to counter the nuclear threat of Kim Jong-un's regime by developing a 'frankenmissile' so powerful it can destroy any of the communist north's underground military installations and command centres.
Swiftly dubbed 'frankenmissile' by the South Korean media, the massive ground-to-ground ballistic missile would carry a warhead weighing 1,800kg (4,000lbs) and have the range to reach anywhere in North Korea.
The plan to build the new weapon was reported days after Donald Trump was said to have "agreed in principle" with South Korean President Moon Jae-in to scrap a 2012 agreement between the two allies that had limited South Korea to ballistic missiles with a payload of no more than 500 kg (1,102lbs).
The happened after a phone call between the two leaders on Friday in which President Moon reportedly told Mr Trump: "It is crucial to come up with powerful and practical measures that can make North Korea realise the impact of its actions."
A South Korean presidential spokesman later told reporters: "Sharing the view that South Korea needs to bolster its defence capabilities to counter North Korea's provocations and threats, the two leaders agreed in principle to revise the missile guidelines to a level that the South Korean side desires."
The Korea Herald, which first reported the 'frankenmissile' plan, quoted military sources as saying the South Korean government is now considering a plan to build a ballistic missile with a payload of up to 2 tons (4,000lbs).
Kim Jong-un inspects weapon North Korea says is powerful hydrogen bomb

Show all 6
Developing such a weapon would significantly bolster South Korea's capacity for action independent of its ally the US, which has kept a strong military presence in the country since the Korean War and has its own arsenal of 'bunker buster' bombs with payloads of up to 2,400kg (5,300lbs).
Kwon Yong-soo, a professor at Korea National Defence University said: "The measure would dramatically boost South Korea's retaliation capability against North Korea. With a 1-ton warhead ballistic missile, South Korea could target almost all of North Korea's underground facilities."
South Korea's 'frankenmissile' would, however, be considerably smaller than America's GBU-43 Massive Ordnance Air Blast (MOAB) bomb – widely known as the Mother of All Bombs – which carries a 18,700lb (8,482kg) warhead.
Old footage of 'Mother of All Bombs' test is thought to be same bomb as US' attack on Afghanistan
This became the largest non-nuclear weapon ever used in combat by the US when it was dropped on Isis tunnels in Achin district, Nangarhar Province, Afghanistan, in April 2017.
Russia, though, has claimed to have tested a device four times more powerful that it has called the "Father of All Bombs" and described as the world's most powerful non-nuclear air-delivered munition.
North Korea, meanwhile, is thought to have developed its own "frankenmissile", so named by defence experts because it appeared to have been made from elements of two other intercontinental ballistic missiles, the KN-08 and KN-14.
It is thought, however, that when this was tested in April, it proved a failure, blowing up almost immediately after it was launched.
South Korea's plan to develop a 'frankenmissile' comes amid rapidly escalating tensions sparked by Kim Jong-un's hardline communist regime's refusal to stop testing ballistic missiles, including one which was sent over Japanese territory.
To the great anxiety of many commentators, Donald Trump has responded with a series of aggressive statements including a promise that North Korea would be met with "fire and fury like the world has never seen" if it continued to expand its nuclear and missile programmes.
South Korea has also started developing plans for "decapitation" missions against senior North Korean leaders including Kim Jong-un in the event of war.
It has been reported that by December 1 South Korea hopes to have create a brigade that would carry out such assassination attempts with the help of US special forces including Seal Team Six, the unit which killed Osama bin Laden.
"We are in the process of conceptualising the plan," Defence Minister Song Young-moo told the South Korean parliament on Monday. "I believe we can create the unit by December 1 and have it become operational."
Join our new commenting forum
Join thought-provoking conversations, follow other Independent readers and see their replies