North Korea sentences missionary to life of hard labour for setting up 'underground church'
South Korean Baptist missionary, arrested in October, 'admitted' to 'malignantly hurting the dignity' of the country's supreme leadership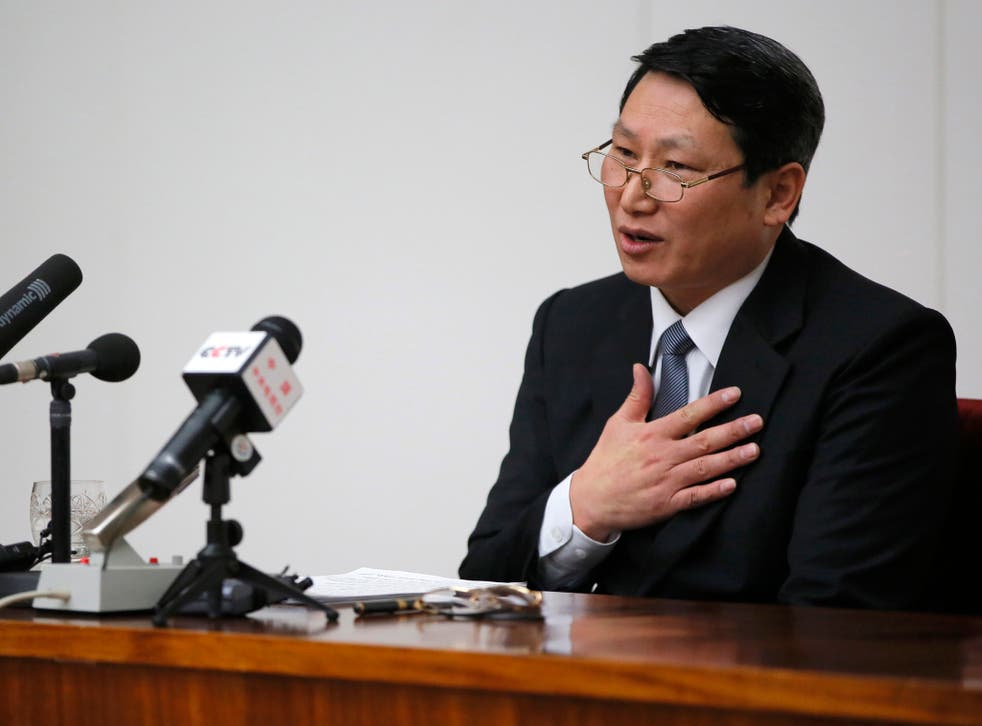 A Baptist missionary originally from South Korea has been sentenced to hard labour for life in North Korea for alleged spying and attempting to set up underground churches.
The missionary, named as Kim Jong Uk or Kim Jong Wook dependent on spelling styles, was handed the punishment after admitting to anti-North Korean religious acts and "malignantly hurting the dignity" of the country's supreme leadership at a trial on Friday, North Korean state media said.
First arrested in October after crossing into the country from China, he has become the latest in a line of missionaries who have found themselves on the wrong side of the North's totalitarian government headed by Kim Jong-un.
The state strictly allows only sanctioned religious services and North Korean defectors have confirmed in the past that the distribution of Bibles and secret prayer services can mean banishment to a labour camp or execution.
In a report released early Saturday, North Korea said Kim had been provided with a defence counsel, but, as with much of that which goes on inside the county, no details of the trial can be independently confirmed.
The unidentified North Korean defence lawyer said that Kim "sincerely repented of his crimes and apologised for them" and requested that the court commute the death sentence demanded by prosecutors. The North said that an expert produced "evidence such as religious books, memory cards, sex CDs and spying devices carried by the accused for criminal purposes".
Kim had earlier appeared on North Korean TV for a staged news conference in February during which he claimed to have received assistance from South Korea's intelligence agency and apologised for committing "anti-state" crimes. South Korea has denied any spy links to Kim. Past detainees have later recanted after appearing at such conferences.
Last year, North Korea sentenced American tour operator Kenneth Bae to 15 years of hard labor for committing "hostile acts" against the country. Bae, also a Christian missionary, was detained while leading a group on a tour of North Korea in 2012.
Earlier this year, an Australian, John Short, was arrested in Pyongyang for allegedly trying to distribute Christian materials. He was later released after he apologised.
Kim had been based largely in Dandong, in China, since 2007, according to a friend in Seoul, Joo Dongsik. Kim helped North Korean defectors get to South Korea via Thailand, Laos and other countries, said Joo, also a Baptist.
In August 2012, a group of 12 North Korean women were caught by Chinese authorities while they were at Kim's shelter and sent back to North Korea. His desire to find out what happened to them and learn about a North Korean food shortage led him to enter the country last October, Joo said. Kim was born in 1964, he added, making him 49 or 50.
Additional reporting from AP
Register for free to continue reading
Registration is a free and easy way to support our truly independent journalism
By registering, you will also enjoy limited access to Premium articles, exclusive newsletters, commenting, and virtual events with our leading journalists
Already have an account? sign in
Register for free to continue reading
Registration is a free and easy way to support our truly independent journalism
By registering, you will also enjoy limited access to Premium articles, exclusive newsletters, commenting, and virtual events with our leading journalists
Already have an account? sign in
Join our new commenting forum
Join thought-provoking conversations, follow other Independent readers and see their replies