North Korea successfully tests rocket that will let it launch nuclear strikes on the US
The state news agency said that the Kim Jong Un was delighted as the 'high-power' rocket engine spewed out 'huge flames with (a) deafening boom'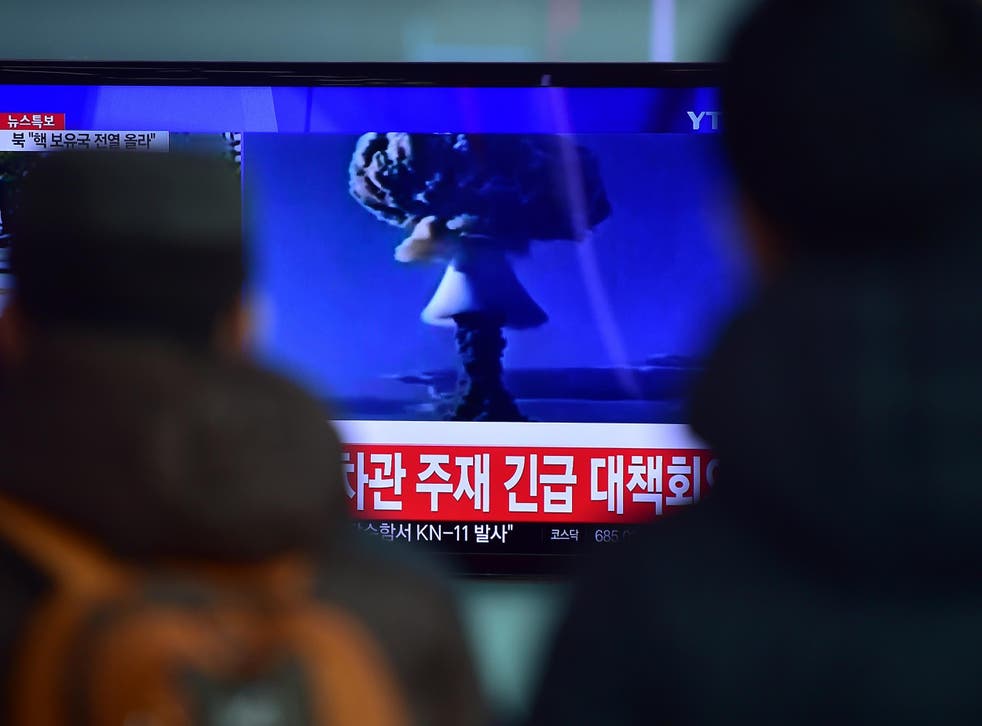 North Korea has claimed it has successfully tested a rocket that will let it launch nuclear strikes on the United States.
An intercontinental ballistic rocket engine would be a huge step forward for the North Korean regime, which has been stepping up its atomic tests and rhetoric in recent months and claims to have tested a hydrogen bomb successfully for the first time.
If the reports about the new rocket are true, it would allow the country to launch nuclear missiles that could reach the US.
North Korea has recently threatened the US and other countries with pre-emptive nuclear strikes — and fired missiles into the sea — in what appears to be a response to ongoing US-South Korean military drills and tough UN sanctions that were imposed in the wake of its recent nuclear tests. Those acts of aggression have included a propaganda video that showed a nuclear attack on Washington.
The successful test of the new rocket was announced by the state Korean Central News Agency.
North Korea launch short range projectiles

Show all 6
But South Korea said its northern neighbour still had some way to go before it could actually launch such attacks. Officials said the country's missile was still unreliable, and it was still to get the ability to mount a nuclear warhead onto it.
In Washington, State Department spokesman Mark Toner called on North Korea to "refrain from actions and rhetoric that further destabilize the region and focus instead on taking concrete steps toward fulfilling its commitments and international obligations".
Some analysts have said that Kim Jon Un is becoming increasingly warlike ahead of a ruling party meeting next month where he will look to gain even more power. By being aggressive against the North's enemies Mr Kim may be looking to unite the country around him, they have said.
It is also possible that efforts to promote its military accomplishments to domestic audience are designed to make up for a lack of tangible economic achievements ahead of the Workers' Party congress, the first since 1980, said Kim Dong-yub, a North Korean expert at Seoul's Institute for Far Eastern Studies.
With typical rhetorical flourish, the North's KCNA said the North Korean leader was delighted as the "high-power" rocket engine spewed out "huge flames with (a) deafening boom" during the ground test at the Sohae Space Center in the country's northwest. KCNA did not say when the test was conducted.
The agency quoted Mr Kim as saying that the North can now tip intercontinental ballistic missiles with more powerful nuclear warheads that could keep the US mainland within striking distance and "reduce them to ashes so that they may not survive in our planet". North Korean official Rodong Sinmun published photos of Mr Kim smiling widely and clapping with officials. A burst of flames is seen coming out of an object strapped on what appeared to be an outdoor vertical tower structure. The veracity of the photographs could not be independently confirmed.
N. Korea propaganda video depicts imagined attack on Washington
The North has also claimed to have mastered a re-entry technology designed to protect a warhead from extreme heat and other challenges when it returns to the atmosphere from space following a missile launch. It also said it had successfully conducted a high-powered, solid-fuel rocket engine test. Solid-fuel missiles are generally harder to detect before they are launched than liquid-fuel missiles.
The most recent test, like all the North's atomic and missile claims, will cause worry in Washington and the North's neighbours, but outsiders have so far been powerless to stop the North's nuclear progress: international disarmament talks have been stalled for years and increasingly tough sanctions have done little to dissuade Pyongyang from pushing forward.
Additional reporting by Associated Press
Join our new commenting forum
Join thought-provoking conversations, follow other Independent readers and see their replies