North Korea cancelled historic meeting with US at last minute, reveals Trump administration
Potential high-level interaction would have broken years of estrangement between two countries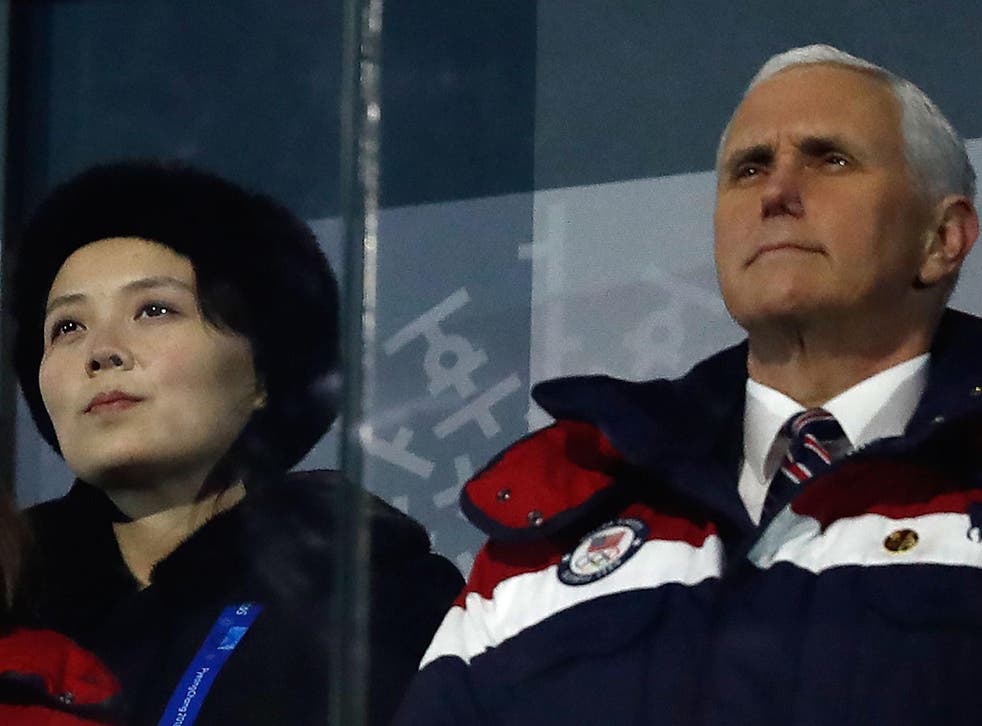 North Korea "dangled" a historic meeting with US officials during the Winter Olympics but cancelled at the last minute, the Trump administration has revealed.
Ahead of Mike Pence's visit to Pyeongchang, where the Vice President led the US delegation to the opening ceremony, officials said they had requested no meeting with North Korea - but left open the possibility one could occur.
Now, more than a week after Mr Pence returned to the US, the State Department says a meeting had been discussed before North Korea "walked away".
Mr Pence had been "ready to take this opportunity" but would have used it to insist Pyongyang abandon its nuclear weapons and ballistic missile programmes, a State official said on Tuesday night.
"North Korea dangled a meeting in hopes of the Vice President softening his message, which would have ceded the world stage for their propaganda during the Olympics," Mr Pence's chief of staff, Nick Ayers, said in a statement.
But after Mr Pence condemned North Korean human rights abuses and announced plans for new economic sanctions, "they walked away from a meeting or perhaps they were never sincere about sitting down," Mr Ayers said.
North Korea cheerleading squad 'army of beauties' at the Winter Olympics
Mr Pence was set to meet with North Korean officials, including Kim Yo-jong, the sister of Kim Jong-un, the country's leader, and its nominal head of state, Kim Yong-nam.
"The President made a decision that if they wanted to talk, we would deliver our uncompromising message," Mr Ayers added. "If they asked for a meeting, we would meet.
"He also made clear that until they agreed to complete denuclearisation we weren't going to change any of our positions or negotiate," Mr Ayers added, echoing comments made by Mr Pence since he left the Olympics and other US officials.
"This administration will stand in the way of Kim's desire to whitewash their murderous regime with nice photo ops at the Olympics. Perhaps that's why they walked away from a meeting or perhaps they were never sincere about sitting down."
The statement seemed to contradict North Korea's own claim it had no interest in meeting with Mr Pence while he was in Pyeongchang.
"We have no intention to meet with the US side during the stay in South Korea," a Foreign Ministry official was quoted as saying by the North's official news agency the day Mr Pence arrived in South Korea. "We are not going to use such a sports festival as the Winter Olympics as a political lever. There is no need to do so."
North Korea Military Parade

Show all 6
A potential high-level interaction between the US and North Korea, which would have broken years of estrangement between the two countries, loomed prominently over the Winter Games, where North Korea made a last-minute move to send its athletes to compete on a combined team with South Korea, the host of the games.
Since taking office, the Trump administration has been working to increase economic pressure on the North to abandon its nuclear programmes while also threatening military action, insisting at the same time that a diplomatic solution would be preferable for all sides.
Mr Pence's guest for the Olympic Opening Ceremonies was Fred Warmbier, the father of Otto Warmbier, the US student who died in 2017 shortly after he was released from North Korean detention.
The Vice President also announced in the run-up to his visit that the Trump administration was preparing to unveil a particularly tough round of sanctions punishing the North for its nuclear weapons programme.
Mr Pence's trip came after Donald Trump hosted a group of North Korean defectors in the Oval Office, including Ji Seong-ho, whom the President had referenced in his State of the Union address.
The White House cast the meeting as part of the Trump administration's "maximum pressure" campaign to counter the North Korean nuclear program. The plan centres around rallying the international community to further isolate North Korea both diplomatically and economically.
Additional reporting by agencies
Join our new commenting forum
Join thought-provoking conversations, follow other Independent readers and see their replies