Nuclear capable B-2 stealth bombers carry out drill over South Korea after North threatens to wipe out US air bases
Use of aircraft, which are capable of delivering both nuclear and conventional payloads, is likely to further enrage the North Korea regime
Rob Williams
Thursday 28 March 2013 17:57 Comments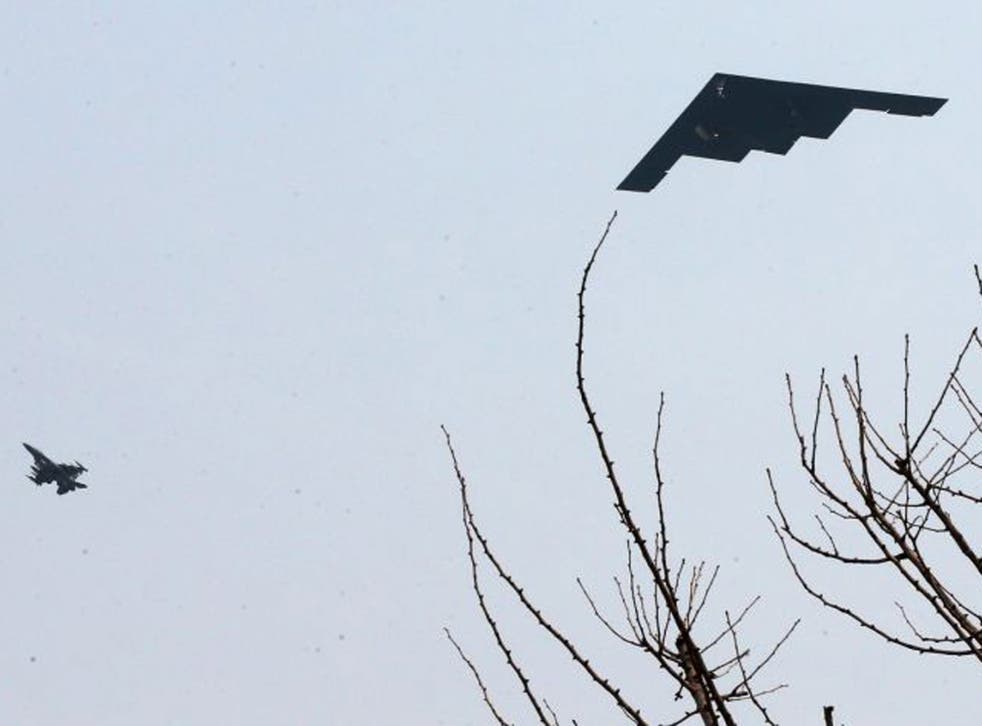 The United States has flown two nuclear capable B-2 stealth bombers over South Korea as part of a military exercise.
After weeks of bluster and aggression from North Korea the US decision to use the B-2 bombers, which dropped munitions on a South Korean island, will be seen as a deliberate show of strength.
The announcement that the aircraft, which are capable of delivering both nuclear and conventional payloads, have been involved in exercises is likely to further enrage the North Korea regime.
Pyongyang has issued increasingly belligerent statements over the last few months after being sanctioned by the UN for its February missile test.
The sabre-rattling has increased in intensity in recent weeks with the secretive regime threatening to attack US bases on mainland America, Hawaii and Guam.
This week saw the third anniversary of the deadliest recent incident between the two Koreas, the sinking in March 2010 of a South Korean corvette, the Cheonan, with the loss of 46 lives.
The North Korean regime said this week that they had missiles ready to hit the bases of "US imperialist aggressor troops" on the US mainland.
Earlier this month the country's leader Kim Jong-un personally supervised artillery drills on what the official North Korean news agency KCNA described as the "biggest hotspots in the southwestern sector of the front".
Yesterday, amid increasingly acrimonious language, the North cut off a key military hotline with South Korea - possibly jeopardising the last major symbol of cooperation between them
North Korea recently cut a Red Cross hotline with South Korean and another with the US-led UN command at the border, but there is still a hotline linking aviation authorities in the North and South.
The latest hot-line to be cut is important because the Koreas use it to communicate as hundreds of workers travel back and forth to the Kaesong industrial complex in the North.
South Korea said more than 900 of its workers were in Kaesong and it did not know how cutting the link would affect their travel back to South Korea.
US Forces Korea said in a statement today that the B-2 stealth bombers flew from a US air base in Missouri and dropped munitions on a South Korean island range before returning home.
It was unclear whether America's stealth bombers were used in past annual drills with South Korea, but this is the first time the military has announced their use.
The statement follows an earlier US announcement that nuclear-capable B-52 bombers participated in the joint military drills.
A KCNA editorial yesterday warned the US against 'politically-motivated terrorism against DPRK', and another statement threatened to 'wipe out' United States forces and "reduce their bases in Guam and other regions to ashes."
Register for free to continue reading
Registration is a free and easy way to support our truly independent journalism
By registering, you will also enjoy limited access to Premium articles, exclusive newsletters, commenting, and virtual events with our leading journalists
Already have an account? sign in
Join our new commenting forum
Join thought-provoking conversations, follow other Independent readers and see their replies