SuperGurl apologises over 'rape us now' Black Friday advert
The advert has been branded 'inappropriate' and 'disgusting'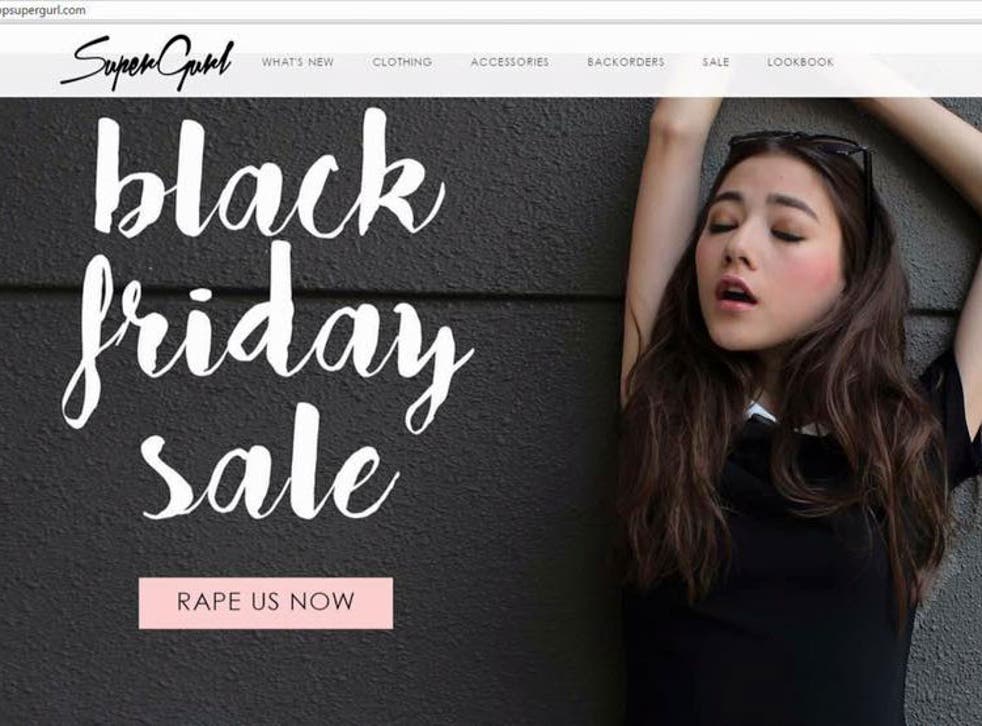 An online fashion retailer has apologised after using the phrase "rape us now" to advertise its Black Friday sale.
The Singapore-based online store SuperGurl used the phrase on a website banner on Monday, accompanied by a photo of a young woman in a suggestive pose.
The banner, which has since been taken down, was branded "inappropriate" and "disgusting".
The brand's creative director, Jordus Lim, posted an apology saying SuperGurl "did not mean it to be offensive to anyone."
Mr Lim said he failed to review the work before approving the image and acknowledged the company "made a mistake" which was "insensitive" and "indefensible".
"I hereby acknowledge that we have made a mistake, and that our caption does not advocate the right values to the young women community today," the apology reads.
"The team at SuperGurl will definitely be more careful with what we will put up in future as this is also a lesson learnt for us."
I am writing this to express our sincerest apologies pertaining to our insensitive action and the choice of word – rape...

Posted by SuperGurl on Monday, 30 November 2015
Many criticised the advert on social media. Ethan Wang said: "Rape is not an appropriate synonym to 'shop now', especially when your target market is young women and tweens."
Gavin Moey said: "Absolutely vile, inappropriate and disgusting. I'm shocked beyond words on how you can put this up on your webpage."
Ten adverts that shocked the world

Show all 10
Wei Wei Gwee said: "Rape isn't an advertising angle that one can exploit when thousands of victims suffer the irreparable damage rape has caused to them every day. Not only do you make light of sexual assault, you used this really young girl in a suggestive pose which seems to be extremely inappropriate."
Others commended Mr Lim's apology. Kent Leong said: "A director that takes ownership of their mistake instead of blaming his staff is gold. Great work Jordus!"
Supergurl are not the only fashion company to come under fire for inappropriate advertising. Bloomingdale's Christmas advert has been criticised for implicitly encouraging men to spike women's drinks when they aren't looking.
The ad, which appeared in the store's Christmas catalogue, shows a man staring at a woman with a caption reading: "Spike your best friend's eggnog when they're not looking."
Register for free to continue reading
Registration is a free and easy way to support our truly independent journalism
By registering, you will also enjoy limited access to Premium articles, exclusive newsletters, commenting, and virtual events with our leading journalists
Already have an account? sign in
Register for free to continue reading
Registration is a free and easy way to support our truly independent journalism
By registering, you will also enjoy limited access to Premium articles, exclusive newsletters, commenting, and virtual events with our leading journalists
Already have an account? sign in
Join our new commenting forum
Join thought-provoking conversations, follow other Independent readers and see their replies