Pakistan election 2018: How bulk voting denies democratic rights to up to 60% of Pakistanis
Landowners and local leaders promise their villagers' votes to a candidate in bulk - and trying to resist can come at a very heavy price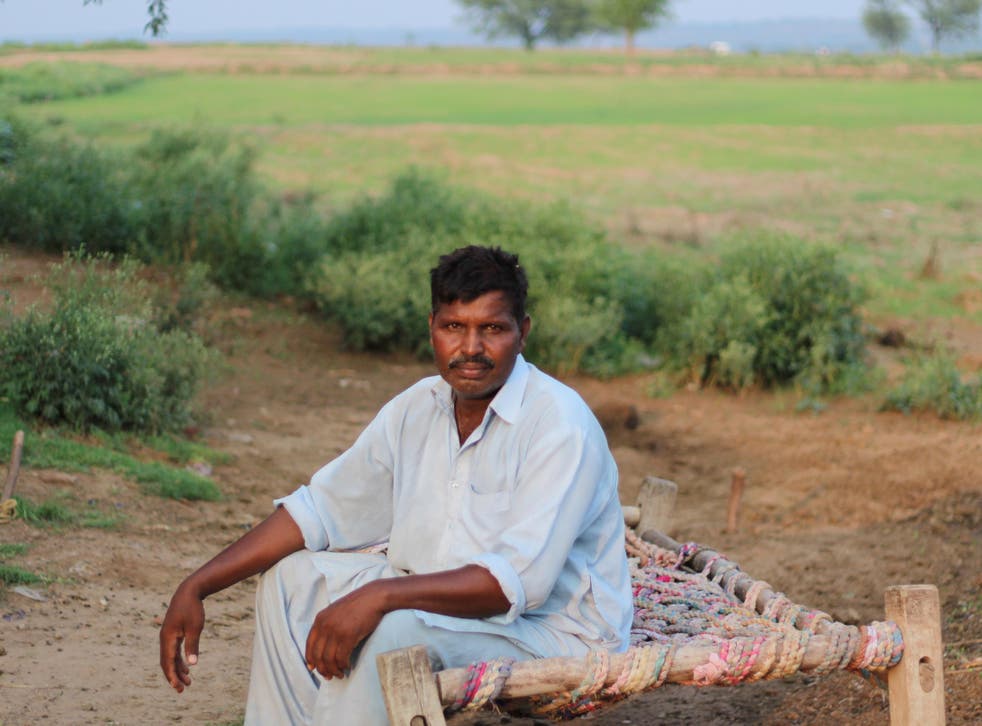 Only an hour away from Islamabad, just past Adiala jail where ousted Prime Minister Nawaz Sharif now languishes after being convicted on corruption charges, the scenery quickly changes from the capital's manicured lawns to donkey carts, water buffalo and lush fields. The walls of the village's tiny mud-brick houses have been plastered with campaign posters of two major political parties, represented by the symbols of a cricket bat and a jeep.
But here in Chauntra, it is the powerful who determine who the villagers vote for.
As Pakistan prepares for general elections on Wednesday, campaigning is in full swing on talk shows and social media. This is the second democratic transfer of power in a country that has been under military rule for almost half of its history.
But what is often forgotten is that a large part of the population has no real say in the elections. Around 60 per cent of the population lives in rural areas where landowners and local leaders often promise their villagers' votes to a candidate in bulk, and deviating from their decision can come with a heavy price.
According to Imtiaz Gul, an analyst with the Centre for Research and Security Studies, this type of bulk voting is particularly prominent in the provinces of Punjab, Sindh and Balochistan where it "determines the outcome of the elections to a great extent".
The candidates woo these local power brokers and promise contracts, construction work and other incentives in exchange for votes, Gul says.
"The leaders have people living under their influence. People are illiterate and a lot of them are simply spiritually given to the chief, regardless of how brutal or good he may be. And then there are people who are pursued or coerced to vote."
In rural Punjab, people are expected to stay loyal to their biradari (brotherhood), an ancestral group that plays an important role in politics and society.
World news in pictures

Show all 50
Shakila, who lives in Chauntra, has not yet been told who to vote for. "The men will come together in the biradari and they will decide who everyone will vote for," she says.
But the village elders and elite seem to have reached their decision already.
Ikhlaq Aman, a 35-year-old farmer in the village, says the biradari has decided to vote for PTI, a party led by the former cricket star Imran Khan, seen by many as the favourite of the country's powerful military. Voting decisions are made in meetings which aren't open to everyone.
"I don't go to these meetings. They are the biradari's business," he says.
The land Aman works on belongs to a family of landowners who live in the city of Rawalpindi. They hold considerable sway in the biradari.
"They don't come here much, but now that it's elections they come all the time," he says with a meaningful smile.
For many, the thought of going against the leaders' decision is a foreign concept.
"They are in indirect or direct bonded labour. They are living in the same big village, tending to the fields – themselves or for somebody else. Their livelihood opportunities remain very limited. This restricts the level to which they can express themselves or challenge the local conditions and the local leadership," Gul explains.
Jibran Fayaz, 17, manages a brick kiln in the village. Although he is not old enough to vote yet, he knows the ins and outs of voting behaviour in the village.
"People are forced to vote for the candidate the biradari prefers," he says. "Going against this is not good for you. Relationships will suffer."
Social blackmail and intimidation are common tactics used by the local leaders according to Gul. When the results come in, these leader will see not everybody in the village voted for the "correct" candidate, and in a country where the secrecy of the ballot is not always respected – especially in small villages – retribution can follow.
Muhammad Ateeq Nasir, who is originally from a village in the Chakwal district of Punjab but now drives a taxi around Islamabad, has witnessed these tactics himself.
"There was no electricity in our village before. They decided that everyone will vote for [Pervez] Musharraf but my family voted for PML-N, breaking with the biradari. Then electricity came to the entire village but not to our house. The poles were there but the wires weren't connected," he says.
It took six months of negotiations and pleading to get the wires connected to his house. After that, he never dared to challenge the biradari again.
"If you vote against their wishes and later on you need to solve an issue, like if you need a loan or you have to register a case with the police, they will not let this happen," he says. "Or they will not allow your children to be admitted to a good school. This is how they harass people."
Sometimes, the harassment turns into physical violence and torture, Gul says. "This is a big hazard."
Even leaving the village does not always mean breaking free from the leaders. Zarina Mazhar is originally from Gujrat in Punjab, but now works at a brick kiln with her husband in Chauntra.
"The waderas (landowners) will come get us and take us to the polling station in Gujrat," she says.
"Whoever comes, we will have to vote for his candidate," her husband Mazhar Hussain continues, but refuses to say how exactly the landowners persuade him.
Although political leaders often promise village elders development in exchange for support, the villages still lack some of the most basic facilities.
"We have issues with water, gas and electricity," Jibran Fayez says.
In addition, villagers living under the influence of landowners and local leaders have very little access to education, and this is how the political elite would like to keep things, Gul says.
"They don't want the children of their servants to grow up and assume positions which in the long term could make those servant families more powerful than them," he says. "For them, it's not a priority to provide education."
Gul says education is crucial to changing things at the village level. In addition, he believes outward migration to cities and increased employment opportunities will eventually free people from the local leaders' influence and allow them to think more independently.
"We can't change it overnight. There's no quick recipe. It will have to be an incremental change. The tone for that shall have to be set by the parliament itself."
But as long as the political elites benefit from this system, this is unlikely to happen.
The sun begins to set in Chauntra, and a woman stops to look as a PTI candidate drives through the village in a large convoy, flags waving. But there is no need to campaign here anymore; the vote has already been decided.
Join our new commenting forum
Join thought-provoking conversations, follow other Independent readers and see their replies