Karachi heat wave: Death toll tops 1,000 as government and electricity company trade blame
Morgues have been overflowing amid huge power cuts in Karachi
Lizzie Dearden
Thursday 25 June 2015 15:40 Comments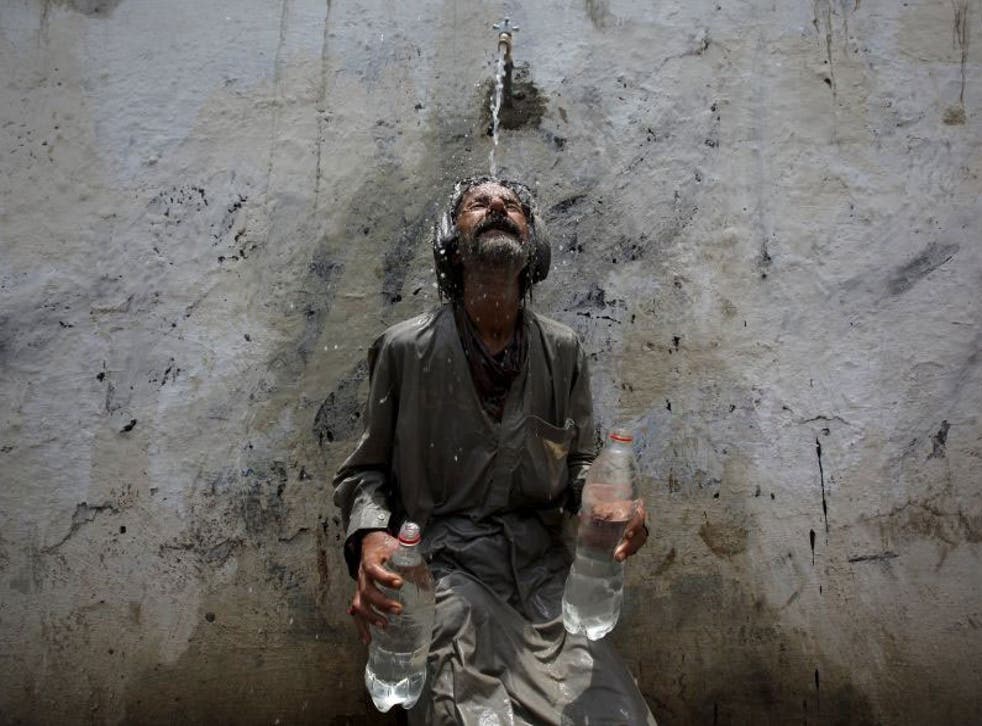 More than 1,000 people have now been killed in Pakistan's continuing heatwave as the deadly temperatures look set to continue.
Karachi, the county's largest city, has also been hit by huge power cuts leaving more than 20 million people struggling to cool their homes.
Officials said about 40,000 people have suffered heatstroke since Saturday and the number was expected to rise.
The disaster coincided with the start of the Islamic holy month of Ramadan and clerics have urged Muslims to break their fast to keep themselves healthy.
But despite declarations that eating and drinking is religiously permitted in the circumstances, people have reported shops refusing to sell water and Pakistan's "respecting Ramadan" law makes eating and drinking in public illegal in daylight.
It is the worst heatwave in Karachi for more than 35 years, seeing morgues run out of space for bodies and emergency clinics set up in the streets.
An influx of bodies has forced medical officials to store them in bags on the floor in some places.
Anwar Kazmi, a senior official of the charitable organisation the Edhi Foundation, said air conditioning units at the morgue had stopped working.
"We pay tributes to the doctors and staff of the government hospitals who are working tirelessly treating endless number of patients," he added.
"The Sindh (state) government has done nothing except blaming K-electric for the deaths."
K-electric, the private power company supplying Karachi, claims illegal connections are overloading the lines and demand has surged in the heat and because of sunset cooking for Ramdan.
Following sharp criticism from politicians, it revealed that the government allegedly owes more than $1 billion (£637 million) in unpaid bills.
Temperatures reached 44C at the weekend, believed to be the hottest in more than three decades, and although it has cooled slightly to around 38C, there is no sign of rain over the coming days.
"The death toll from the heat wave has now crossed over 1,000 mark. These deaths have mainly taken place at government-run hospitals and few major private hospitals," Mr Kazmi said, voicing widely-held fears that the real toll may be worse as smaller hospitals may not have reported deaths.
Many clinics issued urgent appeals overnight for bed sheets, cold water and other basic items after decades of neglect by the government.
Since the crisis hit, the provincial government has ordered shops, marriage halls and restaurants to close early and announced a one-day government holiday and a protest sit-in, the daily newspaper Dawn reported, calling the measures "absurd" and unhelpful.
People are being urged to look out for the signs of heat exhaustion, including fatigue, dropping blood pressure, nausea and sweating, and immediately try and cool themselves down.
If it is not treated, it can develop into potentially deadly heatstroke as the body's temperature rises beyond safe levels.
Symptoms include confusion, dry skin, hyperventilation, cramping and later seizures, organ failure and death.
The deaths in Pakistan come after last month's heatwave in India, which had killed 2,500 people by the start of June.
Additional reporting by Reuters
Register for free to continue reading
Registration is a free and easy way to support our truly independent journalism
By registering, you will also enjoy limited access to Premium articles, exclusive newsletters, commenting, and virtual events with our leading journalists
Already have an account? sign in
Join our new commenting forum
Join thought-provoking conversations, follow other Independent readers and see their replies