Pakistan lynching: Witness describes moment crowd murdered and burned two innocent men
Police lost control after Christian churches were attacked by suicide bombers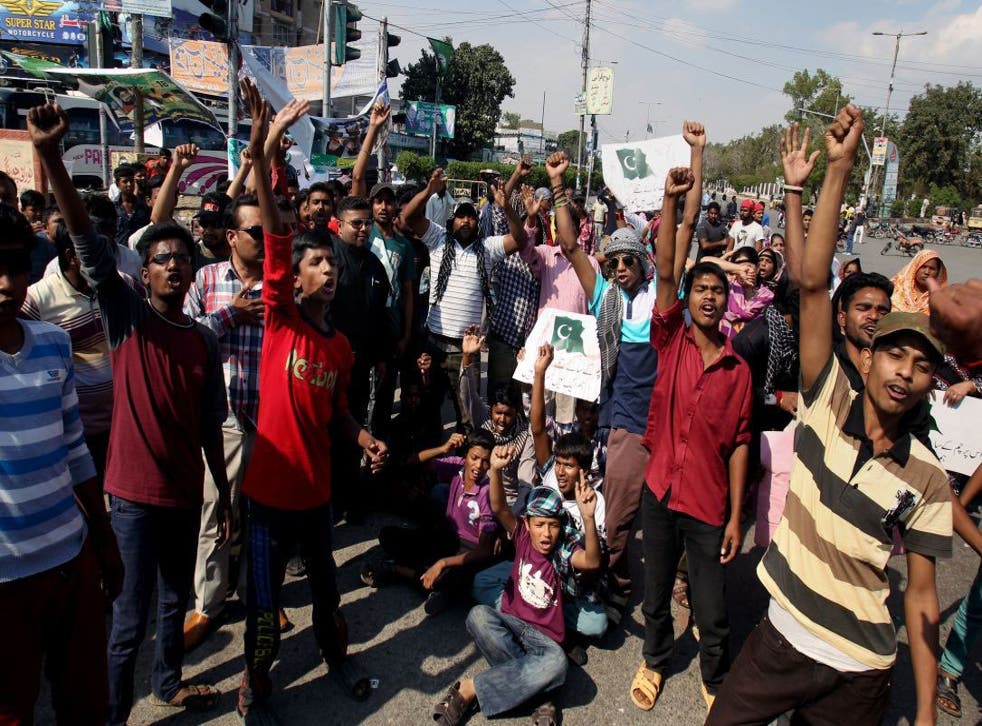 A photographer has described the horrific lynching of two men by an out-of-control mob seeking revenge for suicide bombings at two churches in Pakistan.
Mohsin Raza was covering suspected Islamist terror attacks that killed at least 17 people, including a nine-year-old child, and injured 80 more in Lahore on Sunday when sorrow among gathered Christians turned to deadly rage.
"Upon my arrival on the site, I saw people running everywhere in panic," he said.
"Suddenly I noticed a mob of young people shouting and beating a man whom they suspected was behind the attacks."
Warning: This article contains images that some readers may find distressing
Parishioners had been celebrating Sunday service when the two churches, around 600 metres apart in the Christian neighbourhood of Youhana Abad, were attacked in close succession.
A Pakistani Taliban splinter group known as Jamaat-ul-Ahrar has claimed responsibility for what was the latest in an unremitting series of attacks on the country's Christian minority.
Two suicide bombers died in the blasts and with the culprits dead, crowds turned on two men who were innocent bystanders according to their families.
They were beaten unconscious and dragged through crowds before their lifeless bodies were set alight in front of hundreds of cheering men.
Mr Raza said one victim was already "nearly dead" and drenched in blood when the mob's rage reached fever pitch.
He recalled: "'Get him, hang him on a pole,' the crowd shouted.
"Then another group came along, pulling another man and shouting for both to be burned.
"The next moment, people started gathering wood from a nearby shop and set the men ablaze."
The photographer said heavily outnumbered police had no choice but to look on as the men were murdered.
"While shooting pictures of the two men in flames, it was very painful but I looked intently around me," Mr Raza said.
"I was shocked that people were holding their mobile phones, shooting pictures and videos of the helpless men.
"I think the brutality and senseless violence shown towards a fellow human being is what makes this image stand out."
Pakistan's Dawn News has identified the lynched men as Babar Noman, a garment worker who moved to Lahore in search of factory work, and a glass cutter called Naeem.
His brother, Muhammad Saleem, said he had nothing to do with the bombings and was seized as he locked up his motorcycle nearby shortly after the blasts.
Members of the crowd reportedly shouted to the mob to spare him because he was innocent but they did not listen.
As the bloody scene unfolded, people were still desperately searching for their loved ones in the rubble of the explosions.
"Mothers and sisters were crying out with extreme pain for their sons and brothers," Mr Raza said. "It was really a heart-breaking incident to cover."
Anger did not abate after the lynching and riots continued with mobs torching cars and attacking buses, forcing the government to deploy paramilitary troops on Tuesday to prevent further disorder.
Two Christian protesters also died after being hit by a car that tried to drive through their road block.
People attending the victims' burials were subjected to strict security searches by police to check for weapons and explosives.
Christians make up less than 2 per cent of Pakistan's population and many are among its poorest people. They face discrimination, violence and even prosecution under the country's Muslim blasphemy laws.
Many Christians accuse the government of doing little to protect them from Islamist militants, saying politicians are quick to offer condolences after an attack but slow to take any concrete steps to improve security.
Additional reporting by agencies
Join our new commenting forum
Join thought-provoking conversations, follow other Independent readers and see their replies