Pakistan: 14 killed in bomb attacks on two churches in Lahore
Angry mobs killed two men in retaliation
James Dunn
Sunday 15 March 2015 14:18 Comments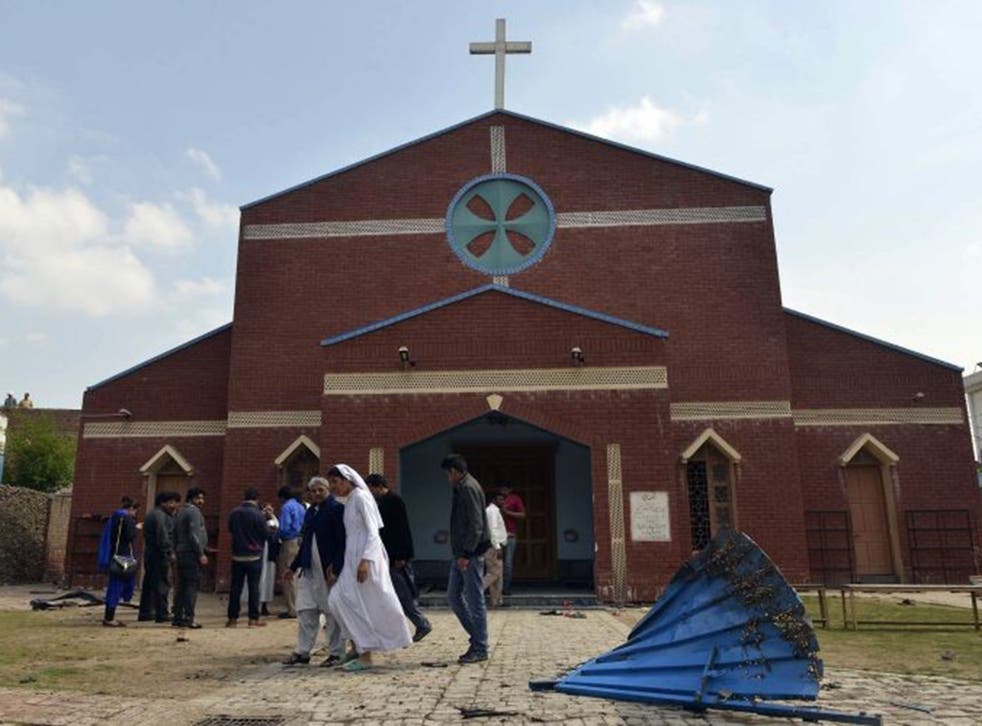 Fourteen people were killed and 78 injured in bomb attacks carried out on two churches in Lahore as extremists continue to target Christians in the fractured country.
Parishioners were celebrating Sunday service when the two churches – around 600 metres apart – in the Christian neighbourhood of Youhana Abad were attacked in close succession, AP reports.
Since the attack this morning, Reuters reports, a Pakistani Taliban splinter group known as Jamaat-ul-Ahrar has already claimed responsibility.
One eye-witness praised the quick-thinking of a security guard, who he believed saved lives by stopping who he believes to be the bomber entering one of the churches shortly before the second blast.
"I was sitting at a shop near the church when a blast jolted the area. I rushed towards the spot and saw the security guard scuffle with a man who was trying to enter the church. After failing, he blew himself up," witness Amir Masih told Reuters.
The security guard was also killed, he said. Masih said it was unclear if the first blast was also triggered by a suicide bomber.
One unidentified witness told Pakistan's Geo television that the main gate to one of the churches targeted was closed so people were using a smaller gate.
"One bomber exploded himself near that gate, that created chaos and during the course there was another blast," he said.
Fourteen people have been confirmed dead and at least 78 were wounded, said Zahid Pervez, the provincial director general of health.
The horror prompted a violent backlash from survivors who unleashed their fury over the horror on anyone they expected may be involved in the attack.
Geo TV reported that two men caught at the scene were burnt alive after being subjected to severe torture while police watched on.
Two police officers were among those killed, while five others were injured, according to Dr Haider Ashraf, deputy inspector general for Lahore, reports Geo TV.
But there are conflicting reports from AP, who claim Ashraf said only one man was burned to death, while the crowd attempted to lynch another as they searched for people connected to the attack.
AP also reports that he confirmed the attack was carried out by suicide bombers.
Local TV footage on Geo TV shows a crowd beating someone suspected of being involved and the mob also torched cars and attacked buses around the city. They also have footage of the blast scene, which the crowd stopped federal minister Kamran Micheal from visiting.
Lahore Blasts: Victims mother speaks to Geo News by GeoNews
It is believed the Christians were acting in defiance of their victimisation in the country, where they have often found themselves targeted by Sunni Muslim militants who object to their faith.
In 2013, 85 Christians were killed as they exited a church in Peshawar, straight into the blast zone of two suicide bombers from a Taliban faction.
The country is on edge after years of militant violence including an attack on a Peshawar school in December that killed nearly 150 people — mostly students.
In pictures: Taliban attack on army school in Pakistan

Show all 30
Militants appear to be targeting minorities more intensively recently, including attacks on a string of mosques belonging to members of the Shiite Muslim minority sect.
"There will be more of such attacks," warned Ahsanullah Ahsan, a spokesman for the Taliban faction that claimed responsibility for the assault, AP reports him saying in a statement emailed to reporters.
Following today's bombings, Pope Francis told crowds at St. Peter's Square in the Vatican he felt "great pain" over the tragedy, departing from scripted remarks in his customary address on Sunday.
"These are Christian churches. Christians are persecuted, our brothers spill their blood simply because they are Christians," the pontiff said.
Today's incident will be a blow for Prime Minister Nawaz Sharif, who has his power base in Lahore and his party, the Pakistan Muslim League-N, also run the Punjab government, in which his brother is chief minister.
The provincial government has been accused in the past of not doing enough to protect religious minorities and reign in extremist groups based in the province who often whip up religious sentiment against minorities.
Register for free to continue reading
Registration is a free and easy way to support our truly independent journalism
By registering, you will also enjoy limited access to Premium articles, exclusive newsletters, commenting, and virtual events with our leading journalists
Already have an account? sign in
Register for free to continue reading
Registration is a free and easy way to support our truly independent journalism
By registering, you will also enjoy limited access to Premium articles, exclusive newsletters, commenting, and virtual events with our leading journalists
Already have an account? sign in
Join our new commenting forum
Join thought-provoking conversations, follow other Independent readers and see their replies