Islamabad plunged into chaos by 'occupation forces' as Pakistan's beleaguered Prime Minister Nawaz Sharif prepares to address parliament
Sharif is under pressure from protest groups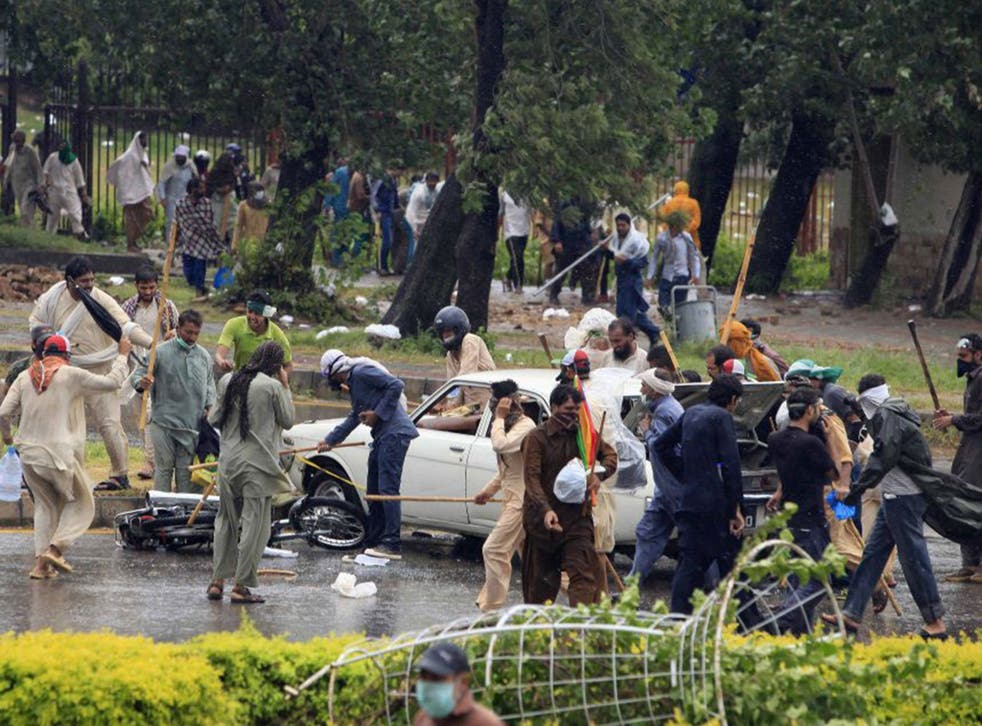 Pakistan's increasingly beleaguered government dismissed anti-government protesters as an "occupation force" after Islamabad plunged into further chaos today.
Demonstrators stormed the offices of the state television channel, and forced it from the air until they were ejected by troops and paramilitary forces. And clashes between protesters and police resumed this evening local time, with security personnel firing tear gas to repel demonstrators trying to reach the Prime Minister's official residence.
Prime Minister Nawaz Sharif is to address a joint session of the country's parliament, a move widely interpreted as an attempt to show he is in control of a volatile and dangerous situation.
The clashes between protesters and police continued despite heavy rain. Local television channels showed images of men armed with wooden clubs running along Constitution Avenue, which leads through the centre of Islamabad. Reports said a senior police officer was seriously injured after being beaten.
In pictures: Pakistan protesters clash with police in Islamabad

Show all 10
Earlier, protesters stormed into the offices of Pakistan Television (PTV), briefly forcing it off the air, until they were removed by troops.
"They have stormed the PTV office," one news anchor said, just before the screen went blank, according to the Reuters news agency. "PTV staff performing their journalistic duties are being beaten up."
The latest drama came after a weekend of clashes between anti-government protesters and security forces that left three people dead and around 200 requiring medical treatment.
The 20,000 or so demonstrators who have besieged Islamabad are part of two different protest groups. One is led by cricketer-turned-politician Imran Khan, who has claimed last year's election, which Mr Sharif won handsomely, was rigged. The other group is lead by a Muslim cleric who usually lives in Canada, Tahir ul Qadri, who also claims Mr Sharif is corrupt.
Mr Khan, 61, has claimed his supporters are acting within their constitutional rights, but the government has dismissed this.
Senator Tariq Azim, a spokesman for Mr Sharif, told The Independent: "One expects better from Imran Khan, who has lived in London. Does he think he'd be able to do this in Downing Street? The police would move him on in two minutes. Yet he is telling his people, many of whom don't know better, that this happens in other countries."
He added: "This has become an occupation force. It is no longer a democratic protest."
As is often the case in Pakistan, one pulsating uncertainty is what the powerful military may or may not do. On Sunday evening, the army chief, General Raheel Sharif, who is not related to the Prime Minister, summoned his senior commanders for a crisis meeting to discuss the deteriorating security situation in the capital.
In a statement released afterwards, the military said that while it reaffirmed its support for democracy it considered with "serious concern" the violent turn the protests had taken.
"It was once again reiterated that the situation should be resolved politically without wasting any time and without recourse to violent means," the statement said. "[The] army remains committed to playing its part in ensuring the security of the state and will never fall short of meeting national aspirations."
On Monday, the army chief met with the Prime Minister. One television channel claimed the general had asked the Premier to stand down but this was rapidly denied by a military spokesman
Mr Sharif was elected to his third term as Prime Minister in an general election held in May 2013, with Mr Khan's Pakistan Tehreek-e-Insaf (PTI) party coming second in many major cities. Mr Khan accepted the results of the election but called for a probe into alleged vote rigging.
He launched his so-called freedom protest after claiming the government and the election commission had failed to follow up on its agreement to launch an inquiry.
Many have suggested that the protesters may be receiving the support of the military. Both Mr Khan and Mr Qadri have denied such claims.
On Monday, a senior member of Mr Khan's party, Javed Hashimi, who had broken with the party leadership over its decision to march towards the Premier's residence, claimed the former cricketer had told officials: "We cannot move forward without the army."
Mr Sharif has long had a difficult and testy relationship with the country's armed forces. He was forced from office in 1999 by a military coup led by Pervez Musharraf, the then-army chief.
Since his election victory 16 months ago, Mr Sharif's relationship with the army establishment has not been improved by his decision to allow the prosecution of Mr Musharraf – charged with treason – to proceed.
Join our new commenting forum
Join thought-provoking conversations, follow other Independent readers and see their replies