Cars torched as thousands take to streets in defiance of deadly crackdown on Islamist protests in Pakistan
3,000 protesters await another security clampdown after a day of escalating tensions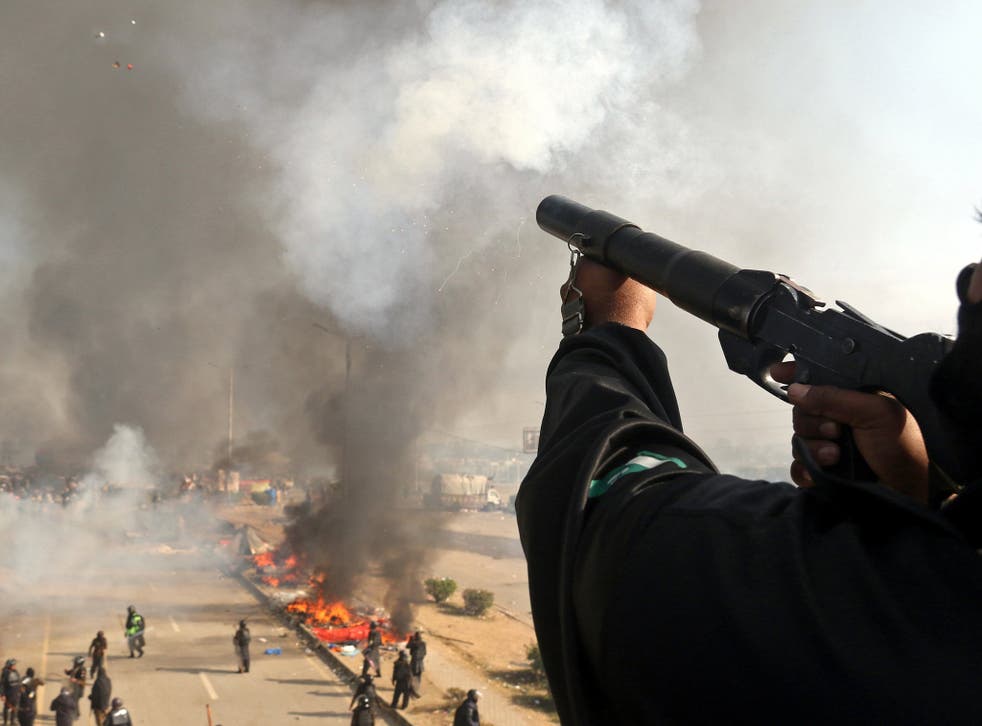 Thousands of people have taken to the streets to continue their protest against the Government after hundreds were injured and six killed as police failed to disperse the Islamist rallies earlier this week.
The 3,000-strong rally near Islamabad is braced for another military crackdown, and protesters have reportedly torched several vehicles and a guard post. No casualties have yet been reported.
Tensions escalated after Islamist party Tehreek-i-Labaik Ya Rasool Allah demanded that Pakistan's law minister to resign as he did not include a reference to the Prophet Muhammad in a parliamentary bill.
Despite Zahid Hamid apologising for his error, the new and extreme political party is calling for his arrest.
Unrest has spread to multiple cities, including Karachi, Lahore and Multan, and protesters have staged sit-ins and blocked roads into the capital for two weeks.
"God willing we will get victory and will disperse with honour," cleric Mohammad Shahid Chishti told The Associated Press.
Police clash with protesters in Pakistan

Show all 11
The military tried to break up the protests over the weekend, wielding batons and firing tear gas and rubber bullets into the crowds.
Around 200 people – many of them police officers – were taken to hospital with injuries and respiratory problems. Six people were killed near the Faizabad crossing, a main intersection outside Islamabad.
Pakistan protests: army called in after clashes with Islamist protesters
Pakistan has shut down access to social media websites and stopped media broadcasts for two consecutive days, claiming the media violated government policy of showing live coverage of security operations.
In the wake of unrest, Pakistan's opposition party leader Imran Khan has called for elections sooner than the planned election next summer.
The country is still being governed by the party of ousted Prime Minister Nawaz Sharif – removed by the supreme court in July over financial irregularities.
Ultra-religious groups are unlikely to gain a majority in the upcoming election but they could have a major influence on politics and are gaining ground in local elections.

Agencies contributed to this report
Register for free to continue reading
Registration is a free and easy way to support our truly independent journalism
By registering, you will also enjoy limited access to Premium articles, exclusive newsletters, commenting, and virtual events with our leading journalists
Already have an account? sign in
Register for free to continue reading
Registration is a free and easy way to support our truly independent journalism
By registering, you will also enjoy limited access to Premium articles, exclusive newsletters, commenting, and virtual events with our leading journalists
Already have an account? sign in
Join our new commenting forum
Join thought-provoking conversations, follow other Independent readers and see their replies