Parents who killed daughter with acid say it was her destiny
Andrew Buncombe
Monday 05 November 2012 20:09 Comments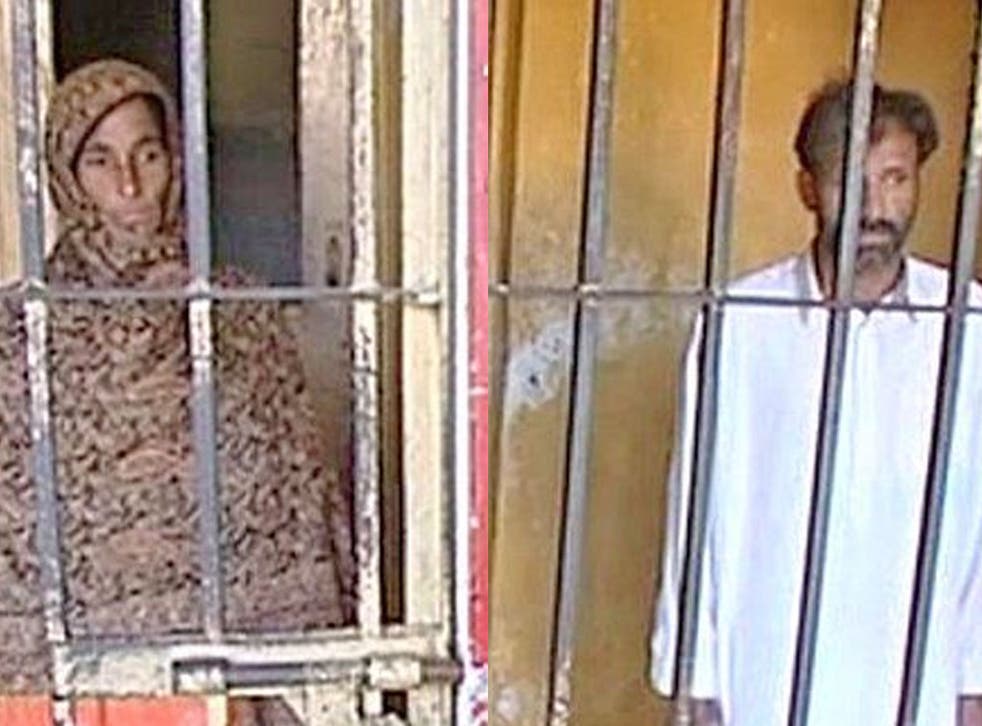 A teenage Pakistani girl allegedly murdered by her parents for looking at a boy begged for her life before they doused her with acid. Her mother said it was the girl's "destiny" to die in such a fashion.
In the latest twist to a saga that has created outrage across South Asia, where acid attacks are common, the parents of the 15-year-old girl gave an interview in which they justified their actions. They said their elder daughter had previously brought "dishonour" to their family and that they would not tolerate it again.
The couple were arrested last week in Pakistan-administered Kashmir in a remote village in the Kotli district. Muhammad Zafar and his wife, Zaheen, were detained after allegedly confessing to officers that they had poured acid on their daughter, Anusha. Though she suffered up to 60 per cent burns on her body, the couple did not take her to hospital until the following day. She died of her injuries.
Speaking from his cell to the BBC, Mr Zafar said: "There was a boy who came by on a motorcycle. She turned to look at him twice. I told her before not to do that – it's wrong. People talk about us because our older daughter was the same way."
Anusha's mother said her daughter had pleaded with her and said her glance at the passing boy had been nothing more than an accident. "She said, 'I didn't do it on purpose, I won't do it again'," said the mother. "By then I had thrown the acid. It was her destiny to die this way."
Acid attacks, especially those relating to cases of honour, are commonplace in Pakistan and the subcontinent and campaigners struggle to try and force the authorities to tackle the issue more forcefully. Last year, Pakistan passed legislation for tougher sentences of up to 20 years for anyone convicted of such an assault.
The Human Rights Commission of Pakistan reported 943 women were murdered in honour killings last year, an increase of more than 100 on 2010. But it may be that both honour assaults and acid attacks are even more prevalent. The commission's spokesman, Zaman Khan, said recently that it is suspected that many such offences are not reported.
The issue of acid attacks in Pakistan received widespread coverage earlier this year after documentary maker Sharmeen Obaid-Chinoy won an Oscar for her film Saving Face, which told the story of Pakistani women recovering after such attacks.
In March, the Kashmir government made acid attacks punishable with life imprisonment. Local media suggested the attack on the 15-year-old was one of a few in the area in recent years.
Register for free to continue reading
Registration is a free and easy way to support our truly independent journalism
By registering, you will also enjoy limited access to Premium articles, exclusive newsletters, commenting, and virtual events with our leading journalists
Already have an account? sign in
Join our new commenting forum
Join thought-provoking conversations, follow other Independent readers and see their replies