Philippines aid begins at home: Social media helps local people prevent spread of illness following Typhoon Haiyan
Andrew Buncombe
Sunday 17 November 2013 01:00 Comments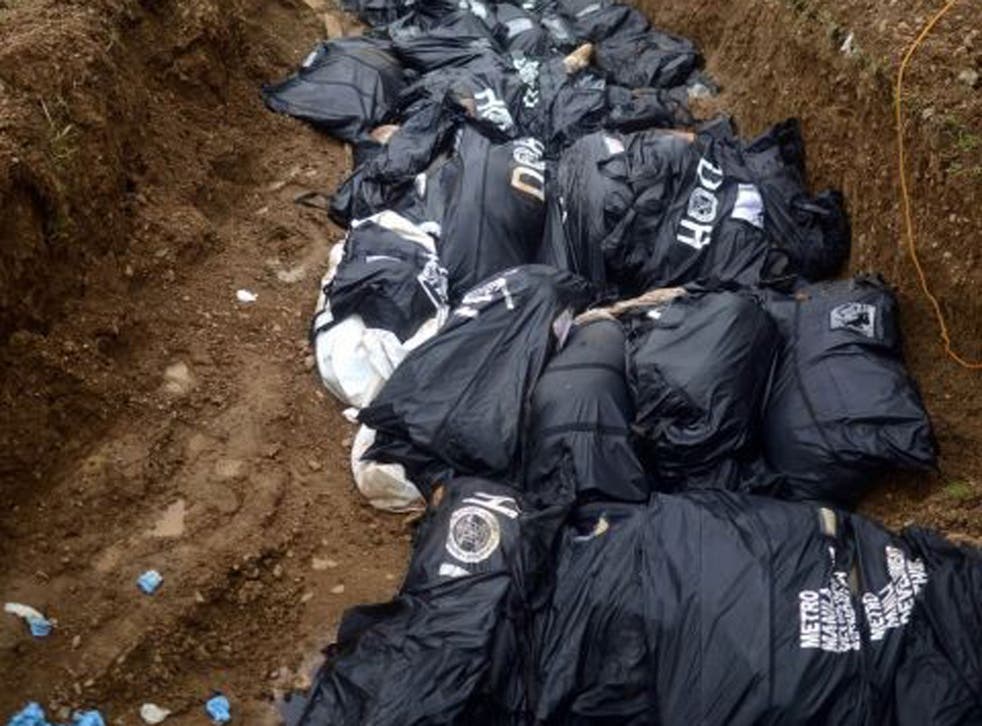 Inside the Church of the Redeemer, beneath a statue of the outstretched arms of Christ, Dr Evangeline Cua was attending to some of Tacloban's desperate and needy.
There were gashes to be treated, tetanus shots to be given and medicine to be dispensed. People gathered at the front of the church and formed an orderly queue while Dr Cua got to work.
After the storm struck, the 38‑year‑old surgeon from the city of Iloilo posted a simple but urgent message on social media: please donate to help send a medical team to Tacloban. Within 24 hours, she had received more than £30,000 – enough to dispatch a nine-strong team with a supply of medicine.
"This is the first time I have been in a disaster area," said the physician who works in a private hospital. "When I saw the damage on TV it looked bad, but when I got it here it looked a lot worse."
The doctor and her colleagues are at the forefront of the one most important challenges in the aftermath Typhoon Haiyan, which tore through the eastern Philippines nine days ago.
As aid workers continue to distribute food and water and provide emergency shelter, attention turns – as it does after of any natural disaster – to avoiding a health crisis. Waterborne diseases such as cholera and typhoid are always the biggest fear.
"We are on the watch-out for acute diarrhoea, dengue, leptospirosis, gastroenteritis and acute respiratory failure for children beneath the age of five," said Patricia Kormoss of the World Health Organisation.
Dr Cua and her team may also represent a new trend among the way the world responds to natural disasters; increasingly, smaller, locally based and locally financed organisations are working alongside, and
sometimes ahead of, international organisations and the UN.
After the earthquake in Haiti in 2010, the aid community was criticised for pushing out and blocking indigenous groups with local knowledge. "Tell the internationals to all go home. They mean well, but Haiti needs to be rebuilt by Haitians," one local told a member of the aid community wrote on a discussion forum at the time.
"At first, with all these ad hoc groups, there was a little bit of unease," said Matt Cochrane of Unicef, who is helping to co-ordinate operations in Tacloban. "But it has changed over the past couple of years, and there's a recognition that this is increasingly going to be the way humanitarian aid is delivered."
Dr Cua, who studied in Tacloban, said she collected enough donations within a day. It helped, she said, that she had a large number of friends on Facebook, and she saw donations pour in not only from the Philippines but around the world.
One of her friends is the celebrated Philippine photographer Manny Librodo, who in turn asked people he knows to help. The doctor said her team had treated 250 patients on Thursday and had seen more than 350 by Friday lunchtime. Yesterday, she was flying back to Iloilo to update her social media page and collect more money before returning to Tacloban.
One of Dr Cua's team, a nurse named Rodilin Fuentes, is a friend from Iloilo. "We came together. We want to help those in need," she said, as she administered anti‑tetanus shots.
Another volunteer was a chef. Ramon Yuson said he had left his job at Cebu to respond to the call. "Of all the people here, I am the least qualified," he admitted, sitting at a table where he was registering people and handing over medicine. "But they said they need volunteers. I felt I could help."
Most of the people queuing up to see the volunteer team said they were suffering from diarrhoea, flu and fever. "There is a lack of sanitation. We need portable toilets," said Dr Cua. "The hygiene in the church is not very good."
The church was built to withstand the force of the most powerful storms and had been set aside as one the evacuation centres. Emergency relief for the people inside the church is being overseen by International Organisation for Migration, an intergovernmental body that focuses on displacement.
It is currently being occupied by about 2,000 people, sleeping on the pews or on mats on the floor. Many of its residents are children.
Father Gary Alvarado, on whose corridor Ms Cua and her team were sleeping, said the next need was tents, to allow people to leave and setup temporary homes. He said the arrival of Dr Cua and her team was "greatly appreciated – a very laudable attitude. She posted on Facebook, told her friends and the money keeps coming."
The Philippines' main disaster agency said yesterday that the death toll after the typhoon struck in the early hours nine days ago now stands at 3,633, with a further 12,487 people injured. Another 1,179 people are officially missing. By Thursday, the UN had put the number of dead at 4,460.
What is common is the belief that the death toll could yet rise sharply once agencies reach the most remote parts of Leyte and Samar islands. The Foreign Secretary said yesterday " a number" of Britons remained unaccounted for, including a Grimsby man.
About 600,000 have been left homeless and two million displaced. A total of 12 million people have been affected by what has been judged to be the world's most powerful storm.
Aid workers say assistance is being delivered as quickly as it can be. They point out to unprecedented challenges – the size of the area damaged by Haiyan, the way in which infrastructure was wrecked and the fact that many local government employees stayed home to help their family in the first days following the storm.
In signs that relief efforts were picking up, the Associated Press reports that US navy helicopters have been flying sorties from the USS George Washington off the coast, dropping water and food to isolated communities.
The US military said it will send about 1,000 more troops along with additional ships and aircraft to join the aid effort. So far, the US military has moved 190 tons of supplies and flown nearly 200 sorties. In Tacloban, there is a partial restoration of water, though it is not for drinking.
Yesterday, an RAF cargo plane carrying vehicles and supplies with the message "UK aid from the British people" touched down in Cebu province. It came as David Cameron promised an extra £30m in UK aid to the Philippines.
But for the people of Tacloban, still struggling to find enough to eat and drink and wondering about what the future holds, things feel as if they are moving very slowly.
"For five days there was no food and water," said Soledad Majos, a woman seated by herself at a pew. "Then there were some supplies delivered – rice and canned food and blankets."
As to how long she would have to stay camping in the church, she was unsure. "I don't know – perhaps three more days. I hope my son will come from Manila and collect me."
Register for free to continue reading
Registration is a free and easy way to support our truly independent journalism
By registering, you will also enjoy limited access to Premium articles, exclusive newsletters, commenting, and virtual events with our leading journalists
Already have an account? sign in
Join our new commenting forum
Join thought-provoking conversations, follow other Independent readers and see their replies