Philippines' Rodrigo Duterte threatens to burn down United Nations over human rights abuse accusations
Mr Duterte has boasted that he personally killed people when he was a city mayor: 'I would patrol the streets, looking for trouble also, I was really looking for a confrontation so I could kill'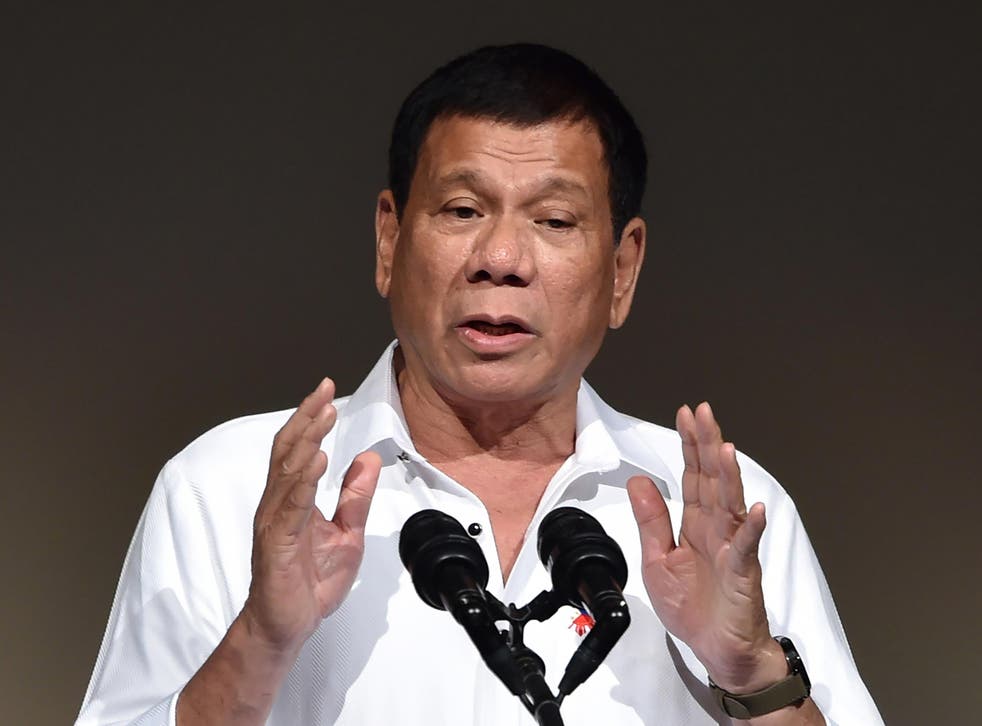 Philippine president Rodrigo Duterte has threatened to burn down the United Nations, after it condemned his bloody crackdown on suspected drug dealers.
Since he took office in June, around 6,000 people have been killed by police, vigilantes, and mercenaries in the south-east Asian country on Mr Duterte's instructions.
"You go and file a complaint in the United Nations, I will burn down the United Nations if you want," Mr Duterte said, speaking at an army base in the country's southern city of Zamboanga. "I will burn it down if I go to America."
UN human rights experts have been asking the Philippine government to address extrajudicial killings of drug users in the country since August.
In response, Mr Duterte has said he is considering taking the Philippines out of the UN, withdrawing from the International Criminal Court, and ending a major pact with the US.
On Thursday, he called the UN' human rights chief Zeid Ra'ad al-Hussein an "idiot", in response to a suggestion by the diplomat that Mr Duterte be investigated for murder after the president said he personally gunned down at least three people when he was a city mayor.
"I'd go around in Davao with a motorcycle, with a big bike around, and I would just patrol the streets, looking for trouble also," he said. "I was really looking for a confrontation so I could kill."
Mr Zeid called on Tuesday for the authorities in the Philippines to begin an investigation after Mr Duterte's boasts.
"It is unthinkable for any functioning judicial system not to launch investigative and judicial proceedings when someone has openly admitted being a killer," Mr Zeid said in a statement.
But Mr Duterte, who is still well-liked within the country, appeared to be enraged by the remarks.
Philippines declares emergency after 46 killed in election violence

Show all 10
"You there in the United Nations, you do not know diplomacy," he said, during a news conference in Manila, the capital, on Thursday. "You do not know how to behave, to be an employee of the United Nations. You do not talk to me like that, you son of a bitch.
"You idiot, you do not tell me what to do," he continued. "Your understanding of international law is lacking. We are the ones contributing to the United Nations. You morons! You sons of whores! And I pay your salaries. Do not open your mouth there. I employ you."
The Philippines is among the 141 members of the 193-member UN who have paid their 2016 dues - in this case $4.11 million - in full.
Join our new commenting forum
Join thought-provoking conversations, follow other Independent readers and see their replies