Philippines president Rodrigo Duterte sings pop duet 'at Donald Trump's request'
'Ladies and gentlemen, I sang uninvited, in a duet, with Miss Pilita Corales, upon the orders of the commander-in-chief of the United States'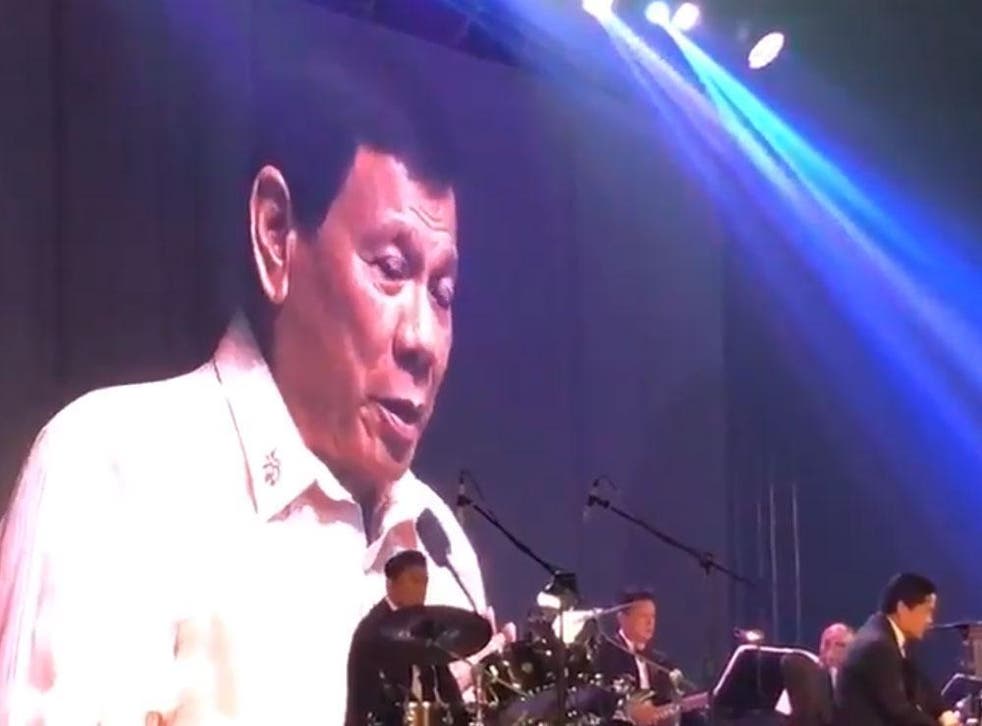 Filipino president Rodrigo Duterte got up and sang a love song with a pop singer at a gala dinner for Asian leaders, because Donald Trump had requested it.
The controversial leader joined Pilita Corrales to sing "Ikaw", which means "You" in Tagalog, the language of the Philippines.
The pair performed in front of 19 leaders at the 31st Association of South East Asian Nations (ASEAN) Summit.
He said had done so "upon the orders of the commander-in-chief of the United States."
One of the song's verses, translated from Filipino, begins: "You are the light in my world, a half of this heart is mine".
The end of the song was captured on video by public works undersecretary Karen Jimeno, who posted a video of it on Twitter.
Mr Trump reportedly ignored questions about human rights abuses while meeting with Mr Duterte at the summit, although more than 3,900 Filipinos have been killed in the past year after the Filipino leader declared a war on drugs.
The US leader claimed the pair "had a great relationship", adding: "This has been very successful. And the ASEAN conference has been handled beautifully by the president in the Philippines."
World news in pictures

Show all 50
White House spokeswoman Sarah Huckabee Sanders later said human rights were mentioned briefly during the two leaders' meeting.
"The conversation focused on Isis, illegal drugs, and trade," she said. "Human rights briefly came up in the context of the Philippines' fights against illegal drugs."
Additional reporting by agencies
Join our new commenting forum
Join thought-provoking conversations, follow other Independent readers and see their replies