Philippines' president Rodrigo Duterte tells drug suspects to stay in jail if they want to live longer
Bloody crackdown sees more than 4,000 people killed following clashes with police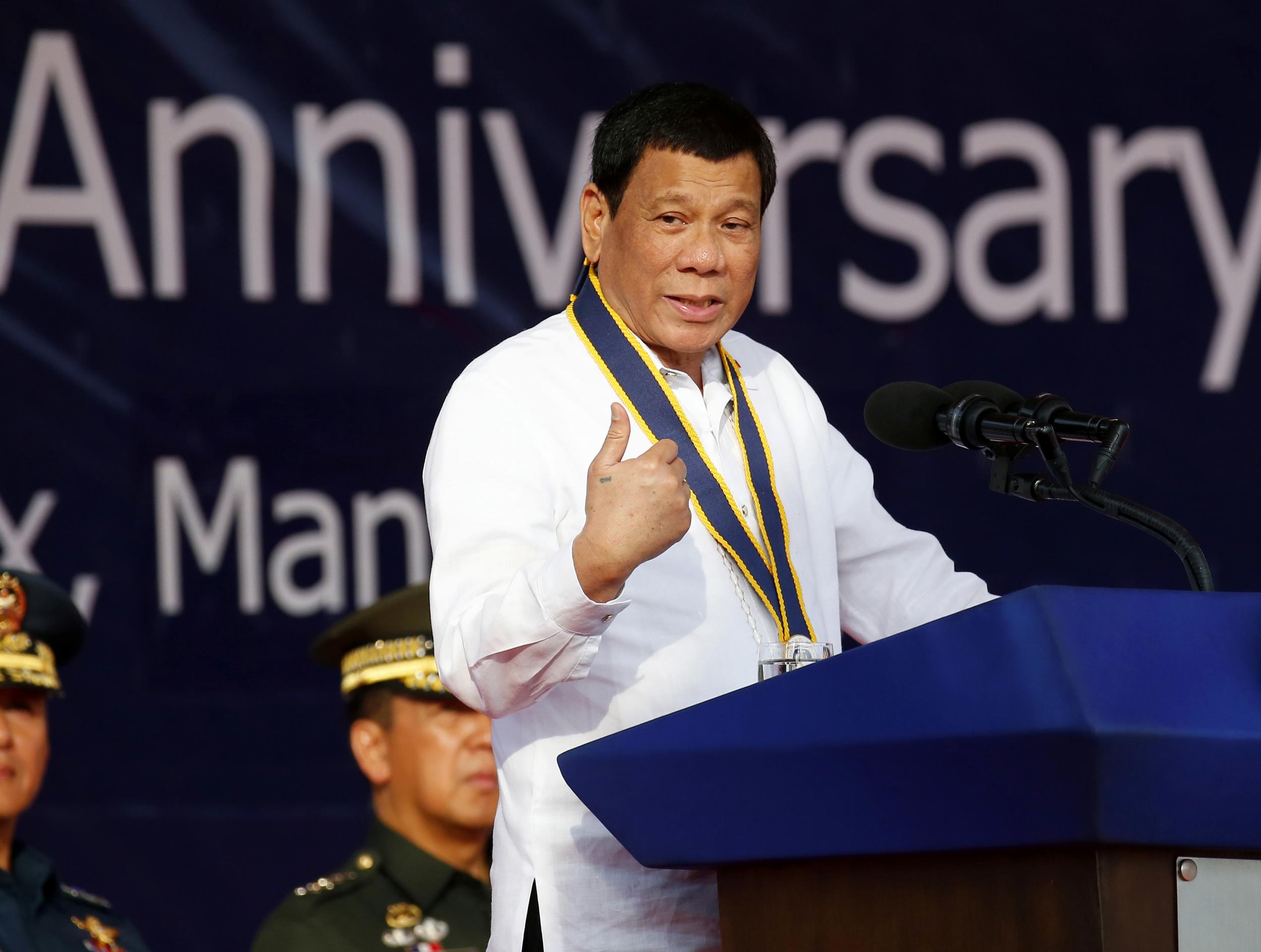 Philippine president Rodrigo Duterte has told drug suspects to look for a way to get arrested and stay in jail if they want to live longer.
In the televised speech on Tuesday, Mr Duterte failed to identify specific targets, but referred to people who grew rich through the illegal drugs trade in the central Cebu province.
"You know if I were you guys in Cebu, stay in jail. You want to live longer? Stay in jail," Mr Duterte said. "Look for your own reason to be in jail. Do not go out of that facility. It would not be healthy for you."
It is just the latest threat in his bloody anti-drugs crackdown, which has seen more than 4,000, mostly poor drug suspects, killed in clashes with police.
There has been at least one high-profile drug suspect, however, who was shot to death by police in his jail cell.
Police killed town mayor Rolando Espinosa inside a jail in central Leyte province in 2016 in what they said was a gun battle, but government investigators declared it a murder.
Duterte: Police can kill "idiots" who resist arrest
Murder complaints against an officer and his men involved in the shootout were later downgraded to a lesser charge that allowed them to be released on bail and reinstated into the force.
In a rambling speech to honour the Philippine navy's 120th anniversary, the 73-year-old initially touched on terrorism and South China Sea territorial threats, before veering to his anti-drug crackdown.
He issued a veiled threat to policemen involved in drugs and acknowledged the national force has been infiltrated by criminals.
"Some of them, sadly, are really into drugs... most of all the policemen because they are aplenty. I'm just warning them that if you are into it, you will be the first to go," he said.
"It is no surprise that you are just also falling down one by one and the mayors and the village captains."
"And to all of those criminals out there, to all those rogue policemen and all creating hell for us, I have yet sufficient time to correct all of these things.
The most controversial quotes from Rodrigo Duterte
Show all 9
"You might not like the way how I correct things but I would just love to warn you that there is no turning back on this and I am there in the drug war in front."
Officials say most of those 4,000 drug suspects killed in clashes with police died because they fought back. Human rights watchdogs have cited much higher death tolls, which the government disputes.
Mr Duterte denies condoning extrajudicial killings and has lashed out at critics, including former US president Barack Obama, Western governments and United Nations human rights officials, who have raised the alarm over the drug killings and threats to human rights.
But Mr Duterte disclosed on Friday that he wanted to reply to UN High Commissioner for Human Rights Zeid Ra'ad al-Hussein's critical remarks in March, but was advised "to shut up" at the time by his national security adviser, who told him Mr Zeid was royalty from Jordan, which was providing the Philippines with two assault helicopters.
Mr Zeid has suggested that Mr Duterte "needs to submit himself to some sort of psychiatric evaluation" over his "unacceptable" remarks about some top human rights defenders.
Additional reporting by AP.
Join our commenting forum
Join thought-provoking conversations, follow other Independent readers and see their replies