Mayor accused over drugs killed in Philippines jail, say police
Rolando Espinosa was detained as part of President Rodrigo Duterte's anti-drugs drive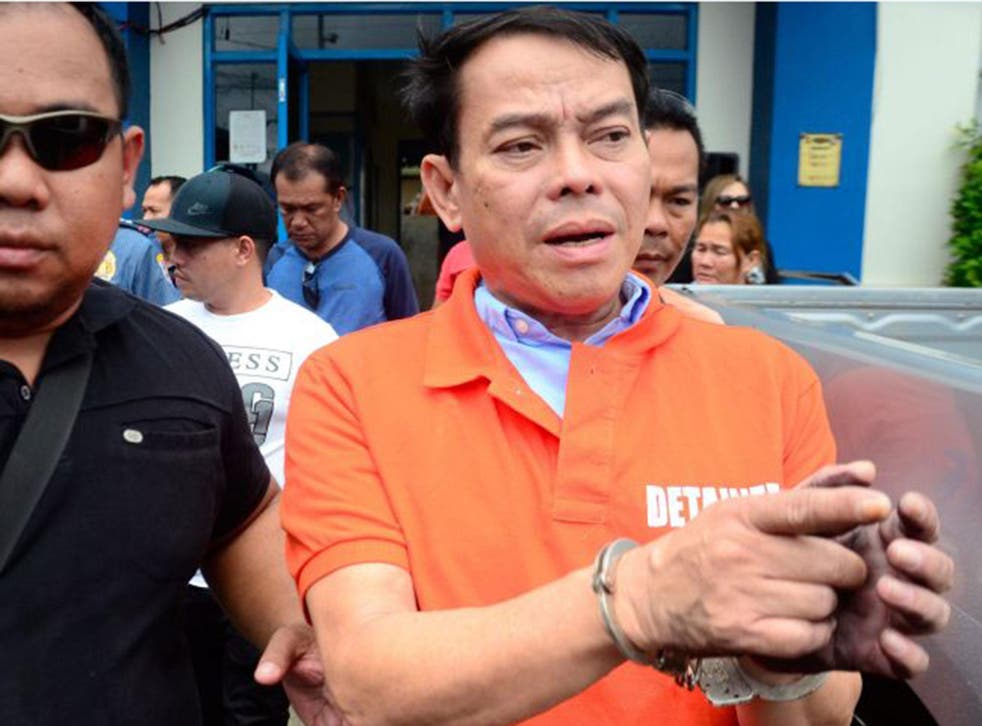 A mayor who was detained as part of the anti-drugs crackdown in the Philippines has been shot dead in his jail cell.
Rolando Espinosa, mayor of Albuera town, Leyte municipality, was involved in a fire fight with officers trying to search his cell for weapons and drugs, police alleged.
He is the second official to be slain in President Rodrigo Duterte's anti-drugs drive, which has seen at least 3,000 people killed by police or vigilante groups since he took office in June. Most have been low level drug dealers and users, but police said "high-value targets," including mayors and drug lords, would be their next target in a new phase of the crackdown that was launched in late October.
Espinosa handed himself into the authorities after he was implicated by Mr Duterte as being involved in narcotics. The president had listed the names of around 150 officials in August, including police officers and members of local government and judiciary, who he said, – without providing evidence – were involved in the illegal drugs trade.
He was briefly released but was jailed at Baybay, Leyte Sub-Provincial Jail, on 5 October on drug possession charges.
Acting on a warrant on Saturday, a police effort to search his cell for weapons and drugs was met with gunfire from the former mayor and another inmate, police said.
"He fired on the raiding team. The raiding team fired back and this led to the mayor's death," Chief Inspector Leo Laraga of the regional police told AFP news agency.
The Criminal Investigation and Detection Group claimed they recovered a loaded pistol, suspected methamphetamine and drug paraphernalia from Espinosa's cell. Yap's cell was also found to contain a loaded pistol, methamphetamine and cannabis.
The most controversial quotes from Rodrigo Duterte

Show all 9
Edre Olalia, president of the National Union of People's Lawyers, criticised the police's version of events and, saying they were "too contrived".
"A search warrant in a government prison facility is unnecessary and appears to be a flaccid attempt to make the apparent rubout 'legal'," Mr Olalia told local broadcaster TV5. "Such acts... insult ordinary common sense….There is going to be a lot of explaining to do."
In addition, an anti-crime watchdog has called for an investigation of the circumstances of the killings, wondering how the mayor and the other inmate got hold of guns and what prompted them to clash with police while in detention.
Eastern Visayas Regional Police Chief Superintendent Elmer Beltejar said: "As a matter of procedure, this incident will undergo investigation to establish the facts and circumstances surrounding the incident."
The mayor was the father of Kerwin Espinosa who Philippines officilas have alleged to be a drug lord. Kerwin was arrested by police in Abu Dhabi in October and the Philippine authorities are seeking his return.
Also in October, police killed another town mayor, Samsudin Dimaukom, and nine of his men allegedly in a gun battle in the southern Philippines.
Register for free to continue reading
Registration is a free and easy way to support our truly independent journalism
By registering, you will also enjoy limited access to Premium articles, exclusive newsletters, commenting, and virtual events with our leading journalists
Already have an account? sign in
Register for free to continue reading
Registration is a free and easy way to support our truly independent journalism
By registering, you will also enjoy limited access to Premium articles, exclusive newsletters, commenting, and virtual events with our leading journalists
Already have an account? sign in
Join our new commenting forum
Join thought-provoking conversations, follow other Independent readers and see their replies