'At least 3,600 slaughtered' in Philippines President Rodrigo Duterte's first 100 days in office
President says he intends to extend crackdown on drugs by 'maybe another six months'
Samuel Osborne
Sunday 09 October 2016 11:35 Comments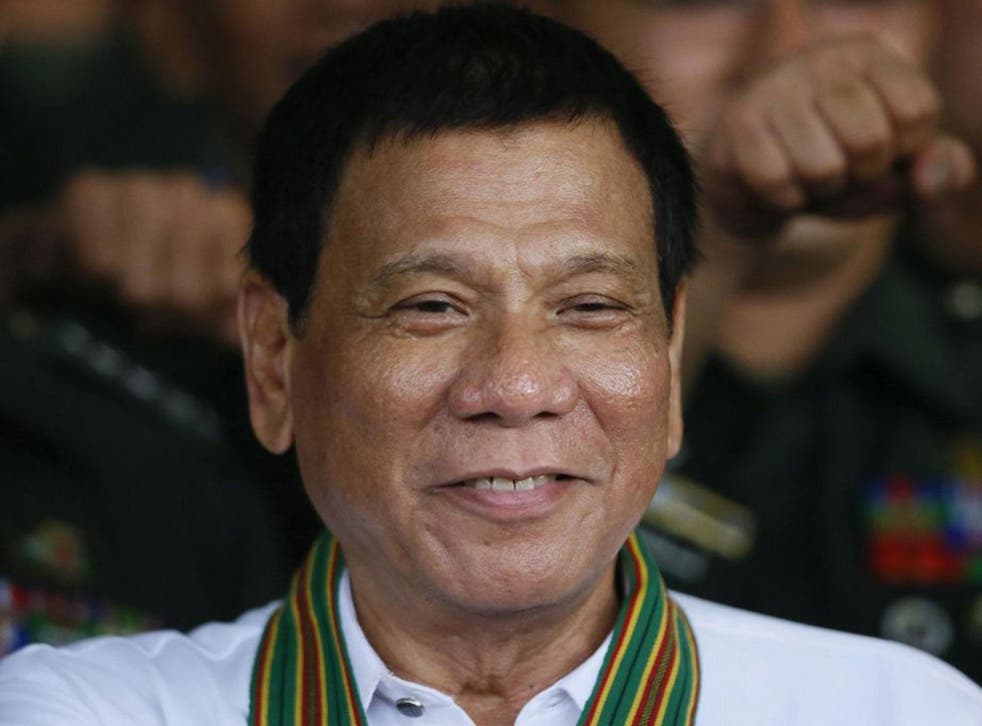 More than 3,600 people have been killed in Philippines President Rodrigo Duterte's first 100 days in office as part of his brutal crackdown on drugs.
The President recently said his crackdown on drug dealers and criminals will continue because he "cannot kill them all".
Mr Duterte was elected in May on the promise of preventing the Philippines from becoming a "narco-state" and vowed to kill those involved in importing or selling illegal drugs.
He even likened his national crackdown to the Holocaust and said he would be "happy" to slaughter as many addicts as Adolf Hitler massacred Jews.
Philippines: President Rodrigo Duterte's 100 days in office
The scale of his crackdown has been unprecedented. A rough estimate puts the death toll around 3,600, including 1,300 suspects killed in gun battles with police – an average of 36 killings a day since he took office on 30 June.
So far police have launched more than 23,500 raids and arrested 22,500 suspected drug dealers and addicts.
More than 1.6 million houses of drug suspects have been visited by police to invite them to surrender and stop using drugs, or disengage from the drug trade.
Around 732,000 addicts and dealers have surrendered, apparently for fear of being killed. The sheer number has surprised Mr Duterte and the national police, prompting them to scramble for land and money to build rehabilitation centres.
The most controversial quotes from Rodrigo Duterte

Show all 9
The US, the EU, the UN and human rights watchdogs have been alarmed by the brutality of the crackdown.
Amnesty International said Mr Duterte's "first 100 days as President have been marked by state-sanctioned violence on a truly shocking scale".
The President has said he intended to extend his crackdown by "maybe another six months".
He also called US President Barack Obama a "son of a bitch" in early September when it was suggested he would be questioned over the killings.
He has also launched an expletive-laden attack on the EU after it called on Philippines authorities to launch an investigation into the rising death toll from the war on drugs.
Additional reporting by AP
Register for free to continue reading
Registration is a free and easy way to support our truly independent journalism
By registering, you will also enjoy limited access to Premium articles, exclusive newsletters, commenting, and virtual events with our leading journalists
Already have an account? sign in
Join our new commenting forum
Join thought-provoking conversations, follow other Independent readers and see their replies