Police stop nine-year-old child bride marrying 14-year-old in Pakistan
The wedding was reportedly arranged to settle a family dispute
Saturday 05 March 2016 10:17 Comments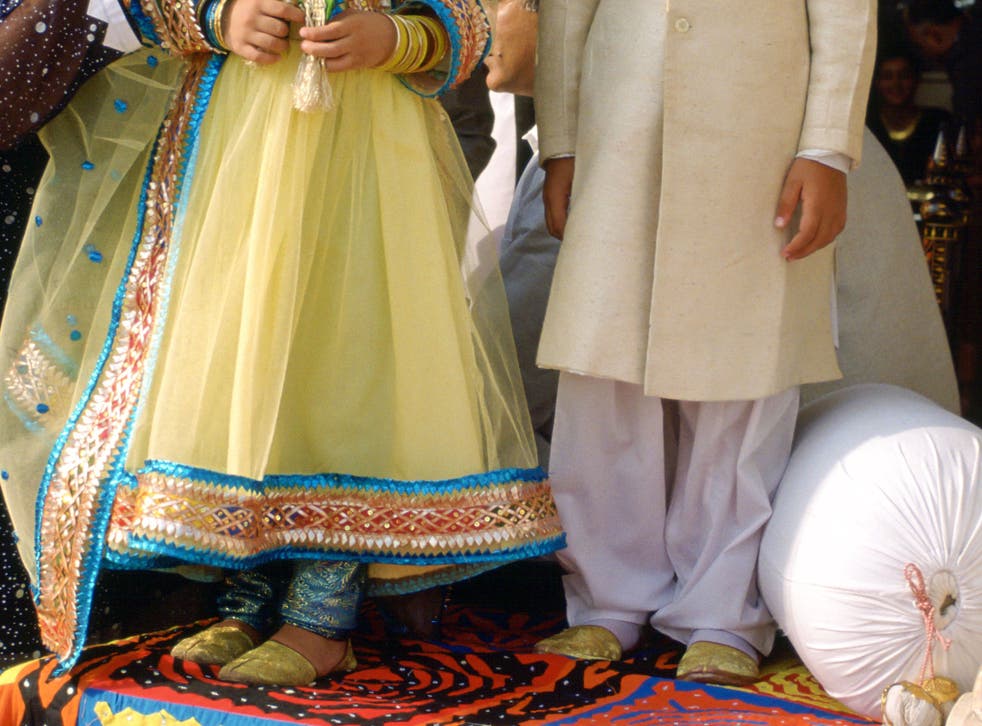 Police in Pakistan have reportedly rescued a nine-year-old girl from being married off to a 14-year-old boy to settle a family dispute.
They arrested four village elders of the council, who had ordered the "compensation wedding" to settle a dispute between two families in Rahim Yar Khan District, Lahore, according to The Express Tribune.
This intervention is rare as it is a country where it is culturally acceptable to use marriage to build and strengthen alliances, settle disputes or pay off debts.
"The girl's brother's wife died due to some health problems a few weeks ago, and [the wife's] relative suspected foul play and accused her family of murder," deputy superintendent of police Mamoonur Rasheed told Reuters.
The council reporetedly decided that the girl would be married to a 14-year-old cousin of her brother's wife, while her brother would pay 150,000 rupees (£1,573) to her family.
Child brides often come from poor families and marriage is used as a way to provide for the girl's future, especially in areas where there are fewer financial opportunities for women.
According to Unicef data, three per cent of girls in Pakistan are married before they turn 15 and 21 per cent before the age of 18.
In January, a powerful religious group that advises the government on the compatibility of laws with Islam blocked a bill to impose harsher penalties for marrying off girls as young as eight or nine.
Under the current laws, parents of child brides are punishable by only a month in prison and a fine of 1,000 rupees (£10.50).
Register for free to continue reading
Registration is a free and easy way to support our truly independent journalism
By registering, you will also enjoy limited access to Premium articles, exclusive newsletters, commenting, and virtual events with our leading journalists
Already have an account? sign in
Join our new commenting forum
Join thought-provoking conversations, follow other Independent readers and see their replies