Politician 'calls woman whore and threatens to strip her' during women's rights debate
Pakistani senator Hafiz Hamdullah denies alleged attack on Marvi Sirmed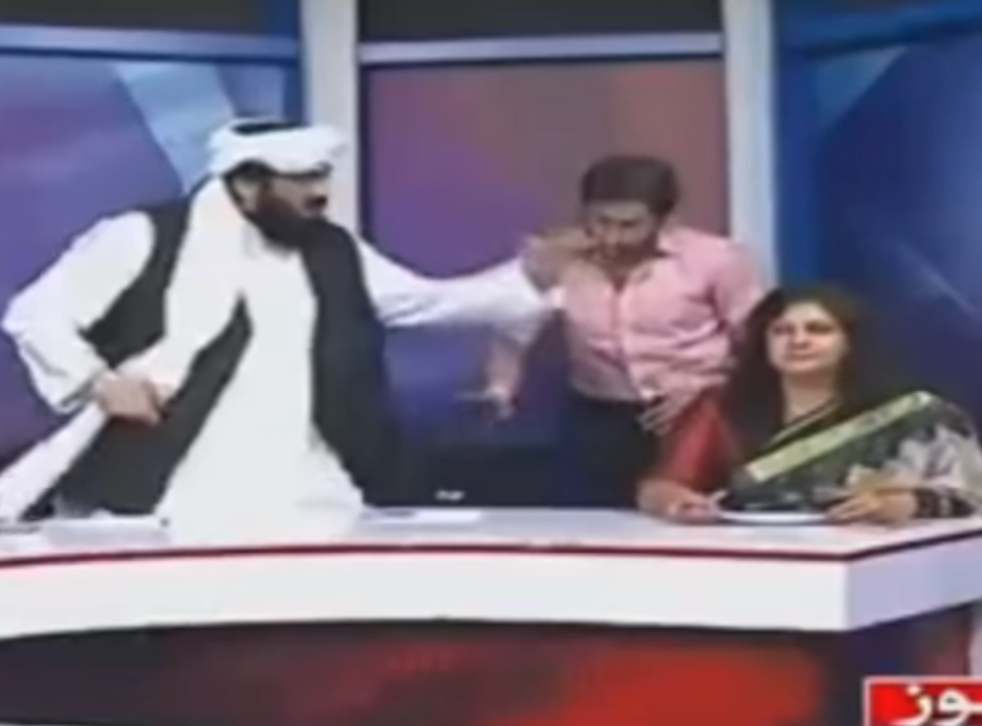 Police in Islamabad are investigating a senator from Pakistan's upper house of parliament, after he allegedly threatened a female rights activist with rape during a live TV debate about violence against women.
Hafiz Hamdullah, a member of the Jamiat Ulema-e-Islam party, appeared alongside Marvi Sirmed, a prominent journalist and human rights activist, and also barrister Masroor Sahib, on a talk show panel.
The panel was discussing a wave of high-profile honour killings of women in Pakistan.
Mr Hamdullah became angry after Mr Sahib criticised Islamic clerics for failing to protect women, and saying the council of Islamic Ideology were "sleeping after becoming intoxicated".
When Ms Sirmed joined the discussion, saying she agreed to an extent with the barrister, Mr Hamdullah cut her off mid-sentence, and began to attack the journalist using sexist language.
"I won't allow you to speak if you are supporting his words," Mr Hamdullah said, according to Pakistani news outlet ShiiteNews.org.
An edited clip of the event cuts off before the verbal abuse - which allegedly includes a rape threat - concludes.
In a Facebook post following the incident, Ms Sirmed wrote: "He started abusing me with worst possible expletives. Called me a whore and said 'tumhaari shalwaar utaar dooN ga aur tumhaari maaN ki bhi'."
This translates to: "I will strip off your clothes and will do the same to your mother too".
"I returned this to his own family women," Ms Sirmed added. "And then he tried to beat me. All of this recorded on camera. He had to be taken away by the News One security."
Speaking to reporters at Pakistan Today, Mr Hamdullah said: "Naturally I lost my temper and a heated exchange took place between me and Marvi Sirmed. I must have said something offensive in anger but Marvi was no less as she had hurled abuses at my deceased mother."
Police said they were investigating the incident, after registering a case against Mr Hamdullah for attempted assault and criminal intimidation.
Writing in the Nation.com following the event, Ms Sirmed described Mr Hamdullah's behaviour as an "extremely disturbing show of misogyny and violent masculinity".
"He had to be reminded of the severity of rape threats when he said he would strip my pants down and mother's too," she added.
Senator Hamdullah has become a controversial figure in Pakistan after several violent outbursts on public television.
World news in pictures

Show all 50
After the incident, Dr Arif Alvi, one of the country's senior parliamentarians said Mr Hamdullah had also threatened him on air, and said he should be banned from TV.
Ms Sirmed called on journalists and media outlets to boycott him, writing "I don't think violent and vile people like Hamdullah should be taken on media. (An) opposing viewpoint is welcome, physical assault is not."
Pakistan has escalating problems with female honour killings, with over 1,100 women killed in 2015, according to the country's independent Human Rights Commission.
Prime Minister Nawaz Sharif has promised to introduce new legislation to prevent them.
Join our new commenting forum
Join thought-provoking conversations, follow other Independent readers and see their replies