Prominent Thai activist Sombat Boonngamonanong could face up to 14 years in jail for inciting unrest and disobeying the junta
More than 300 activists, politicians and journalists were detained as military seized power in May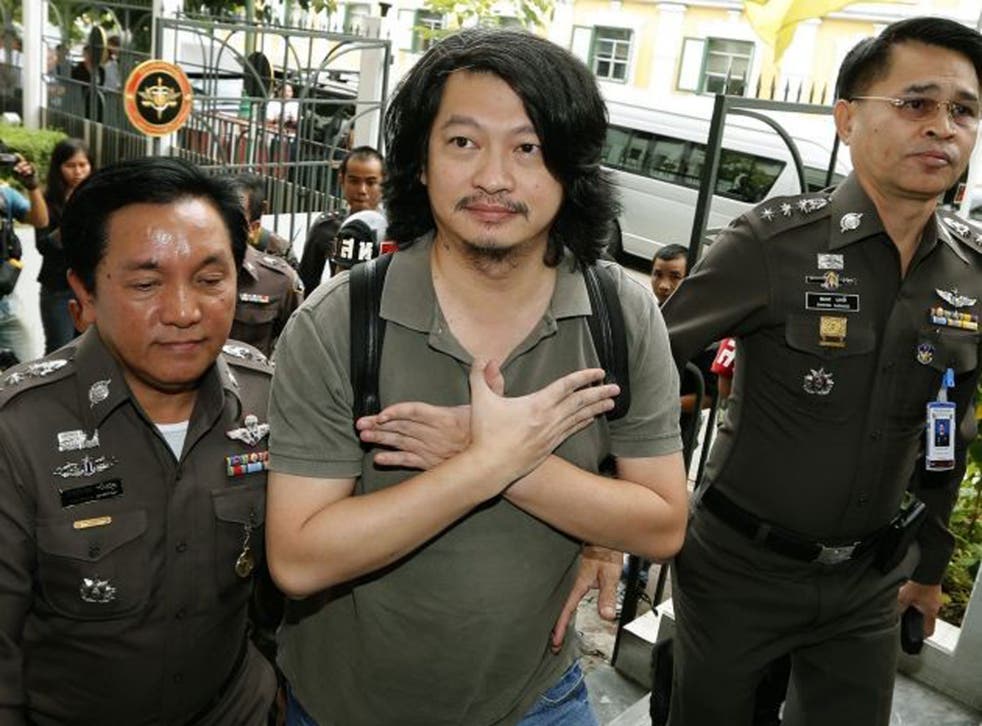 A prominent Thai activist who organised protests against last month's coup could face up to 14 years in jail after being charged on Thursday with inciting unrest, violating cyber laws and defying the junta's orders.
Sombat Boonngamonanong spearheaded an online campaign promoting flash mob rallies against the military takeover, via a Facebook page bearing the message "Catch Me if You Can". He has denied all charges.
He was among more than 300 activists, politicians and journalists detained since the military seized power on May 22. Many have been held at undisclosed locations.
"He is charged with instigating unrest through Facebook, which is a violation of the Computer Crimes Act," said Prasopchoke Prommul, deputy commander of the police's crime suppression division.
"Another charge is not reporting himself to the military."
Under martial law, gatherings of more than five people are banned and violators have been swiftly arrested by uniformed and plain-clothes police.
Thailand protests: Thai army declares martial law

Show all 25
The junta has cracked down hard on dissent and said on Wednesday it had shut down 112 "inappropriate websites", 250 radio stations and 20 television channels since the coup.
A member of the "red shirt" movement which broadly supports fugitive former premier Thaksin Shinawatra, Sombat was caught last week in Chonburi, east of Bangkok, by police who traced him via the Internet network he was using.
A court granted police permission to hold and interrogate him for 12 more days on Thursday. Sombat could be tried by a military court.
Chaturon Chaisang, a former education minister in the ousted government, was arrested by soldiers last month during a news conference at Bangkok's foreign correspondents' club. He faces trial in a military court for refusing to answer a summons by the army regime.
Thailand's military stepped in after six months of political deadlock, the latest episode in a decade old conflict between the Bangkok-based royalist establishment and the mostly rural-based supporters of ousted premier Yingluck Shinawatra and her brother, Thaksin.
The army has sought to win public approval in numerous ways, including the staging of street festivals designed to "bring back happiness to the Thai people".
It has ordered television regulators to ensure all 64 matches in the upcoming soccer World Cup can be viewed on free-to-air channels, even though entertainment company RS Pcl had already bought rights to the matches.
But the military's campaign to win hearts has not won everyone over. A group of Thai political leaders allied to Thaksin say they will form an overseas movement to resist the coup.
"Returning happiness is just a stunt and a lie. The only way we will be happy is to overthrow these villains," Jakrapob Penkair, a former government minister and red-shirt founding member, said in a post on his Facebook page on Wednesday.
"We have founded an organisation to fight dictatorship already. The coming days will be historic for Thailand."
A midnight to 4 a.m. curfew remains in force in Bangkok, but it has been lifted in 30 provinces over the past week to support tourism, which accounts for about 10 percent of the economy.
The junta has warned against any criticism of the military, including in schools, and government officials are also being encouraged to report on each other.
"Some civil servants act in a way that does not respect the nation and does not build national unity. I want people to love the country very much," Panadda Diskul, deputy permanent secretary for the interior, told Reuters.
"I urge people to report any civil servant that still acts inappropriately or speaks in an unconstructive manner."
Reuters
Join our new commenting forum
Join thought-provoking conversations, follow other Independent readers and see their replies