Quiet please: China falls silent for university entrance exams
The pressure is on as nine million students compete for a place in the nation's elite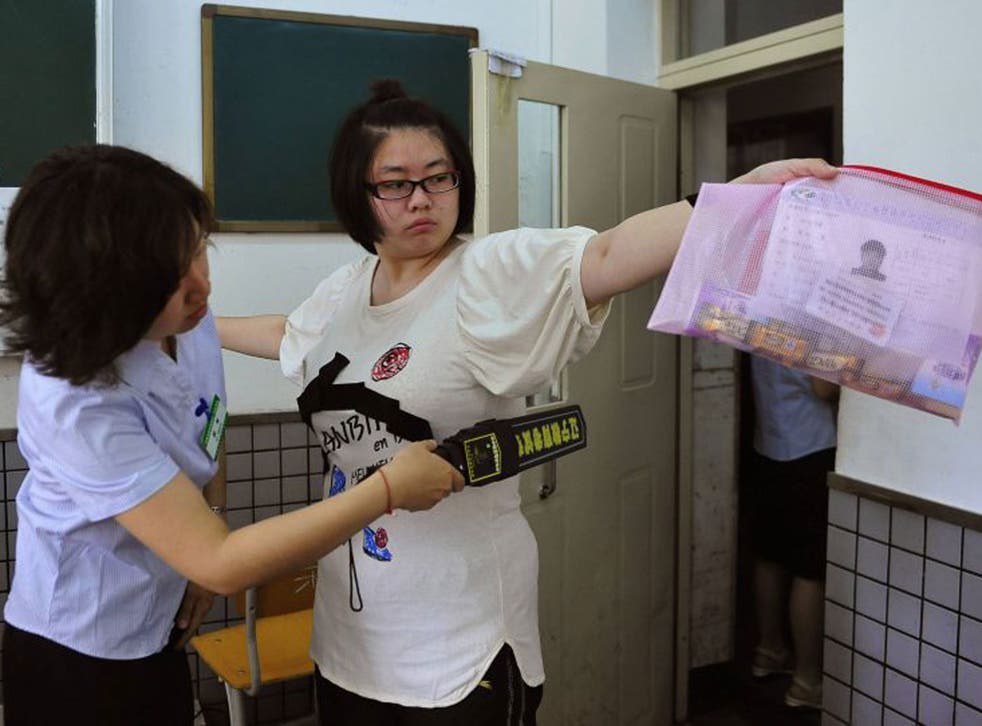 More than nine million students packed examination centres all over the country for China's annual university entrance exams. Attempts to stop cheating were so stringent that even metal bra clasps were banned.
The whole country is respectfully silent during the exams, known as the "gao kao". Flights are re-routed and honking car horns banned near the 7,300 venues and 310,000 exam rooms nationwide. Outside the exam halls, anxious parents wait. "It is the most important event of my son's life so I have to see his coming out," one parent told the Global Times newspaper.
Many families book hotel rooms near the exam halls so the candidates can study and rest. In Shenyang, capital of Liaoning province in the northeast, the government laid on free taxis at each examination centre for those who needed them. In Guangzhou in the south, traffic authorities introduced dedicated lanes for vehicles taking students to the gao kao, while parents in Shanghai booked taxis a week in advance for their children.
In Beijing, leave was cancelled for all 7,000 of the capital's traffic police, who were positioned on the roads to maintain traffic order and ensure students got to their exams on time. Congestion worsened as torrential rain, accompanied by thunder and lightning, struck the city.
The pressure of the moment can sometimes lead students to adopt unscrupulous tactics, and examiners have to be on the look-out for increasingly inventive cheats.
Xu Mei, a spokeswoman for the Ministry of Education, said that exam halls in 31 provinces and regions had been equipped with video monitoring facilities to stop cheating and fraud.
Students in the north-eastern province of Jilin were banned from wearing clothing with metal parts, and education authorities installed metal detectors in exam centres to clamp down on "wireless cheating devices", The Global Times reported.
They were keeping an especially keen eye out for the use of smartphones to help crib the answers, as these devices get smaller and easier to hide each year. China is a secular country, but people need a bit of help around exam time, and large crowds gather round the Buddhist temples.
In Beijing, Chinese, mathematics and English are compulsory subjects, with one other paper in either arts or sciences, and the exam is scored out of a maximum 750 points.
To get into elite universities such as Peking University or Tsinghua, applicants need scores of 600 or more.
About 9,120,000 people are sitting the exams this year, slightly down on 2012. The education ministry said the falling numbers were partly due to more and more students wanting to study abroad.
There is also a feeling that the safe job in the public sector – the "iron rice bowl" – which depended heavily on exam scores, is no longer the draw it once was, with many now seeking jobs in the private sector.
Join our new commenting forum
Join thought-provoking conversations, follow other Independent readers and see their replies