UK charity warns tourists in Dubai not to report rape after woman who was 'gang raped' arrested
Foreign Office also accused of failing to do enough to help women after alleged victim detained on suspicion of having 'extramarital sex', an offence under sharia law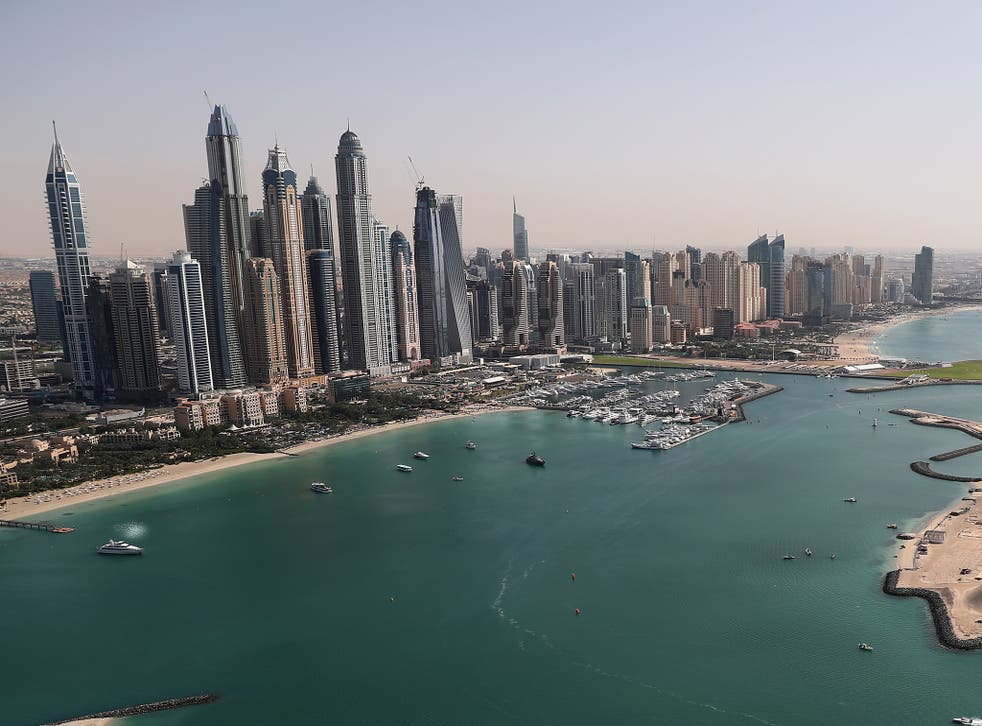 A UK-based charity has warned that British tourists and expats in Dubai and across the United Arab Emirates (UAE) should not report incidents of rape after a woman who was allegedly gang raped was arrested and charged with "extramarital sex".
Detained in Dubai, an organisation that assists people who have become victims of injustice in the UAE, has warned against reporting rape or other crimes in the country because of the "manipulation when it comes to criminal accusations" and the "racist" preconceptions held against Western tourists.
Radha Stirling, founder of the charity, said that following the recent case – as well as a number of other shocking incidents in recent years where rape victims have been detained in the UAE – she advises British tourists not to report crime.
Ms Stirling told The Independent: "We get people contacting us asking whether they should report a crime and – whether it be a rape or anything else – I often say no. Absolutely not.
"It's about the laws for one, but it also comes down to the application of the law. Police there do get a lot of rape claims that are false, many of which come from disgruntled prostitutes who retaliate by reporting false criminal claims.
"Because of this the police are wary of false accusations, so when a report does come in they think, 'Oh, maybe the girl was just drunk and then she regretted it the next day'.
"It's also linked to the fact that tourism in the UAE has increased and there is a big clubbing scene. People go there to have a good time and the country promotes this. But they do assume women are 'looking for it'.
"There is the social perception that if a woman drinks alcohol, she has consented to it. And there's also a racist mentality of thinking, 'She's British so she was probably drunk and asking for it'."
Ms Stirling added that she personally would not report a rape in the UAE, saying: "There's so much manipulation when it comes to criminal accusations over there – I wouldn't report a rape there if I were raped myself."
The latest case involves the arrest of a 25-year-old woman who was on holiday in Dubai in October when she was allegedly attacked by two British men, who allegedly befriended her and lured her to their hotel room before pinning her down and raping her while recording it on a phone.
When the woman reported the rape at a police station, she was arrested for breaking Emirati laws against extramarital sex, while her attackers have since flown home to the UK.
Her passport has reportedly been confiscated and she is prohibited from leaving the country, essentially putting under "country arrest" while she awaits legal proceedings against her.
The prescribed punishments for extramarital sex in the UAE include imprisonment, deportation, floggings and stoning.
A friend and sister of the victim have contacted Detained in Dubai and confirmed that she is still in Dubai facing awaiting the proceedings and is "very afraid of facing the complexities of the UAE justice system". Her lawyer has reportedly estimated fees to be in the vicinity of £25,000.
A petition set up by the woman's mother, Sue Barber – who writes that she is "going out of her mind with worry" – has so far raised more than £11,000 to go towards defence lawyers.
Speaking of the case, Ms Stirling warned that it was "likely" the woman would be detained. She said: "It is quite possible she'll be charged and held. If the assailants have left the country the police have obviously got no counter evidence. They could just factually go on sex outside of marriage if there is no evidence of an assault."
"In 2008 a woman in Fujairah who had broken ribs and evidence of violence from being raped after her drink was spiked was charged with sex outside of marriage and held in the country for eight months, so it's very possible this woman will be too."
When the Foreign and Commonwealth Office was asked what advice they give to rape victims in the UAE, it provided The Independent with the guidance published online.
In its "Support for British nationals abroad" guide, the FCO offers support for victims of rape and sexual assault overseas, stating: "We take any report of rape and sexual assault seriously and will try to see you to offer you support as soon as possible and in private."
The guide then states that the FCO can tell the victim about "local police and legal procedures" and provide them with "a list of local lawyers and interpreters", but then states that it is down to the victim to decide whether or not they should report the crime, adding: "Only you can decide whether or not to report the crime to the police or take legal action – we cannot make this decision for you".
Meanwhile the FCO's foreign travel advice for the UAE states: "The UAE is a Muslim country. Laws and customs are very different to those in the UK. You should respect local traditions, customs, laws and religions at all times.
"There may be serious penalties for doing something that might not be illegal in the UK."
Ms Stirling does not believe the British Government does enough to support British nationals in the UAE when it comes to criminal reporting. She told The Independent: "British nationals are constantly disappointed at how little the embassies intervene. They should be advising nationals of the high risks involved in reporting crime in the UAE.
The countries with anti-women laws

Show all 5
"The British Government has not issued enough warnings to detail what can, and what has happened to other nationals when they have reported crime. It has the best relationship with the UAE of any other gulf nation and is keen to maintain positive relations for their vested interests, which does not coincide with providing extensive advice or negative perceptions to the public."
There have been several cases in recent years in which Westerners in the UAE have been detained after reporting incidents of rape.
Alicia Gali, an Australian national who has spoken publicly about her ordeal, spent eight months in jail after being drugged and violently raped in 2008. With broken bones and evidence of serious assault, authorities continued with her abuse through the legal system.
Meanwhile a Norwegian woman was sentenced to 16 months in prison after having reported her rape in 2013, and it was only after the Norwegian diplomats intervened that was she able to leave the UAE, once the ruler issued her a pardon.
Join our new commenting forum
Join thought-provoking conversations, follow other Independent readers and see their replies