Rare acquittal for China murder convict on death row raises judicial reform hopes
Nian Bin, 38, walked free when the Fuzhou High People's Court overturned the death sentence he received
Jamie Fullerton
Saturday 23 August 2014 19:44 Comments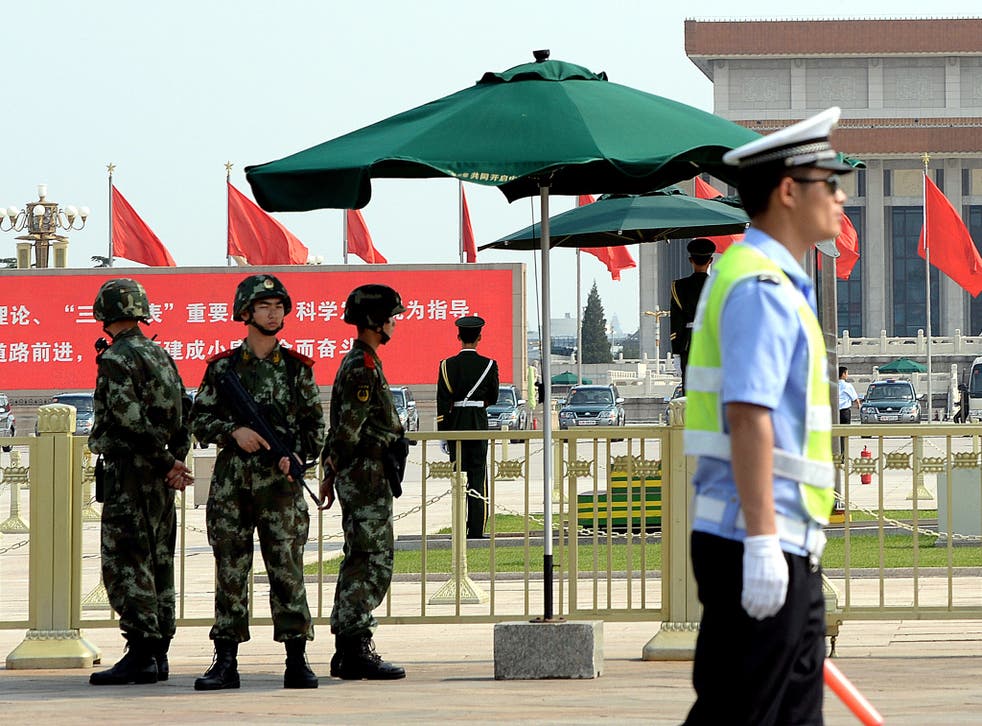 In a case that some legal commentators are hoping will put pressure on China to reform its judicial system, a man who spent eight years on death row after being convicted of murdering two children has had his sentence overturned.
Nian Bin, 38, walked free in Fuzhou, Fujian province when the Fuzhou High People's Court overturned the death sentence he received for the 2006 murders on Pingtan island. The court cited a lack of evidence but did not address Mr Nian's claim that the confession that led to his conviction was given after he was tortured by police.
Pictures of Mr Nian looking joyful on his release circulated on Chinese social media yesterday. However, he has since gone into hiding after members of the murder victims' family reacted with anger at the decision. Zhang Yansheng, who defended Mr Nian, said : "They [Mr Nian and his family] don't dare to return home. Their home had been ransacked by the children's relatives. [The family] still believes he killed the children."
Mr Nian was accused of poisoning a family, with traces of rat poison found on the door handle of an apartment he rented. After two children in the family died, police pledged a speedy investigation and said the killer would be brought to justice quickly.
Mr Nian's legal team accused police of drawing a false confession using the "geshan daniu" torture technique, which leaves little evidence of harm. Sometimes mentioned in martial arts novels, the technique is reported to involve beating the subject through objects such as bricks or books to prevent open marks of torture.
Mr Nian's family launched an intense social media campaign seeking his release, and Ms Zhang said she would now advise them to seek compensation.
Ms Zhang was not hopeful that the acquittal would lead to the torture claims being taken more seriously. "The courts cannot handle such matters; it would have to be a police investigation," she said. "They are not going to slap themselves in the face."
She thanked the court for "withstanding pressure", referring to local authorities who were accused of attempting to prevent a fair trial.
With police and the courts facing government and public pressure to make swift arrests and convictions, overturning death sentences in China is rare.
The Beijing-based legal scholar Xu Xin said: "As far as we can tell, this is an isolated case, but we hope this will help China move forward – even with a small step – in building rule of law. We should thank his lawyers and their unrelenting efforts for the acquittal. The social media also have played a role, having put pressure on the court to hear the case fairly."
Maya Wang, a Hong Kong-based researcher with Human Rights Watch, said: "In the past, courts tended to treat cases like this with a final suspended death sentence as a compromise. At most the suspects are released on bail. How the authorities handle the aftermath of Nian's acquittal will tell us more about how serious the authorities will be at handling wrongful convictions and the use of torture in criminal justice."
Last Tuesday a German man, identified in the German media as Philipp B, was given a death sentence for a double murder in 2010 in the city of Xiamen. The German government has vowed to do "everything in its power" to prevent his execution.
If his sentence is carried through, it would be the first execution of a European in China since Akmal Shaikh, a British citizen, was killed by lethal injection in 2009 for drug trafficking.
Register for free to continue reading
Registration is a free and easy way to support our truly independent journalism
By registering, you will also enjoy limited access to Premium articles, exclusive newsletters, commenting, and virtual events with our leading journalists
Already have an account? sign in
Join our new commenting forum
Join thought-provoking conversations, follow other Independent readers and see their replies