Restaurant owner installs fridge outside to feed the homeless
'If I kept doing nothing then nothing would have happened'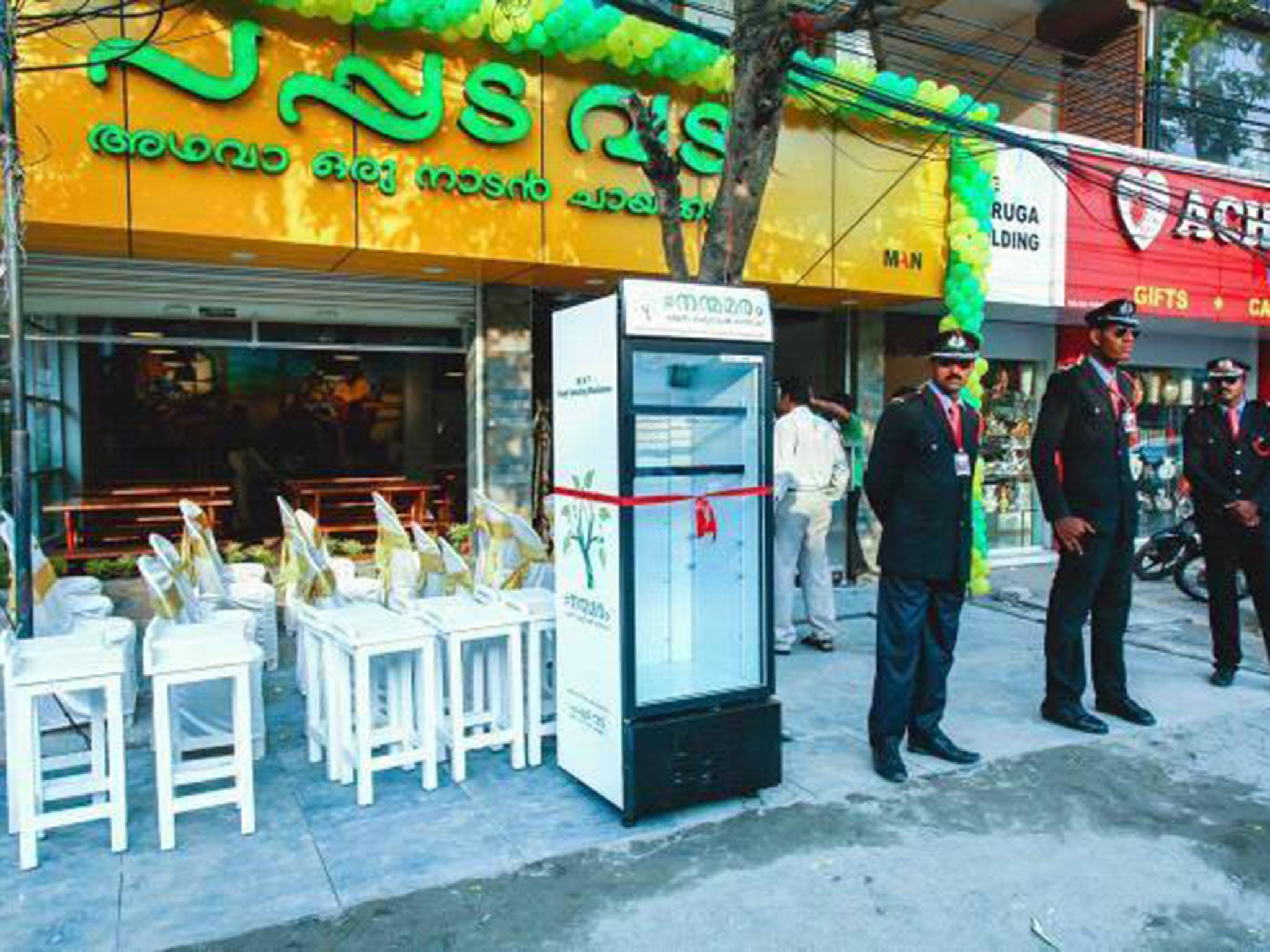 A restaurant owner who put a fridge laden with uneaten food on the street outside her business to help the needy has said she felt compelled to act.
"If I kept doing nothing then nothing would have happened," she said.
Minu Pauline, owner of the Pappadavada restaurant, in Kochi, southern India, was moved to combat both food waste and hunger after seeing people scavanging waste food from bins.
The fridge – nicknamed nanma maram, meaning 'tree of goodness' – began as a place people in need could pick up excess food from the restaurant.
It has now become a community hub, with people from across town donating to it.
Ms Pauline, 28, was inspired to install the fridge after seeing a woman searcing her rubbish bags for food late one night.
"It was very sad," she told The Independent.
"Just imagine being in the situation where you should be asleep but you feel too hungry and you have to go out to find food."
At the same time, she realised how much food is wasted by society, including in her own restaurant.
"Money is yours but resources belong to society," Ms Pauline said.
"If you're wasting your money, it's your money, but you're wasting the society's resources. Don't waste the resource, don't waste the food."
She came to a resolution to do something and hit upon the simple idea of installing a fridge and encouraging her customers to put in it whatever they didn't eat.
The fridge is left unlocked and unsupervised for 24 hours a day, and anyone who needs to can utilise it.
It feeds dozens of people every night.
World news in pictures
Show all 50
Critics, seeing the idea of a businesswoman installing an attraction deliberately drawing the homeless to outside her source of income as crazy, initially dismissed the idea.
"I know it's risky," she said.
"But it's for the good of the community. Nothing has happened before because no one wanted to take a risk.
"Nothing has happened yet, but I'll take it out if I need to."
"You should stand up for the change you wish to see."
Indeed, it could be that good karma has found its way back to Ms Pauline, as her business is thriving.
"I have so many smiling customers," Ms Pauline said.
"I can feel the positivity in my shop."
One of the best aspects of the project is that her example seems to be spreading.
"I recently saw two kids outside the fridge," said Ms Pauline.
"After they left, I went to see what they had been doing and in the fridge was some pomegranates and candy that they had donated.
"I'm so happy to see the message being spread to the next generation."
Join our commenting forum
Join thought-provoking conversations, follow other Independent readers and see their replies