Philippines President Rodrigo Duterte says some of his family members may have joined Isis
'To be frank, I have cousins on the other side... Some, I heard, are with Isis,' says the President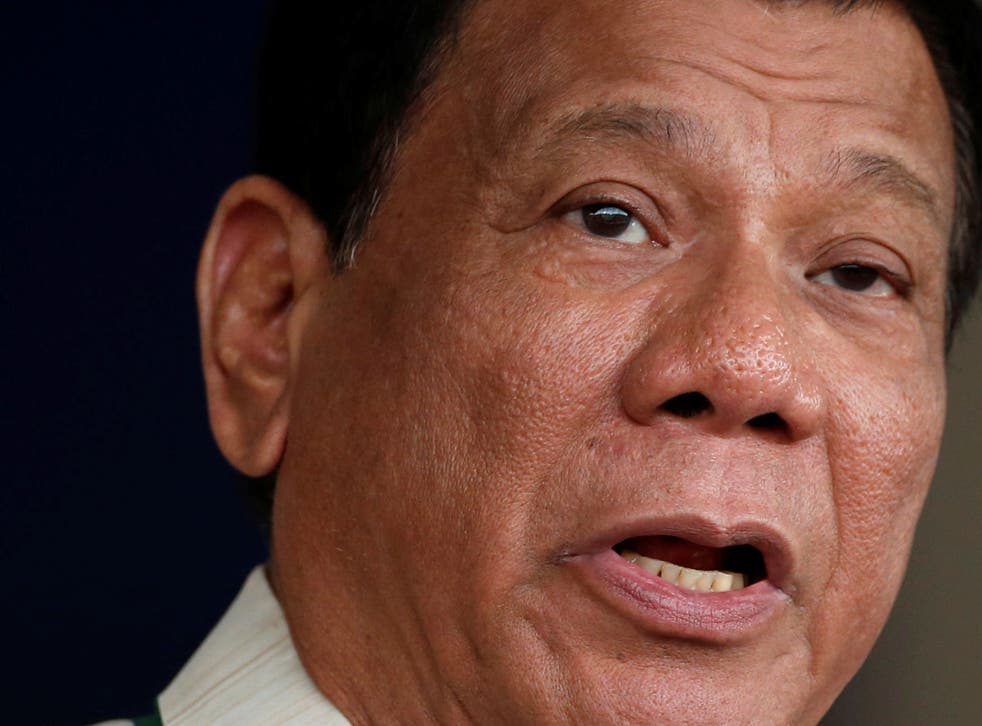 Rodrigo Duterte has said his family members may be members of Isis.
The President of the Philippines linked the extremist group to two recent bomb attacks, acknowledging the possibility of an Isis presence in the country.
"Isis seems to be everywhere," he told the editor of Rappler, an online news site based in the Philippines.
Mr Duterte said his cousins were members of local Islamist separatist groups the Moro Islamic Liberation Front [MI] and the Moro National Liberation Front [MN].
He said they may also have joined the so-called Islamic State.
"To be frank, I have cousins on the other side, with MI and MN. Some, I heard, are with Isis."
The world leader said two explosions – one at a night market in the city of Davao that killed 14 and wounded 70 in September, and a blast outside a church in the Cotabato region on Christmas Eve that wounded around 13 – were connected to Isis.
He told the news site he was "not ready" to share his information on the matter, although he said he had discussed the threat posed by the group with other heads of state.
Turkey releases video of air strikes on more than 100 Isis targets in Syria after Istanbul nightclub attack
Isis-affiliated militant group Abu Sayyaf claimed responsibility for the Davao attack, but at the time, Mr Duterte said investigators were looking at the possible involvement of drug syndicates.
Abu Sayyaf is based in the south west of the Philippines, where Islamist Moro groups have led a violent insurgency for decades.
Mr Duterte became president in June after a landslide election victory and has launched a deadly war on drugs in which thousands of people have been killed by police and vigilantes.
The most controversial quotes from Rodrigo Duterte

Show all 9
There have been 5,927 deaths linked to Mr Duterte's extreme crackdown on drug dealers and users since 1 July, according to CNN.
During the interview, Mr Duterte described what could take place if he met his cousins who may have joined Isis.
"Let's be understanding to each other. You are you and I am I, and I said, if we meet in one corner, so be it," he said.
Join our new commenting forum
Join thought-provoking conversations, follow other Independent readers and see their replies