Rohingya Muslim crisis: 400,000 sign petition to strip Aung Sang Suu Kyi of Nobel Prize
'The de facto ruler has done nothing to stop this crime against humanity,' says campaigner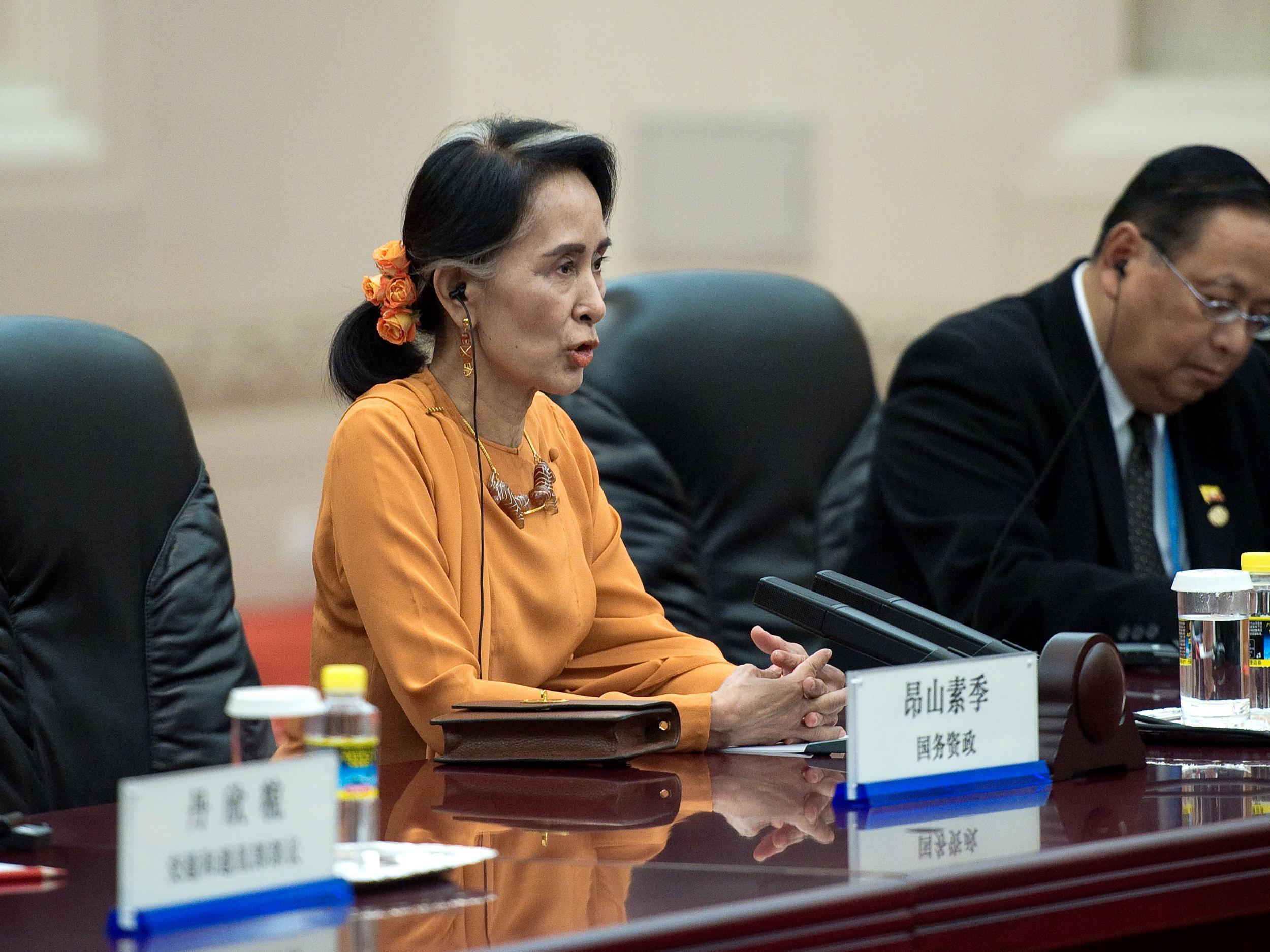 More than 400,000 people are calling for Aung Sang Suu Kyi to be stripped of her Nobel Peace Prize over her response to the Rohingya Muslim crisis.
The leader of Burma's National League for Democracy party was given the prestigious award in 1991 for campaigning for her country to hold full and free elections.
But more than 405,000 people have now signed a petition on Change.org demanding the Nobel Committee withdraw the award from Ms Suu Kyi, who has been widely accused of failing to protect Burma's Rohingya population.
"Until this second, the de facto ruler of Myanmar [Burma] Aung San Suu Kyi has done virtually nothing to stop this crime against humanity in her country," the petition reads.
The Norwegian Nobel committee has said they will not rescind the award, saying only work led to the prize was taken into account.
There is growing outrage at reports and allegations of the indiscriminate slaughter of Muslim civilians by Burmese soldiers and Buddhist vigilantes.
Thousands of houses and dozens of villages have been burned to the ground in Rakhine State, sending nearly 300,000 fleeing for their lives in a period of just two weeks.
Monitors say up to 1,000 people have been killed. António Guterres, the UN Secretary General, said the violence verged on ethnic cleansing.
The Burmese military, which says it has been conducting clearance operations following attacks by Rohingya insurgents at the end of August, has denied any allegations of indiscriminate killing - blaming the insurgents for killing civilians. Ms Suu Kyi also blamed the violence on "terrorists" and claimed the controversy has been caused by "a huge iceberg of misinformation".
Rohingya refugees – in pictures
Show all 15
The United Nations has appealed for aid to help deal with a humanitarian crisis in Rohingya refugee camps and makeshift shelters in southern Bangladesh where hundred of thousands of Rohingya have fled.
It said the stream of traumatised refugees was "showing no signs of stopping".
"It is vital that aid agencies working in Cox's Bazar have the resources they need to provide emergency assistance to incredibly vulnerable people who have been forced to flee their homes and have arrived in Bangladesh with nothing," the UN resident coordinator in Bangladesh Robert Watkins said.
Agencies urgently needed $77m (£58m) to cope with the emergency.
Join our commenting forum
Join thought-provoking conversations, follow other Independent readers and see their replies