Rohingya refugee crisis: One-time Aung San Suu Kyi ally Bill Richardson quits advisory group amid 'whitewash' claims
The 70-year-old US politician delivered a scathing criticism of the Nobel Peace Prize laureate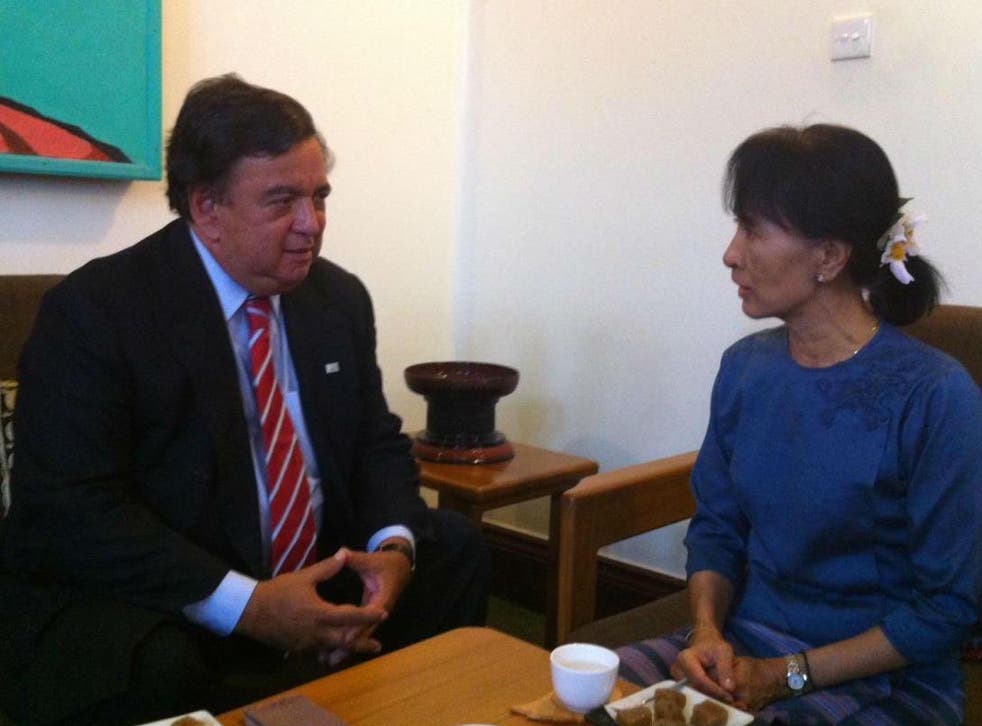 Bill Richardson, the former governor of New Mexico and a friend of Aung San Suu Kyi, has dramatically quit a group advising her on the Rohingya refugee crisis, calling it a "whitewash".
Mr Richardson, who was among the group's higher profile members, suddenly announced he was leaving the panel while on a visit to Myanmar.
He told the Associated Press that Ms Suu Kyi, the country's most powerful civilian leader, believed there was an international effort to undermine the country.
"She blames all the problems that Myanmar is having on the international media, on the UN, on human rights groups, on other governments, and I think this is caused by the bubble that is around her, by individuals that are not giving her frank advice," he said.
"The advisory board is mainly a whitewash and a cheerleading operation for the Myanmar government, and I'm not going to be part of it because I think there are serious issues of human rights violations, safety, citizenship, peace and stability that need to be addressed."
He added: "I just felt that my advice and counsel would not be heeded."
Pope Francis blesses Rohingya Muslim refugees from Myanmar
Within the last 12 months, more than 680,000 Rohingya Muslims have fled from attacks launched by the Burmese military, which were initially triggered by assaults by an Islamic militant group last August.
The UN has said the expulsion of the Muslim minority, which has long suffered discrimination in Buddhist-majority Myanmar, amounted to a "textbook example of ethnic cleansing".
Ms Suu Kyi, a former political prisoner and Nobel Peace Prize laureate, has been widely criticised for failing to stop the attacks on the Muslims. Some of her supporters say that because of the way the country's constitution is written, she and her party have little say over the army, which remains responsible for foreign affairs and internal security.
Wedding in a Rohingya refugee camp

Show all 9
Mr Richardson said Ms Suu Kyi, who he met earlier this week in Naypyidaw, appeared to want the 10-member advisory board – set up to implement earlier Rohingya recommendations made by a group led by former UN Secretary-General Kofi Annan – to validate her own Rohingya policies.
Zaw Htay, a Myanmar government spokesperson in Naypyitaw, reacted to Mr Richardson's resignation by saying he was sorry he was leaving.
"The reason why we formed the advisory commission was because we hoped that the team will give us constructive support and advice," he said. "We are sorry that Bill Richardson is releasing a statement and resigned from the commission but that, of course, is out of our control."
Mr Richardson, who has frequently negotiated for the release of Americans imprisoned in foreign countries, also said he was "very unhappy and distressed" by Ms Suu Kyi's heated reaction to his plea that two Reuters journalists detained on charges of violating a British colonial-era secrecy law, used by a former military junta to muzzle freedom of speech, be treated fairly.
"That brought almost an explosion on her part, saying there were issues related to the official secrecies act, that that was not my charter as a member of the advisory board," he said. "It was a very heated exchange that we had."
Register for free to continue reading
Registration is a free and easy way to support our truly independent journalism
By registering, you will also enjoy limited access to Premium articles, exclusive newsletters, commenting, and virtual events with our leading journalists
Already have an account? sign in
Register for free to continue reading
Registration is a free and easy way to support our truly independent journalism
By registering, you will also enjoy limited access to Premium articles, exclusive newsletters, commenting, and virtual events with our leading journalists
Already have an account? sign in
Join our new commenting forum
Join thought-provoking conversations, follow other Independent readers and see their replies