Shinzo Abe: 'Japan inflicted immeasurable damage and suffering in World War II'
Japanese PM delivered once-in-a-decade statement marking anniversary of the war's end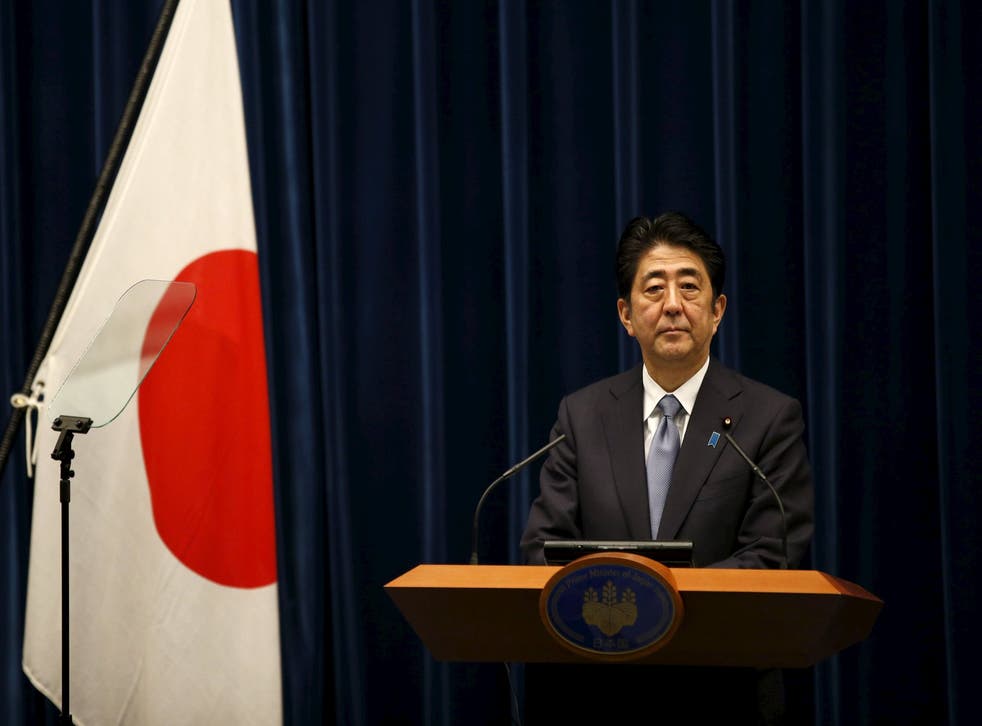 Japanese Prime Minister Shinzo Abe recognised the "immeasurable damage and suffering" his country caused during World War II in a highly-anticipated speech marking the 70th anniversary of Japan's surrender.
Abe said "Japan has repeatedly expressed feelings of deep remorse and heartfelt apology for its actions during the war," though he stopped short of explicitly offering a new apology.
He did, however, express feelings of "profound grief" and offered "eternal, sincere condolences".
He said: "I bow my head deeply before the soul of all those who perished at home and abroad."
In pictures: 70th anniversary of atomic bombing of Hiroshima

Show all 15
The statement will come under scrutiny by Japan's neighbours, especially South Korea and China, who were victims of Japan during World War II and who believe the Abe government glosses over the atrocities committed — most famous of which was the massacre of Nanking.
Just weeks ago, backed by Abe, Japan's lower house approved changes to the constitution which would allow its forces to fight overseas for the first time since the war.
And this approach featured in Abe's statement. He said the post-war generations who make up 80% of the Japanese population "must not be predestined to apologise".
He added: "Still, even so, we Japanese, across generations, must squarely face the history of the past."
The first in these once-in-a-decade acts of contrition was delivered in 1995, when Prime Minister Tomiichi Murayama issued a "heartfelt apology" and expressed "deep remorse" for Japan's "colonial rule and aggression".
The sentiments of that statement were repeated 10 years later by Prime Minister Junichiro Koizumi.
Register for free to continue reading
Registration is a free and easy way to support our truly independent journalism
By registering, you will also enjoy limited access to Premium articles, exclusive newsletters, commenting, and virtual events with our leading journalists
Already have an account? sign in
Register for free to continue reading
Registration is a free and easy way to support our truly independent journalism
By registering, you will also enjoy limited access to Premium articles, exclusive newsletters, commenting, and virtual events with our leading journalists
Already have an account? sign in
Join our new commenting forum
Join thought-provoking conversations, follow other Independent readers and see their replies