Singapore declares first woman president amid complaints of election rigging
Significant milestone overshadowed by accusations that strict eligibility criteria are undemocratic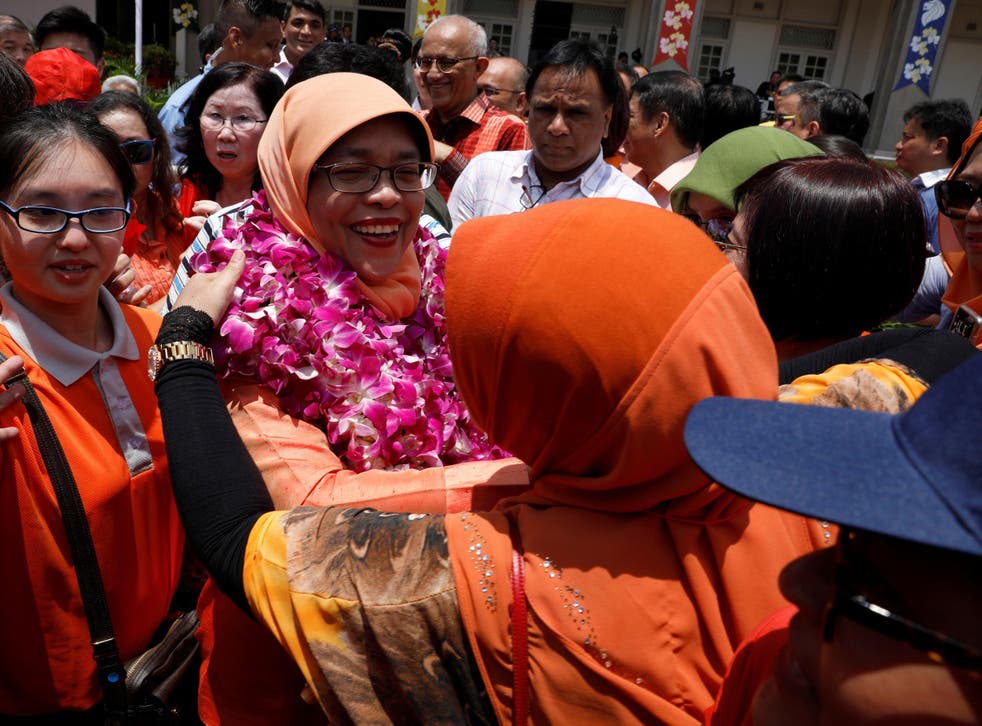 Singapore has announced its first female president, who is also the first head of state to come from the county's Malay community in almost five decades.
Yet celebrations of the significant milestone were mired by accusations that the selection process was undemocratic.
Halimah Yacob, a former speaker of parliament, did not face a vote for the largely ceremonial post after authorities said other candidates did not meet strict eligibility criteria.
The multicultural city-state decreed the presidency be reserved for someone from the minority Malay community, sparking accusations about a rigged process.
The decision to give the role to the 63-year-old without a vote added to public anger.
Addressing the Malay-only rule during a speech at the elections department office, Ms Halimah said: "Although this is a reserved election, I'm not a reserved president. I'm a president for everyone."
The criteria for the presidency also stipulated that candidates must have held a senior role in public office for at least three years. Ms Halimah's role as house speaker meant she automatically qualified.
Of the four other candidates, two were not Malays and two were not deemed eligible, according to the elections department.
World news in pictures

Show all 50
Critics voiced anger at the Singapore's government, which has been run by the People's Action Party for 52 years.
"What would have otherwise been a democratic milestone is now besmirched with the ugly stain of an uncontested election," law student Rio How wrote in a column on the website Consensus SG.
"Such is the cost of a government that thinks in terms of politics of power, as opposed to dignity."
The separation of Singapore from Malaysia in 1965 gave ethnic Malays a clear majority in Malaysia, while ethnic Chinese formed the majority in independent Singapore.
Join our new commenting forum
Join thought-provoking conversations, follow other Independent readers and see their replies