Six face death penalty for bus gang-rape after victim dies
India plans to name and shame sex offenders after brutal attack
Lewis Smith
Saturday 29 December 2012 12:00 Comments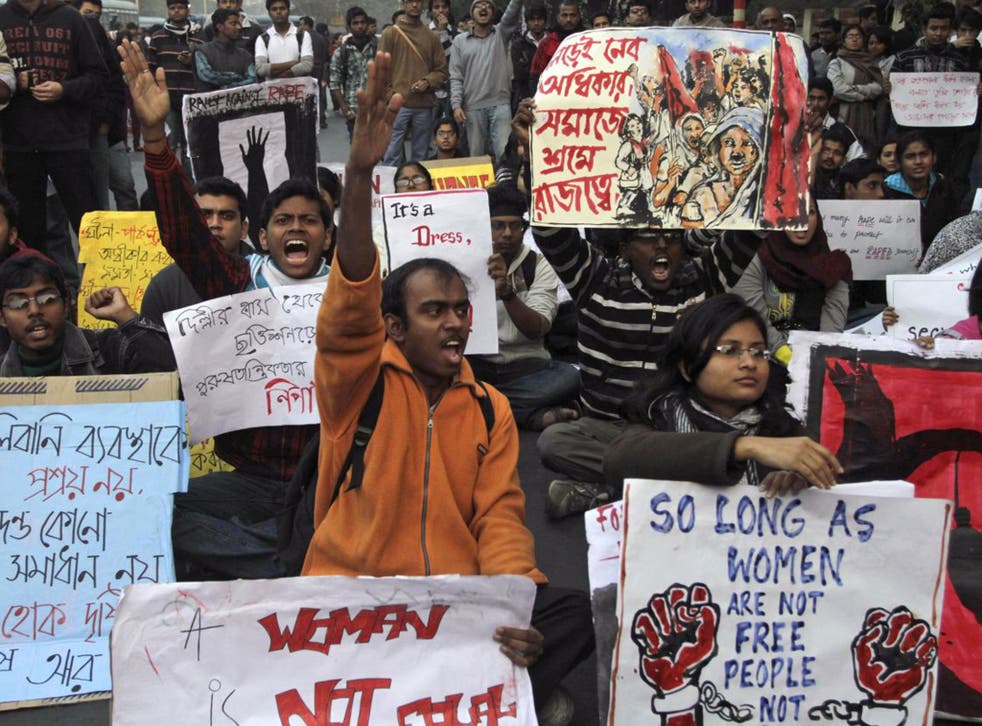 Indian police charged six men with murder today, hours after a woman who was gang-raped and beaten on a bus in New Delhi nearly two weeks ago died in a Singapore hospital.
New Delhi police spokesman Rajan Bhagat said the six face the death penalty if convicted, in a case that has triggered protests across India for greater protection for women from sexual violence, and raised questions about lax attitudes by police toward sexual crimes.
The 23-year-old had been airlifted to Singapore for treatment for brain and other injuries after being attacked, but doctors were unable to save her.
She had been repeatedly raped, had an iron rod shoved into her body causing severe organ damage, and was beaten about the body and head.
Dr Kevin Loh, chief executive of Mount Elizabeth Hospital in Singapore, announced her death last night, saying: "She was courageous in fighting for her life for so long against the odds but the trauma to her body was too severe for her to overcome."
The woman had been in a critical condition since arriving at the hospital two days before her death. Mr Loh said she had "passed away peacefully" and that her family was by her side when she died.
"Despite all efforts by a team of eight specialists... her condition continued to deteriorate over these two days. She had suffered from severe organ failure," he added.
The woman and a male friend had boarded a bus on 16 December when they were attacked by six men. Neither victim has been named, though elements of the Indian media have referred to the woman as "Amanat", an Urdu word meaning "treasure".
The crime in New Delhi has prompted violent protests demanding the authorities take a harder line against sexual offenders and offer more protection for women.
Among the responses since the first protests has been, according to the Press Trust of India, a pledge by junior minister Ratanjit Singh that the government will create a database of convicted rapists and publish it, along with their photos, on a ministry website to shame them.
But in India it is often the women who are blamed after a rape, not just by ordinary people but by politicians and other influential figures who have cited women as being at fault because they go out wearing clothes that might be perceived as provocative.
Abhijit Mukherjee, a national lawmaker and the son of India's President, Pranab Kumar Mukherjee, was forced into an "unconditional apology" when he spoke of "highly dented and painted" women who go from discos to demonstrations.
In Punjab, an 18-year-old woman killed herself by drinking poison a month after she told police she was gang-raped.
State authorities have now suspended a police officer and fired two others for allegedly delaying the investigatiion. The three accused in the rape were only arrested on Thursday, a month after the crime was reported.
"This is a very sensitive crime, I have taken it very seriously," said Paramjit Singh Gill, a top police officer in the city of Patiala. Authorities in the eastern state of Chhattisgarh suspended a police officer who was said to have refused to register a rape complaint from a woman.
Register for free to continue reading
Registration is a free and easy way to support our truly independent journalism
By registering, you will also enjoy limited access to Premium articles, exclusive newsletters, commenting, and virtual events with our leading journalists
Already have an account? sign in
Join our new commenting forum
Join thought-provoking conversations, follow other Independent readers and see their replies